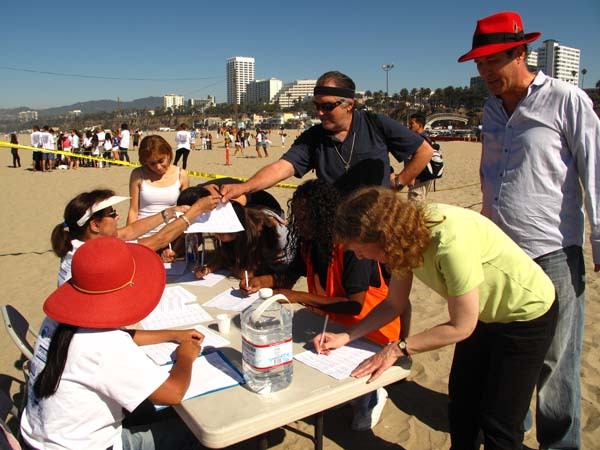 Volunteers signing waivers in Santa Monica so they could pick up trash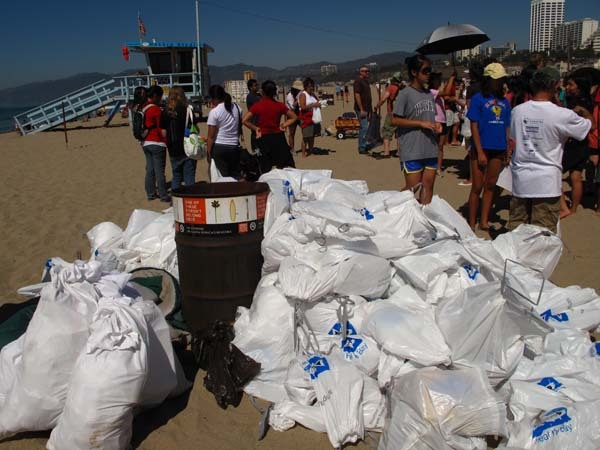 Stacks of trash collected in less than three hours at the Santa Monica Pier
When I volunteered for Coastal Cleanup Day on September 25, I realized vast amounts of plastic fragments and cigarette butts can be picked up in less than 10 minutes. If everyone took a trash bag and a plastic glove with them to the beach, we could help the ocean for 15 minutes before frolicking in the surf and sand the rest of the day.
On Saturday, September 25, more than 14,000 volunteers helped pick up litter in local watersheds throughout Los Angeles County in Heal the Bay's 21st Annual Coastal Cleanup Day. Heal the Bay organizes the event in L.A. county in partnership with the California Coastal Commission. Corporate sponsors in Los Angeles are Union Bank of California, the Grousbeck Foundation, KTLA 5 (which aired a Coastal Cleanup special the weekend prior to the cleanup), the city of Santa Monica, Neutrogena, ClifBar and Subaru (a frequent Heal the Bay partner).
The Los Angeles campaign is part of a global international event led by the Ocean Conservancy in which 6,000,000 volunteers in 90 countries and every U.S. state unite and get their hands dirty picking up trash near oceans, rivers and other waterways across the globe. The scope of the litter ranges from cigarette butts to fragments of plastic, tin foil, styrofoam and other non-biodegradable materials.
Heal the Bay organizes beach cleanups year round. To check out volunteer cleanup opportunities, visit the Cleanups overview.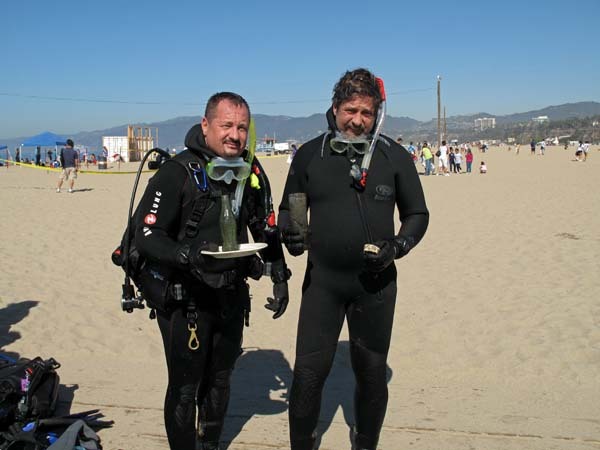 Two divers display a glass and plate and a bottle they retrieved diving for litter.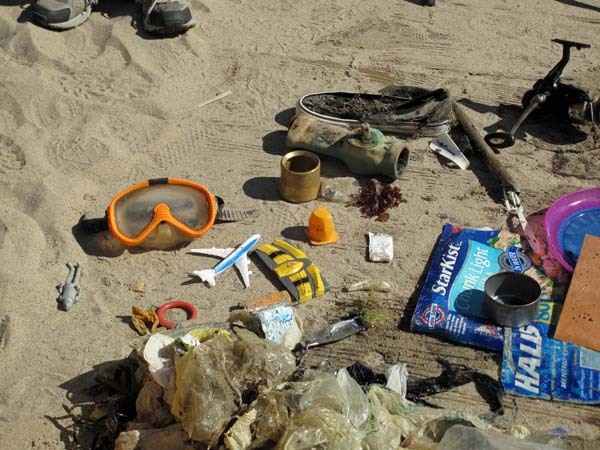 Divers found cell phones, radios, toy planes, frisbees, fishing line and more. A little starfish crawled out of a cell phone while a hermit crab was found hiding in other trash.
Volunteers picked up trash on foot as pedestrians, in waterways as kayakers and underwater as scuba divers. In Los Angeles County from 65 sites, 103,542 pounds of trash were collected. According to Heal the Bay urban runoff from more than 200 storm drains flowing out to Santa Monica and San Pedro bays cause most of the local ocean pollution.
Instead of a fragment, two friends find an empty Skittles bag.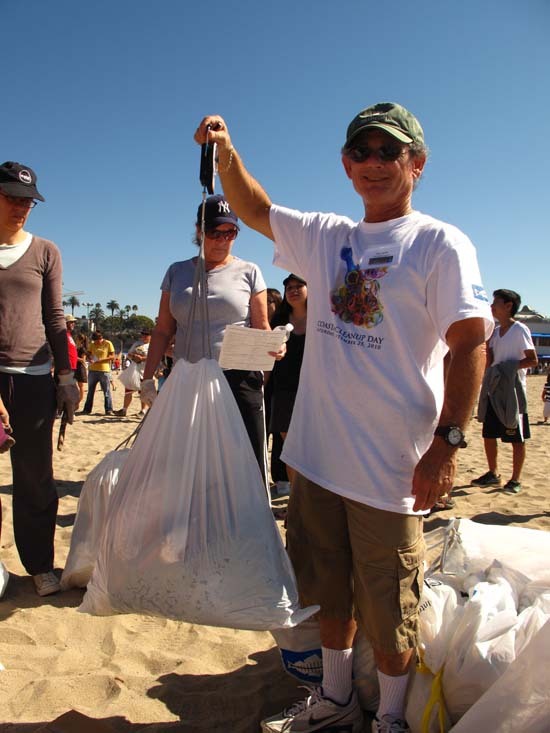 Each bag of trash was weighed and recyclables were sorted from landfill trash.
The most unusual items collected around Los Angeles this year were: three bowling balls cut in half in Coyote Creek Trail (Cerritos); a vibrator discovered in Lake Machado (Ken Malloy Regional Park); a goatskin hide and mummified cat (Tujunga Wash); a submerged gas-burning stove (Redondo Pier dive site); several crack pipes (Santa Monica, Venice and Malibu -- yikes); and a floating bag of marshmellows (Marina del Rey kayak site).
The Los Angeles "Code Red" locations this year included Dominguez Channel, Ken Malloy Harbor Regional Park, the Los Angeles River and Encino's Haskell Creek. These urban sites have been heavily impacted by plastic bags and fast-food packaging from storm drain runoff. Since 1990, Heal the Bay's Coastal Cleanup Day campaigns (held each year on the third Saturday in September) have captured 1.57 million pounds of trash. Cigarette butts, plastic bottle caps and Styrofoam fragments continue to be the most frequently found trash at cleanups.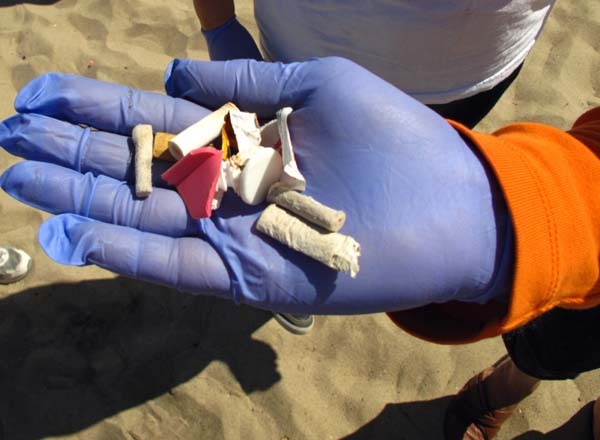 Butts collected in less than 30 seconds by my team.
I joined the Garcia-Romo family from East L.A. in picking up litter on a strip of beach beside the parking lot next to the Santa Monica Pier. Annabelle Garcia Romo kept our trash inventory list listing every cigarette butt, each wrapper scrap and shard of plastic that we picked up. We only collected .1 pounds in a little over an hour, but that's because we picked up so many tiny shreds and pieces of plastic wrappers and other fragments.
We learned in our safety talk how important it was to find little pieces of plastic that can harm seagulls and other wildlife. When sunshine makes shards of plastic glisten, they resemble seashells and fish and birds will swallow plastic by mistake. I thought "stupid birds" until I kept mistaking shells for plastic and plastic for shells. Can you tell the difference?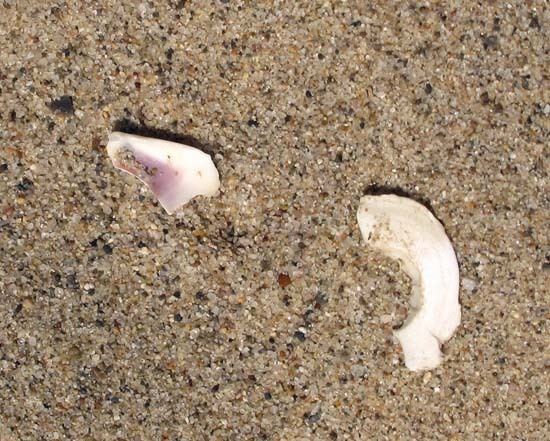 Shell fragment on the left; plastic on the right
As I chased bits of styrofoam being blown across the sand, I realized that "better" styrofoam is as farfetched as "clean" coal. Styrofoam remains an enemy of the planet and is incredibly hard to pick up when it degrades into pieces not much bigger than a grain of sand.
We picked up thin little shreds of plastic bags which convinced me that the death of AB1998 to ban plastic bags in California is a failure every local community needs to address by passing a ban of its own. We need to get away from all of our one-time use plastics whether they are water bottles, shopping bags or one-time use dispensers. Saturday afternoon I saw a wonderful documentary called "Bag it" which really drives home the environmental and human harm created by insidious single use plastic.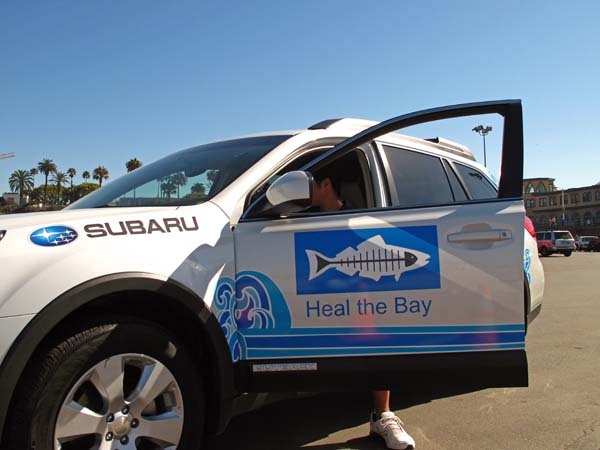 The Heal the Bay Subaru -- At the Santa Monica Pier, Subaru donated $50 for every person who took a test drive in the parking lot.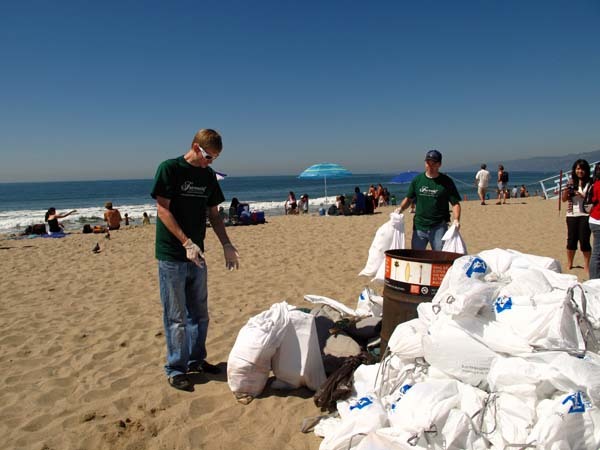 Two employees from the Fairmont Miramar in Santa Monica with piles of trash collected.
FAIRMONT HOTELS & RESORTS STEP UP ACROSS CALIFORNIA
Throughout California, more than 1,100 Fairmont Hotels & Resorts employees, their families and friends volunteered at five coastal cleanup locations in Newport Beach, Santa Monica, San Jose, San Francisco and Sonoma. Fairmont Hotels & Resorts also provided promotional and financial support for Coastal Cleanup Day.
The quirkiest items Fairmont employees found from across the state were Street Signs; a
bicycle frame; an auto transmission; patio furniture; and shoes -- though no pairs were found.
SAN FRANCISCO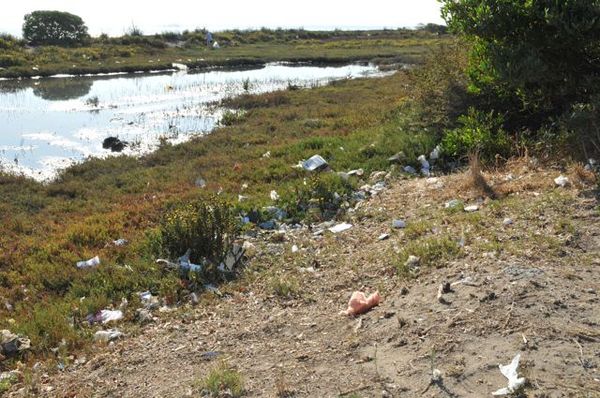 Cleanup location in San Francisco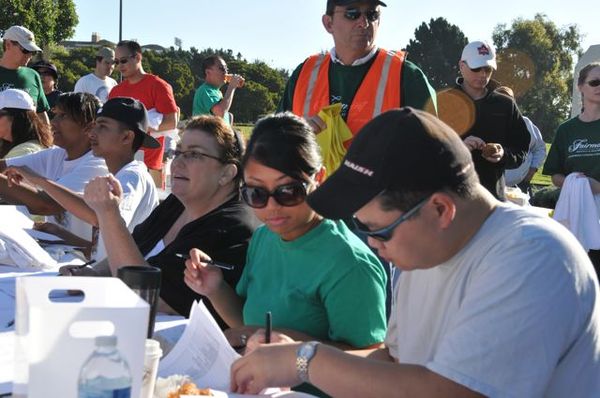 Fairmont employees, Michele Gaul, Jackie Dacanay, Moses Chew, Thomas Klein, jW Foster, David Lund, and others signing people in at a San Francisco site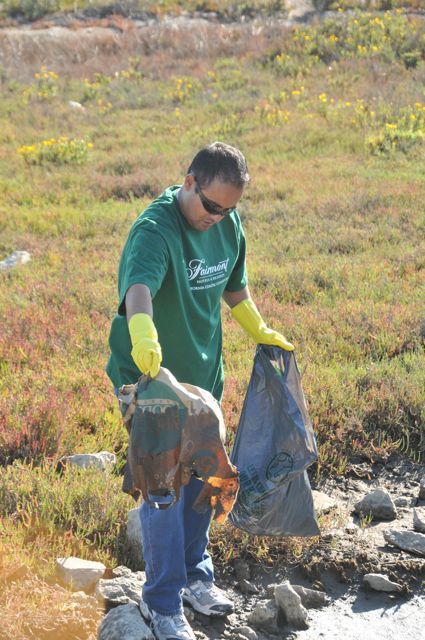 Fairmont employee, Salvador Navarette, picking up trash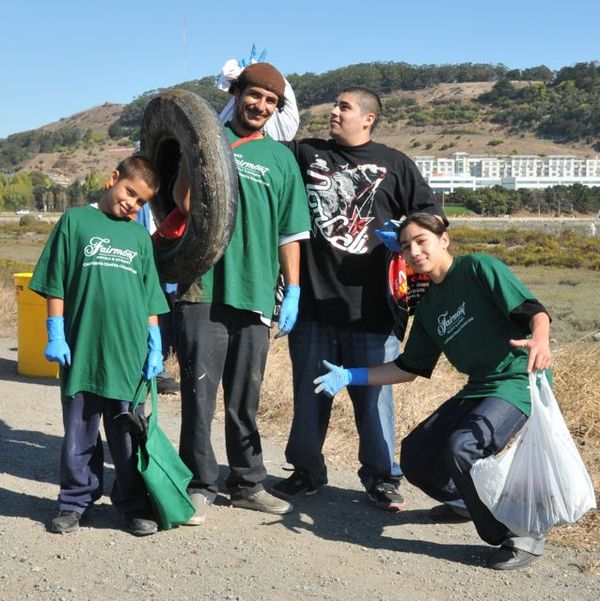 The conquering trash collectors (Tim Kirby engineering (holding the tire) and Arnold Hanzal, In-room Dining (holding up gloved fingers and a trash bag behind Kirby's head)

Fairmont team participating in San Francisco
Santa Monica photographs by: Terry Gardner
All San Francisco cleanup event photos are courtesy of Fairmont Hotels & Resorts
SUBSCRIBE AND FOLLOW
Get top stories and blog posts emailed to me each day. Newsletters may offer personalized content or advertisements.
Learn more