For those who were shocked, shocked about Anthony Weiner's behavior, they were perhaps among those who never read the critically-acclaimed novel I Am Martin Eisenstadt: One Man's (wildly inappropriate) Adventures with the Last Republicans. The satirical novel by Dan Mirvish and Eitan Gorlin that came out in November, 2009, from Farrar, Straus, Giroux contains a fictional episode in which the then-single Weiner out-maneuvers pundit Martin Eisenstadt at a New Zealand embassy party:
I turned around and scanned the room to see if I still had a chance to rack up some frequent-flier miles on Air New Zealand. But by then, my future mile-high-club mate had moved on to an intense discussion with Democratic Representative Anthony "Regrettably Named" Weiner from New York's Ninth District. A handsome forty-three-year-old bachelor, this was the congressman who once famously proposed a special work visa for international fashion models, and then took illicit campaign contributions from several foreign supermodels. I didn't stand a chance against this guy, but boy, did I respect his chutzpah. As I left the party, I couldn't help but notice Vice President Cheney flailing his arms and stomping his feet with the Maoris in their traditional haka war dance. No wonder people were scared of him.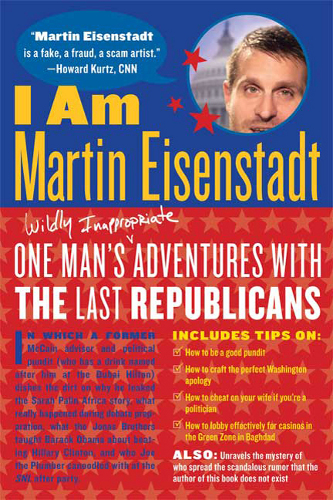 Though fictional, the book is dutifully footnoted and the reference to Weiner's campaign contributions from foreign supermodels is to this article from the New York Post.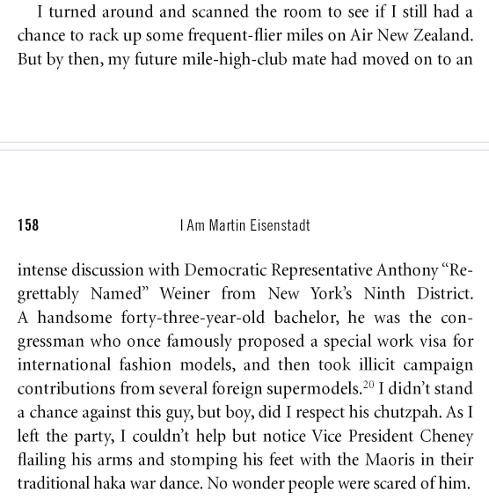 (The passage in question is used with permission.)
Martin Eisenstadt, a fictional pundit created by writer-filmmakers Mirvish and Gorlin, first came to international prominence in 2008 when he claimed to be the source of the leak within the John McCain camp who stated that Sarah Palin didn't know whether Africa was a country or a continent.
SUBSCRIBE AND FOLLOW
Get top stories and blog posts emailed to me each day. Newsletters may offer personalized content or advertisements.
Learn more