What do you wish you had known about your spouse, or partner, before you married or moved in together? Were you surprised to find out that he or she had bad credit, huge student loans, or even a bankruptcy? Did you know about his or her habit of overspending - or about his or her stingy nature with money? And why didn't you discuss those things in advance? Were you afraid to ask?
Those are the reasons I have just co-authored The New Love Deal: Everything You Must Know Before Marrying, Moving In, or Moving On! (Amazon.com $15.25). My co-authors are Gemma B. Allen, well-known divorce attorney and Judge Michele Lowrance, who recently retired after 20 years on the bench in divorce court to offer mediation services for those divorcing, or creating prenups.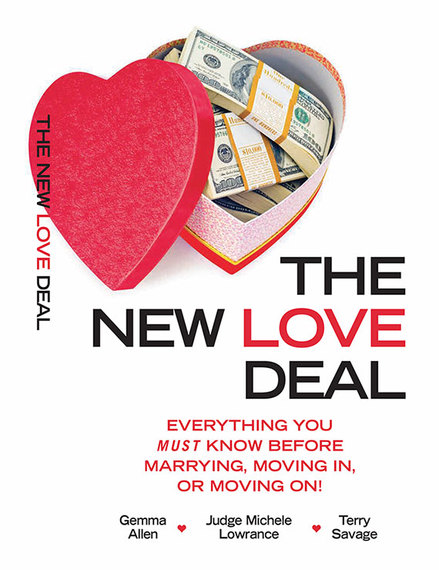 We all share the same belief that if people put as much effort into planning their marriage or relationship as they do in planning the wedding, they would have far more successful outcomes.
So right from the start, let me say that talking about the practical issues of your life together does not destroy the romance. In fact, quite the opposite is true: It is the essence of romance to be open, honest, and trusting enough to reveal your personal fears and hopes as they relate to your finances. If you fear your beloved won't be understanding about past money mistakes, then you don't have a very sound basis for creating a life together. And if you feel compelled to hide your financial issues, you must know that sooner or later they will surface to impact your future.
Having the Talk
We know it's not easy to open up about money. That's why The New Love Deal is a guide to having "the talk" - complete with suggestions for setting the scene, creating the opportunity, and a checklist for the typical emotional responses that will arise.
After all, there are basically only two types of money personality - savers and spenders. For better or worse they tend to fall in love with each other, thereby setting the scene for potential conflict. Those basic tendencies come from your genetic makeup, your childhood experiences, and life's lessons so far.
At this stage of your life, it's difficult to change your own money personality - not to mention impossible to change the person you love. The best you can do is to set up systems that avoid inevitable conflict.
For example, you could decide (based on your incomes and ongoing obligations) to each contribute a set amount monthly to be automatically deducted from your personal checking account and put into a joint account for household bills. That lets each maintain separate funds for personal use.

But just covering monthly expenses is not enough to build a financial future together. Each should also be contributing to an IRA or retirement plan at work. And you might want to add a joint money market account to save for larger expenses such as a down payment on a home. Plus, if one is paying down student loans or still in school or staying home to raise children, you'll need to figure out how that impacts your financial future together, while respecting the need of each to have some financial independence.
Whether you're a young couple just starting out, or farther along your career path, it makes sense to discuss how you will handle money in your relationship. Otherwise, money can become the center of a battlefield that is more about power than about accounting. That also applies to an even greater degree in second marriages, which are complicated by the obligation to support children from a previous marriage.
This kind of discussion would also benefit those just planning to move in together. Otherwise one might be building equity in a condo, while the other only has receipts for paid electric and cell phone bills. Same-sex marriage has its own set of complications, as we explain in fast-changing laws that are different for states and federal issues. (We constantly update those legalities on our website, www.TheNewLoveDeal.com, where you can also post questions on our blog.)
The strategies for dealing with relationships in all the new forms are not so different. They do involve some planning, often using financial advisors and lawyers, to make sure that your deal creates financial fairness -- which is not necessarily the same as financial equality.

Prenuptials and Cohabitation Agreements
Now, while you're most in love and involved in building your future is the time to put your shared agreement in writing. You hope it will never be used to divide your assets and your memories, but since nearly 50 percent of marriages (and cohabitations) end in a split, it is wise to be prepared.
You can use our checklists to guide you through the process, but you do need to follow the legalities for creating an agreement that will hold up in court if that ultimately becomes the case. You each must be separately represented by qualified attorneys. And you need to make full disclosure of all assets and your entire financial situation in order for your deal to be enforceable.
While you can put many points in your agreement, (some of the more outrageous demands are highlighted in the book), it is typically the financial arrangements that will be taken to court. And they court always holds jurisdiction over issues related to children.

Be aware that a prenuptial agreement becomes part of the dissolution of a marriage in your state's family court. But a cohabitation deal is a civil contract if it comes to court should a conflict arise when you part.

Each is a serious legal procedure. As we explain clearly, the deal you make is the deal you take. There will be no special allowances for last minute deals signed under pressure just before you walk down the aisle. The time to start working on your agreement is when you decide to get married or move in, so there is plenty of time to do it correctly. We even have advice on choosing the right kind of attorney (and possibly mediator) to make sure the process goes smoothly.
So throw away your old preconceptions about prenuptial agreements as unromantic, and typically made between a wealthy older man to protect his fortune against a greedy young gold-digger! Today, the wealthier or higher earning spouse is just as likely to be a woman as a man. Couples are less likely to come into a marriage with few assets and little experience.

The New Love Deal is designed to help you become aware of the choices and avoid the conflicts, to building a loving and trusting relationship that will last as long as you hope and dream it will. And that's The Savage Truth.
The New Love Deal is now available on Amazon.com in paperback and Kindle.
12 Things Every Woman Should Know About Money
Diversify Your Investments "Don't put all your eggs in one basket" can be applied to investing. Spread your money to minimize your risks if a company doesn't perform as well as expected. This way, you're also exposed to different assets and will get more gains for your future. Watch.

Make Small Changes To See Big Results One of the biggest money hurdles is getting in control of your money. Instead of making drastic changes -- and falling off the wagon -- track your spending and incorporate new habits slowly. Do you go to the movies once a week? Try going every two weeks. Grab a coffee at Starbucks each morning? Brew your own twice a week. The small savings will add up. Watch.

Know How Much To Save And How Much To Invest If you're ready to get your feet wet into the stock market, start slow and keep building. You want to be able to put your money into an account and not have to withdraw it. Forget rock-bottom savings account rates for all your money -- put 20 percent into a savings account and the other 80 percent into the stock market. As you get closer to retirement age -- and less willing to take risks with your retirement money -- the percentages will become 50/50. Watch.

Take Advantage Of Compounding Interest Too often, women forget about the power of compounding interest. The earlier you start saving, the less you'll have to save in your 40s and 50s for retirement. It's not magic, just math. Watch.

Negotiate A Higher Salary It's critical to negotiate your salary -- no one else is going to do it for you. Research what people in similar industries and job roles are making, and present it to your supervisor. If your company can't provide you with more money, you can still negotiate: can they provide you with more vacation days or allow you to work from home once a week? These extra perks might offset a lower paycheck. Watch.

Forget About Cashing In Your 401k If you think of the money sitting in your 401k as an emergency fund or savings account, think again. Withdrawing money early will result in paying taxes just like you would your normal paycheck. Additionally, you will pay both a 10-percent federal tax penalty and a state tax penalty. Watch.

Save Money On Your Online Shopping Make saving money when shopping online a breeze with Bodge's favorite app, Invisible Hands. This handy program does the price-checking research for you, and will alert you when a different site has a better price -- or let you know that you've found the best deal. Watch.

Avoid Financial Rip-Offs When choosing what to invest your money in, if it looks too good to be true, it probably is. Remember that you're investing and saving for the long term, not to get rich overnight. Watch.

Decide Whether To Rent Or Buy Buying a home is not only an investment, but a permanent tie to a location. More importantly, it can limit job opportunities by making you location dependent. If you're uncertain about whether you'll be in the same city in 5-8 years, it's best to rent. Watch.

Cut Back On What You Want, Not What You Need Identifying what you need versus what you want is an easy way to cut back on spending. You need food -- but ordering out instead of eating the leftovers in your fridge is a want. By being honest with yourself about what you actually need to spend money on, you can start to save. Watch.

Don't Pay Down Debt With More Debt If you're trying to pay down debt, avoid taking on more debt -- forget taking out a loan or getting a new credit card to pay another off. Instead, keep paying off debt as your priority, and with each paycheck, add a few extra dollars to your payments. There are no shortcuts, but making on-time payments above the minimum will help you pay your balances as soon as possible. Watch.

Save At The Grocery Store When you're shopping for groceries, look at the unit price, not just the price per item. While that box of cereal might be $1 cheaper than the other brand, it might also contain less. Use this strategy for boxed items, meats and cheeses -- you'll save more than by just looking at size differences or brand. Watch.
Follow Terry Savage on Twitter: www.twitter.com/TerryTalksMoney