I was ten years old when I began reading Women's Wear Daily. In the late 1970s, I was 'working' at my parents' clothing boutiques on Long Island, where I drank Fresca while flipping through stacks of WWDs. Surely, my family was proud of my blooming yen for fashion, but I wasn't allowed to touch the designer merchandise unless I washed my ink-stained hands.
If you're a fashion history buff like me, or any die-hard fashionista, then feast your eyes on Fairchild's latest tome, WWD: 100 Years, 100 Designers, which offers a panoramic view of the evolution, personas, and cultural phenomenon coursing through this industry. The creative minds behind this book all hail from Women's Wear Daily: Editor in Chief, Ed Nardoza, Executive Editor, Bridget Foley and Contributing Senior Executive Editor, Etta Froio.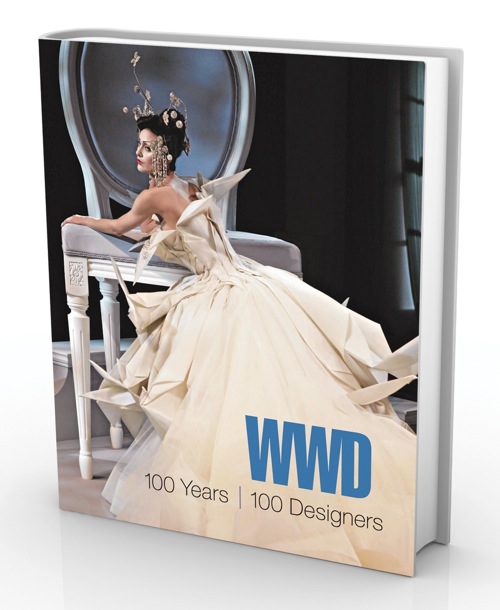 Studying fashion trends and designers at such an early age gave me a life-long passion for the regal European fashion houses like Yves Saint Laurent, Chanel and Dior, while my appreciation for American designers and the sportswear aesthetic trailed the heady visions' of Halston and Calvin Klein, who were drawing headlines and hemlines via too many nights at Studio 54.
As I read through this book the uniqueness of each decade jumped out at me. Having interviewed Oleg Cassini just one year before his death in 2006, I appreciated his quotes from 1964, 1972, and in 2003. Just months after the assassination of President Kennedy, Cassini, who dressed the First Lady, said in a 1964 interview with WWD, "It was dignity, not novelty that Mrs. Kennedy wanted. The most difficult thing during the whole episode was restraint."
Beyond the pictures, there is so much history buried in the print. Who knew that WWD coined the First Lady's iconic moniker, 'Jackie-O', bestowed when she married a real Daddy-O, Aristotle Onassis? And then there's the 'Nouvelle Society', WWD nomenclature for the booming 80s, a decade of conspicuous consumption and Madonna, the original Material Girl, whose style would influence generations of designers throughout the world. Aside from the photography and memorable quotes, there are 30 insightful designer interviews included in this book, which showcases the editorial style and quality of the legendary paper.

While I no longer have ink-stained fingers when I read WWD -- I get it all online, these days -- I do long for the fashion days of yesteryear, and this book is a perfect gift.