THE BLOG
Made With the Braid
This summer heat and humidity has my long, thick, straight tresses adding all sorts of Belle de Jour-esque volume -- at this point I'm just shy of an unwelcome Snookie poof. And while I know sexy bedroom hair is back in a big way, I've always had a love affair with braids and they're perfect for all this steamy weather.
Since my youth, whether summering in the Hamptons or far-flung tropical islands, I would always turn to my stylish mother for all sorts of braided variations. From French to hippie-inspired to runway chic, I've experimented with them all. On my wedding day 10 years ago, I turned to beauty expert Birgitte Philippides for a special look: recreating an elaborate French-meets-cornrow-braid couture coiffure I'd spotted in the pages of ELLE magazine.
Maybe it's just me, but I'm seeing braids everywhere these days. They're big in the World Cup, where I've spotted trendy braids adorning players from nearly every continent. And just the other night I watched the classic 1971 film, Harold and Maude, wherein the sexually-charged, septuagenarian Maude (Ruth Gordon) dons braids like laurels across her crown. Indeed, braids have always found a home in classic beauty, fashion and popular culture -- and they keep changing with the times.
In Jason Wu's Resort 2011 show, Aveda's master stylist Jenn Chiminiello captured the enduring allure of braids and made them original all over again. "The Jason Wu hair look for Resort 2011 is a slightly tousled, modernized braid that is both innocent and sexy," says Chiminiello. "The freshness of the braid complements the romantic florals and pretty plaids in Jason's collection." The braids riffed on the spirit of dewy 60s pixie cover girls, who graced the high fashion glossies.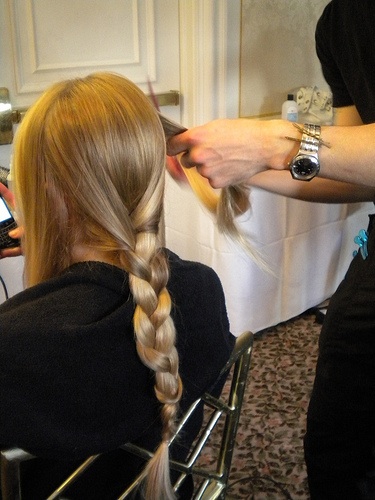 Can the average woman who's all thumbs achieve this timeless summer look? Here's Chiminiello's instructions for a beautiful braid:
"This style looks pretty and fresh for daytime and super romantic for evening. To keep the look from going flat, apply Aveda Phomollient Styling Foam to damp hair, massaging from roots to ends, and blow dry with a round brush. Then divide hair into two side sections and one back section. Create a tight braid with the back section of hair, securing with an elastic. Wrap pieces of hair from each side through the braid, securing with an elastic at the bottom of the braid. To keep the style in place, spray liberally with Aveda Control Force Firm Hold Hair Spray."