Before embarking on a Thanksgiving yoga retreat to the sacred Ananda Ashram in Monroe, New York, I spoke with fellow yogi and jewelry designer Carlos Souza about the sharp downturn in the high-end luxury market.

"Beautiful things don't have to be expensive," the former Valentino publicist says. "Buy a pomegranate and you'll see real beauty." Souza, a rakish, Brazilian jet-setter oft-photographed with beaming supermodels,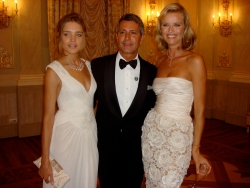 views life as a bowl full of cherries -- including the pits and pitfalls of the economy.
I couldn't agree more. Ananda, where I was eating simple, vegan food and slumbering in anti-Valentino accommodations, demanded a spiritual practice of mindful awareness, a knowledge that beauty is universal.
For Souza, keeping the faith and cultivating creativity during these anxious times is a byproduct of his fervent, 6-year Ashtanga yoga practice, which has now evolved into pure Hatha -- with a healthy dose of joie de vivre. "We all live active lives," he says. "I just tell my friends everything is going to be all right, to breathe, calm down and meditate."

Being in the moment and bestowing thoughtful gifts is what Souza's 'club' of admirers clamor for. His Most Wanted Design Collection debuted on a yacht in the Caribbean celebrating the millennium. Fetching crewmates included Claudia Schiffer, Liz Hurley and Tim Jeffries, though the lucky recipients of his inscribed Charlemagne crosses
-- starting at $600 -- went to Valentino and Giancarlo Giametti. It's been smooth sailing ever since. Today the bold and beautiful don Souza's divine pieces, including boho goddess Elle Macpherson, It-girl Alice Dellal, socialite Julia Koch, Princess Marie Chantal of Greece, Elton John and financier Arki Busson.
"My jewelry shows a little bit of my heart and my thoughts," Souza explains. Ranging from staggering bling to spiritually-charged trinkets, his designs lick the winds of change with a sense of optimism and harmony. His traditional Indian Navaratna charm necklace ($2,500)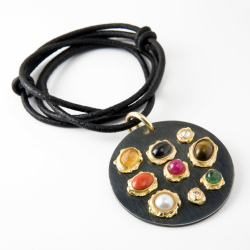 radiates the cosmos by correlating each of its 9 gems to the planets above; and his Indian Rudraksha necklace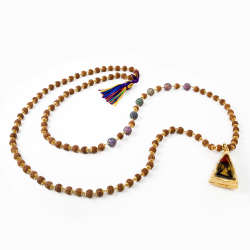 , which includes a hand-sculpted Buddha talisman blessed in Thailand (starting at $550), echoes equanimity and is popular with men and women alike.
Like 'No Drama Obama,' Souza exudes grace under fire. "I'm very Obama," he says. "Our new President has a very difficult task ahead, and his message is most welcome."

Friends and family nurture Souza's sensibility, and naturally, years working alongside a fashion legend fuels his endless originality. Souza describes his glamorous years with Valentino as 'enrichment of the soul'.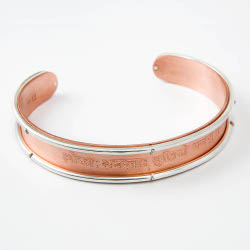 The camaraderie between them seems to have only grown deeper; the two are often spotted supporting each other at paparazzi-lit events around the world, be they in Rio or New York. "My sons are my fountain of inspiration," the proud Poppi says. "They always mention that my pieces bring good luck, and they do not have to be precious to shine."
Blissed out from the Ashram, yet gratefully grounded on hallowed Manhattan asphalt, I've drastically edited my holiday wish list. What remains is Souza's bracelet (starting at $850)engraved in Sanskrit: Lokah Samasta Sukhino Bhavantu (Translation: May All Beings Everywhere Be Happy and Free). (www.mostwanteddesign.com)