**By Erin Geiger Smith**
On Sunday, the crowds came to Media, Penn., population 5,500, for pony rides, fried Oreos, face painting and pumpkin purchasing. The presidential candidates also traveled to Delaware County recently, seeking votes instead of pumpkins.
Republican nominees Sen. John McCain and Gov. Sarah Palin, as well as Democratic vice-presidential candidate Sen. Joe Biden, all held rallies in Media last month and Sen. Barack Obama spoke in nearby Chester on Oct. 29.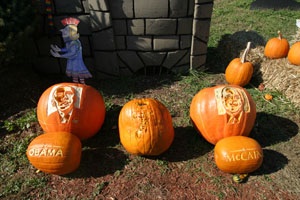 Political pumpkins were on display at Linvilla Orchards'
annual Halloween festival on Sunday.
Polls show Obama with a significant lead in Pennsylvania -- the Web site Real Clear Politics shows an average of current polls with the Democratic candidate 9.5 points ahead as of Oct. 28.
All the candidates are targeting undecided voters. At Linvilla Orchard's annual Halloween festival in Media on Sunday, crowds gathered from all across Delaware County and even nearby Philadelphia; several festival visitors said they still hadn't decided which candidate will get their vote.
Rosemary Thyberg, 27, shared some of the festival's fried food with her new fiance Josh Schneider, 28, while sitting in the sunshine at an outdoor wooden bench. Schneider is a staunch Obama supporter, but Thyberg remains firmly undecided. "I don't know who I am going to vote for, but I better figure it out soon," Thyberg said.
"I am registered as a Democrat, [but] I've always voted Republican mainly because of the abortion issue -- I am very actively pro-life," Thyberg said. She voted for George W. Bush in 2000 and 2004.
"I don't know what I'm going to do this time. The abortion issue is still very important to me," she said, "but they had eight years to do something about that . . . and there [are] other issues I feel like I need to start to take notice of and not base my opinion solely on that one issue."
Thyberg, who teaches music for kindergarten through eighth grades, said she is disappointed that Bush's education bill, the No Child Left Behind Act, has had an adverse effect on school music programs, which she said have been minimized and neglected in favor of preparation for standardized tests. She also feels "a little betrayed" because of the economic crisis and the war in Iraq.
Until McCain chose Palin as his running mate, Thyberg was leaning Obama, she said. "I see a lot of myself in her because she is pro-life and she's conservative, but at the same time she has done things outside of her party," she said.

All the recent negative campaigning, both in advertisements and by candidates themselves on the stump, haven't helped her decide. "It's so hard when you are undecided and you are really trying to find out the facts to make an educated decision and there is so much negativity in the air," Thyberg said.
Thyberg does not believe the candidates' final push in Pennsylvania will sway her either way. "It's an internal struggle," she said. "I need to do some soul searching."
Siblings Desiere Corliss, 23, and David Corliss, 21, were not having trouble deciding where they stand on the issues, but said they could not decide where they stand on Obama. They stressed that they grew up in a Democratic family and that they both usually vote for Democrats. David, however, said he has, "questions about Obama's connections," to which his sister nodded affirmatively.
David's doubts appeared to track advertisements and statements made by the McCain camp regarding Obama's affiliation with William Ayers, the founder of 1960s radical group the Weathermen. Desiere, who was wearing a sweatshirt that read, "Make Love Not War," said that neither candidates' advertisements were helping her decide. "For me, seeing the negative ads makes me not believe that candidate," she said.
Both Corliss siblings intend to vote on November 4.
Ed Lampe, 45, a Philadelphia native who was spending the day at the Halloween festival with his mother and nieces is also undecided, but said he will definitely vote. Lampe cited the environment as the political issue he is most interested in, and that he is leaning toward Obama, but also said the candidates have muddied their positions in the final weeks. Specifically, he was unclear whether Obama now supports offshore drilling, which Lampe opposes. He wants "more support for solar and wind energy," he said.
Lampe said that, aside from wanting a clearer picture on each candidate's environmental policies, he wants to learn more about their tax plans. "I am self-employed," he said, "so I am concerned about taxes, because when you are self-employed, you pay a lot."
He said he tries to ignore the television advertisements, but paid attention to the negative advertisements he hears on the radio. "They have helped," he said. "They make me think, is Obama going to raise my taxes?"
However, he said, he does not accept the candidates' advertisements or attacks at face value. "I need to double-check, verify what they are saying," Lampe said.
Lampe predicted that no matter how he votes, Obama will take Pennsylvania.

By visiting the state frequently in these last days, the McCain camp is doing everything it can to prove Lampe -- and the pollsters -- wrong. Last Tuesday, McCain told a Pennsylvania crowd, "We need to win Pennsylvania on November 4, and with your help... we can."
SUBSCRIBE TO & FOLLOW THE MORNING EMAIL
Start your workday the right way with the news that matters most. Learn more