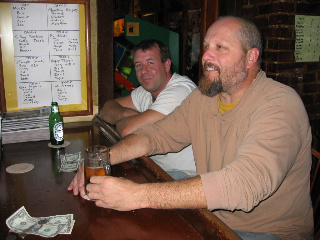 HAZLETON, PA, 11:15 a.m.: It's no coincidence that neither Barack Obama nor John McCain has campaigned personally in Hazleton, one of the region's biggest towns, said lager-tasting patrons of Hazleton's Battered Mug Tavern on Saturday night. Because the city under Mayor Lou Barletta passed in 2006 an ordinance cracking down on illegal immigrants (later struck down by a federal judge), the candidates would have a hard time staying on message on immigration and pleasing Hazleton residents, they said.
Patron Nathan Thompson, a legislative aide to Republican state Rep. David Argall, said immigration remains the town's hottest topic and predicted the town would likely split narrowly come November 4.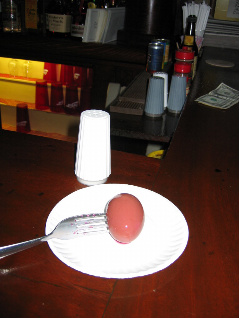 Meanwhile, the bartender nearly threw us out for bringing up politics, though not before he made us try the Battered Mug's specialty bar food: pickled eggs. When asked how long they ferment, the bartender said a good guess would be five years...We're pretty sure he was joking. The verdict? As Esme put it, it tastes like a beet.
Aside from its Saturday night patrons, the bar is the hang-out for local Obama volunteers, said organizer Anne Marie Shelby. Though the town's touchiest subject may be immigration, one Obama volunteer said the toughest conservative crowd to win over is the pro-life group.
But this weekend the most dramatic local rivalry played out in Philadelphia where Hazleton native Joe Maddon, manager of the Tampa Bay Devil Rays, lost to the Phillies in Game 3 of the World Series on Saturday night. In attendance: his mother, Beannie Maddon, who arrived at the game with a batch of hoagies, according to this news report. Maddon told the AP she was under strict instructions: "He says we can't come if we don't bring them."
By Kristina Peterson