Nineteen year old Kayla Rodriguez displays a broad smile to anyone who enters Casa Obama. Rodriguez, a mass communications student, has been on the job for just over a week, at this West Tampa Obama campaign office set up specifically to target Latino and minority voters.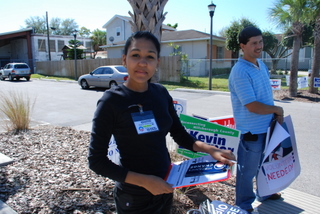 Kayla Rodriguez, 19 volunteers at West Tampa Library
"Would you like a badge or a poster?" she asks a couple who just arrived.
"Yes," they nod, and in an instant she quickly presents them with a "Change-Cambio" embossed poster and is off to a new task.
Gladys Bernett is a Panamanian volunteer from Tampa. According to Bernett, Casa Obama is unique, and the first of its kind. There has not been this much interest in the election among young Hispanic voters before and that alone is historic, she says.
"This is one of the opportunities that we have to make a difference, and I think the Latino community is beginning to understand that," she said.
Bernett has been out canvassing in the Tampa Bay area for days, knocking on doors and urging voters to take advantage of the early voting period, which began on October 20th.
"Right now we are trying to get registered voters to get out and vote," she stated. "Historically, they tend to register, but they don't get out there."
Kayla Rodriguez has been calling voters since she arrived at Casa Obama to hurry up and vote. Kayla who is from Valrico, FL, a predominantly Cuban community where most support John McCain, was not interested in the election, until things in her life started to spiral downward. She noticed her friends could not afford college, and her mother could not afford health care for their family or get food stamps.
"First they cut the food stamps for my mom, and now they send us a check for $29," she said. "How are people supposed to eat?" she asks.

Kayla's younger brother, who is thirteen, is color blind and is a special needs student. Her stepfather had just left them, leaving her mother to care for the two children by herself. And to top it all off, their home was foreclosed.
"My mom went into a great depression. Then my friends went into depression, then my brother. If everyone is depressed, how do I survive?" she said.
Rodriguez volunteers at Casa Obama between classes in hopes that she could make a difference and help Sen. Obama get elected.

Children make posters for the campaign
The make-up of the Hispanic community in Florida has changed, which diminishes the impact of Cubans that have always voted Republican. In 2004, 56% per cent of Florida's Hispanic voters voted Bush.
This time around, the women at Casa Obama think they have a fighting chance at issues they are faced with everyday. They wish not be "overlooked" anymore. And this election is a sign that they are getting that chance.
"My main thing is health care, immigration, and that I hope one day my friends could get an education, too," Kayla said. Her friends have not been able to go to college as they grew up in the United States but are still not citizens. They are unable to qualify for federally-subsidized loans.
Kayla says one of the reasons she supports Obama is because he supports the DREAM Act, (Development, Relief and Education for Alien Minors Act), proposed federal legislation that could help certain high achieving illegal immigrant students to get U.S. residency.
"It will help [my friends] to have hope, to get a career, to become someone... and to be accepted as the Americans they are," she said.

Gina Bonewit Marin, a volunteer from Costa Rica, who has left her job as a real estate agent for a month, has her own bone to pick. This is her chance to help Hispanics fight for their rights. She is fed up with the "American attitude of kicking out the 'aliens.'"
"We do a lot of the dirty work that Americans here won't do, for low pay," she said. "We need to ask this country, what are you going to do for me? We pay taxes here too," she said.
Gina, who works at Ybor City campaign headquarters, claims that in her circle, many support McCain, because they do not have a clear understanding of the issues that Hispanic immigrants face.
"Right now I think they [Latinas] are not making the best choices because they are not educated," she said.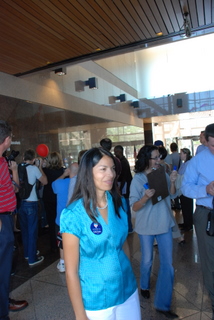 Gina Bonewit Marin greets citizens at a rally in downtown Tampa
Bernett agrees that Hispanics do not understand the issues, especially the war. She started to support Obama after the National Convention, and says that the war in Iraq is at the forefront of the issues on her side.
"In 2006, I had one of my friends die in Iraq," Bernett said. "He [Obama] was the only one who stood up against the war in Iraq," she said.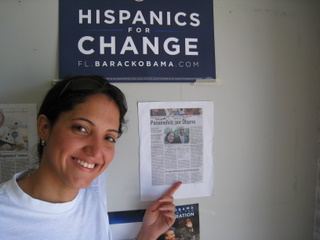 Gladys Bernett, poses with her picture in a newspaper with Barack Obama

With the clock ticking, the women of Casa Obama have only a day to get the word out to help Florida win the Hispanic vote for their candidate.
"This is a movement, this is not only a regular election that happens every fourth year," Bernett said, rolling up her sleeves to get back to work.
"The way he has run the campaign for Latino outreach has been amazing," she said.
SUBSCRIBE TO & FOLLOW THE MORNING EMAIL
The Morning Email helps you start your workday with everything you need to know: breaking news, entertainment and a dash of fun. Learn more