Capt. Rodney Knutson speaks to McCain supporters at downtown Philadelphia headquarters after a motorcycle caravan of about 30 bikers toured the city in support of McCain. Photo: RANDALL MAH
BY RANDALL MAH
PHILADELPHIA, Pa. -- A caravan of bikers, many of them tattooed and wearing bandanas and embroidered leather jackets, gathered in front of Sen. John McCain's campaign headquarters and revved their engines in support of the Republican presidential nominee.
The Oct. 26 motorcycle rally of about 30 bikers was attended by the type of voters McCain believes will be key to winning Pennsylvania: Blue-collar whites who spurned Sen. Barack Obama in the Democratic primary and whom Obama has had difficulty winning over. But what made this such as a striking tableau was that it was held in downtown Philadelphia. While Pennsylvania remains a hotly contested swing state just days before election day, predominantly Democratic Philadelphia looks like anything but a swing city.
Local enthusiasm for Obama is visible everywhere. Obama-Biden posters are prominently displayed in home and store windows and people sport Obama buttons and t-shirts. But while Obama backers displayed their support visibly, McCain boosters roared with enthusiasm as they traveled by motorcycle through Philadelphia last week.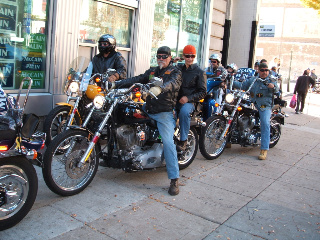 Bikers for McCain get ready to leave campaign headquarters to tour Philadelphia. The rally was attended by mostly blue collar white voters, whom McCain believes are crucial to winning Pennsylvania. Photo: RANDALL MAH

"We're here to draw attention to John McCain and to let Philadelphia know we support him," said Marion McCartney, a 55-year-old heavy machine operator sporting a "Harley Owners" black leather biker's vest. "People notice the motorcycles."
With time running out and McCain the apparent underdog, his Philadelphia supporters feel compelled to make their voices--and in this case their mufflers--heard in this overwhelmingly Democratic city. A Republican has not won Pennsylvania since George H. W. Bush in 1988 and McCain has been trailing Obama in state polls for weeks. A Muhlenberg College/Morning Call poll released Oct. 31 puts McCain behind Obama 44 percent to 52 percent.
McCain campaigners hope that by canvassing, calling and engaging voters, Philadelphians will be swayed by McCain's life story, public service and policies. With a stronger-than-expected showing in Philadelphia by voters for McCain, they believe they can pave McCain's road to the White House by tipping Pennsylvania's 21 electoral votes into his column.
"I see a true American in John McCain," McCartney said. "I believe John McCain loves this country more than any other candidate. I truly believe that." McCain's public service, McCartney explained, convinced her to support the Republican.
McCartney, a resident of the Philadelphia suburb of Sharon Hill, said that she read Obama's autobiographical book, "The Audacity of Hope," soon after its release two years ago.
"When I first bought that book, I was going to vote for Obama; this is a great American," said McCartney. But as the campaign has dragged on, with mudslinging on both sides, McCartney said that "I haven't seen any of that patriotism in his campaigning."
Hoping to convince more likeminded voters, the McCain campaign chose Navy Capt. Rodney Knutson, a former Vietnam prisoner of war who befriended McCain during their years at the infamous "Hanoi Hilton" prison, to headline the rally. Knutson, 70, occupied a cell adjacent to McCain's and they communicated by tapping through the walls.
"John McCain feels like I do," Knutson said at McCain headquarters after touring Philadelphia by motorcycle. "I can't help but think he will do anything to keep this country safe."
Knutson told the small crowd of the deprivation and propaganda they endured in prison. The fortitude McCain demonstrated during his five and a half years in captivity, Knutson said, convinced him that McCain is the best candidate for president.
While they expressed admiration for McCain's service, however, many undecided voters elsewhere in Philadelphia were decidedly concerned with bread and butter issues.
For Wabi Jain, a 22-year-old financial analyst eating lunch at the Reading Terminal Market, a large indoor marketplace, the economy is his primary concern and he is not happy with either McCain's or Obama's command of the issue. In order to support either candidate, Jain said, "I would have to hear more specifics about how they would fix the economy."
To address voters' concerns, McCain volunteers are referring them to the McCain campaign Web site. Specifics on issues like the economy and healthcare are all addressed on the site.
Ed Bonett, a volunteer coordinator, said the Philadelphia campaign is also canvassing and distributing fliers at local events, particularly in northeast Philadelphia, which leans Republican. "The door knocking and surveys are geared towards the independents," said Bonett, a 45-year-old attorney.
McCain volunteers are counting on these grassroots efforts to bring more votes their way.
"My approach was to reach out to the Obama supporters and the undecided," said Vicky Honohan, a financial planner in her 60s who traveled from Long Island, N.Y. to volunteer for McCain on the phone. Honohan said that by "planting the seed," she believes voters will grow into McCain supporters.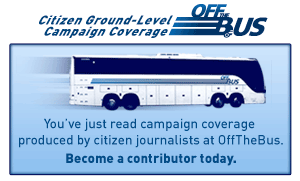 SUBSCRIBE TO & FOLLOW THE MORNING EMAIL
Start your workday the right way with the news that matters most. Learn more