**BY BRAD DAVIS**
OMAHA, Neb. -- In a drab, beige strip mall -- a Kwik Shop gas station on one side and a Chuck E. Cheese on the other -- a group of people say they're trying to change the world. Or at least a little part of it.
Barack Obama's "Nebraska Campaign for Change" has its Omaha headquarters off 76th and Dodge Streets, in the center of this city whose majority hasn't voted for a Democratic presidential candidate since going for Lyndon B. Johnson in 1964.
Polls show the presidential race in Nebraska's 2nd Congressional District -- the core of the Omaha metropolitan area -- is nearly tied. If the district goes for a Democrat, some prognosticators say its one electoral vote could put Obama over the edge in a close election.
Obama supporters say they can see victory on this city's wide-open horizon.
Not so fast, John McCain supporters say.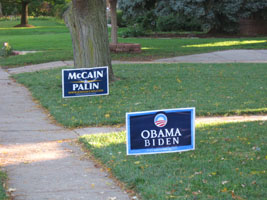 Different sides of the same home: Omaha duplex
residents split their votes.
Taped to the door of the county Republican headquarters, across town, is a poster declaring, "Smile. You live in a red state."
That Omaha even matters in an otherwise solidly Republican state is because of the state's proportional allotment of its five electoral votes. Nebraska's three congressional districts each give their electoral votes to the candidate who wins the district. The state's other two electoral votes go to the candidate who wins the majority of votes statewide.
Maine is the only other state that allots its electoral votes proportionally. The 48 other states are winner-takes-all.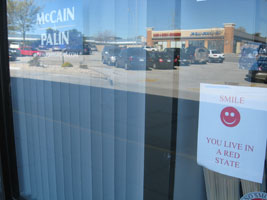 A word of encouragement at the entrance to the
Douglas County GOP offices.
Never in modern history -- probably not since native son William Jennings Bryan ran for president four times between 1896 and 1912 -- has Omaha seen so much attention from presidential candidates: Obama spoke to 10,000 people here during the primaries and GOP vice presidential nominee Sarah Palin addressed more than 5,000 people in early October. On Oct. 21, Hillary Clinton, Obama's one-time rival for the Democratic nomination, told Omahans their vote could hold the key to a Democratic victory.
Omaha area Democrats, who have registered more than 15,000 voters since January -- compared to the Republican tally of just over 800 -- said they're basking in the attention.
"You see an enthusiasm that wasn't there," said Maureen Titus, who supports Obama. "The number of people who have gotten involved is just beyond belief."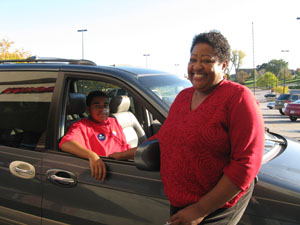 Deborah and Chris Bridgman, of Omaha, say if Obama
is elected president, "It's going to change everything."
Deborah Bridgman, an African-American Omaha resident, said Obama's candidacy, even if he doesn't take Omaha's electoral vote, had delivered on its promise of hope, especially to this city's black community.
She said having a black person so close to the presidency helps African-Americans know that great possibilities are possible in their lives, too.
"You recognize the importance of it," Bridgman, an Obama supporter, said of his candidacy. "It hits you."
Still, Bridgman said her experience since moving in 1993 to Omaha, which is about 14 percent black, wasn't always a positive one. She cited what she said were examples of police violence against black young people as evidence of the city's underlying racist attitudes toward black people.
"I'm very, very, very surprised at the polling," Bridgman said of the close race within Omaha, a city of 438,000 with a metropolitan area of nearly a million.
The final poll -- the Nov. 4 election -- will keep Omaha in the Republican column, if it's up to David Bywater, director of the Douglas County Republican Party. He's been working around the clock to fend off Obama's challenge.
Obama has opened three offices within the city; the McCain campaign has none. Instead, the McCain campaign runs an all-volunteer operation in Douglas and Sarpy counties, the two counties that make up Nebraska's 2nd Congressional District, where Rep. Lee Terry, a Republican, also faces a close race against a Democratic challenger.
"They can come in here and try to buy the votes, but it's not gonna happen," said Bywater, who has worked on Republican campaigns for 17 years.
Voters in the 2nd Congressional District in 2004 chose George W. Bush 58 percent to just over 40 percent for John Kerry.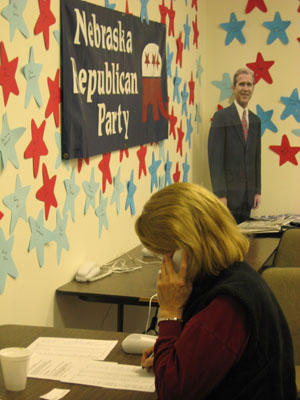 Omahan Glenda Bahr works the phones, George W. Bush
standing sentinel.
Glenda Bahr, a retired schoolteacher, volunteers with the Omaha Republicans. She said she was surprised at the level of interest in the presidential campaign -- especially among young people.
Based on dozens of people she has called, and based on her interactions with students in her role as a part-time substitute teacher, she said Omaha's young people seemed split between Obama and McCain.
She said she supported McCain because she worried about Obama's policies of "redistributing the wealth."
Taking away people's hard-earned income would change the character of America, she said.
That character is embodied in Nebraska, she said, where people band together to support each other because that's what good neighbors do - not because the government forces them to.
"We're not whiners so much," she said.
Ben Amdor, 19, will vote for the first time in this election. He supports Obama, he said, because "McCain is just a stooge for the wealthy."
Even though he said he didn't support the two-party system, Amdor, a life-long Omahan, said Democrats aligned more closely with his family's Catholic Democrat values.
"What I grew up with, in the back of my mind, I still think of the Democrats as the party of labor, and getting people's rights," he said.
Bahr, the Republican volunteer, said she thought the Omaha race would come down to young people, such as Amdor.
"I see the young people being split," she said.
So, it seems, is all of Omaha.