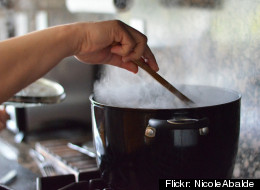 You! You there! College student! Quick, open up your wallet. How much do you have in there? Less than five bucks? So, stereotypes really do exist for a reason.

Thing is, the broke college student stereotype makes sense. The average college student gets by on a few bucks garnered from a demoralizing part-time job, crippling student loans and whatever mommy and daddy are willing to dole out. In turn, that money is spent on liquor, beer, and wine, in that order. Again, this makes sense, as beer is the currency of the common college student. If a guy gives a girl a dollar to talk to him for five minutes, he's engaging in some entry-level prostitution, but if he presents her with a couple lukewarm Keystone Lights be hid behind the oven (total cost: about 60 cents), he's a modern-day knight in beer box armor. Peoples gotsta get laid, son.

Sadly, this leaves little money for food. What pittance that remains is quickly turned into cheap bang-for-your-buck calories that are flavored with such delightful ingredients as disodium inosinate and powdered cooked chicken. Nothing says, "tastes just like mom used to make it," quite like powdered cooked chicken.

Knowing this, The Black Sheep set out to find a solution -- a way to eat like a daddy's girl on a crack whore's dime. We found our inspiration in a Food Network TV show, Chopped. In it, trained chefs are forced to present a panel of judges with dishes created from ingredients revealed to them only moments prior to cooking. The chefs must use all ingredients provided to them, and they have 20 minutes to prepare their plates.

This seemed like a reasonable facsimile of the college cooking experience, only the constraints imposed on the college student happen by circumstance, not by choice. The time crunch exists because of abject laziness. Ingredients are limited because, well, there was a great deal on minced beef heart and you really thought you'd grow to like it. And there's no one judging you except for yourself, but Jesus, man, you have to eat something eventually -- you almost mowed down the old burrito your neighbor uses as a doorstop.

So the adventure began. With four chefs, three judges and an emcee, we set out to form the whitest rap group of all time. Failing that, we were exerted ourselves to prove that it's possible to get good grub for less.

The Rules:

- Four cooks will compete in three heats, vying to be crowned the College Chopped Champion.
- Heat one and heat two will each have two chefs competing against one another using the same ingredients. The winner of heat one and heat two will move onto the championship heat. The winner of the championship heat, uh...wins.

- Each heat will be 30 minutes long. The first five minutes of each heat can be used to plan that heat's dish. No cooking or preparation can be done in the first five minutes. After five minutes, both chefs have 25 minutes to cook and plate their food.

- In each round both cooks will be provided with the same five ingredients. Each cook must present one dish for tasting.

- Cooks may include any spices, seasonings or condiments found in a standard kitchen, but cooks cannot introduce new food elements to the cooking.

- Cooks have access to one pot, one pan, knives, a cutting board, a sink, a microwave, an oven, a blender and two stovetop burners.

-At the end of each heat three judges will rate each dish on a one-through-five scale for flavor, appearance and creativity.

The Food:

- Prior to the event The Black Sheep purchased all ingredients used in this contest from a chain grocery store in a Chicago neighborhood.

- Each cook will be provided with one protein and four other items that they must utilize during their heat.

- In the spirit of financial difficulty faced by many college students, each protein will cost less than $3. The total cost of the other four items will be under $5.

- No cooks had any prior knowledge of the foods they would be working with.

The Judges:

Molly: Once cooked an eight-course African meal in five hours. Will text her boyfriend, letting him know the food she made was "so good," but will deride anything she cooks for him.

Mike: (Per Mike) "I want it all. I want to explore new taste sensations that you just cannot get at Wendy's. I try to immerse myself in local culinary delicacies, like when I went to Detroit and got coneys from American and Lafayette, and got Detroit-style pizza from Buddy's. But also, I want to savor new culinary creations so that when I tell people 'I ate X' and they say 'Sounds kinda nuts!' then I can say 'Mmm, but you should definitely try it.'"

Greg: A culinary school graduate and a salumaria shop owner. Can identify most spices and seasonings used in a dish without asking the chef. Basically, Greg knows his shit.

Note: Scores that follow will be presented in the above order.

The Contestants:

Dave: An Eagle Scout who is used to cooking in a spartan environment, like the wilderness, or a college apartment that hasn't had the dishes washed in three months.

Joelle: Smarter than your average chef. Understands what ingredients work well together. Is married, so has a lot of practice with cooking.

Nate: A man who enjoys weird food as long as he doesn't have to make it. Once purchased squid jerky at an Asian market; it was so bad the dog wouldn't eat it.

Josh: A fairly talented cook who can prepare a variety of food, from breads to casseroles to slightly more exotic dishes. Josh is well-traveled, and well-versed in different cuisines.
The Black Sheep College Chopped Championship
Protein: Tilapia Required Ingredients: Lemon, black beans, Fritos, cilantro Total Price: $4.40 The Process: It quickly became evident that both Joelle and Dave were going to present a Frito-crusted tilapia with a black bean side dish. While boring, it also meant that whoever best prepared the food would win. Joelle, living in her present, decides to make a cilantro-lemon butter, while Dave, harkening back to his college days, chooses to batter his with Busch Light. Ten minutes into the round Dave screamed "Fuck me," which is bad in all instances, save one. Sadly, he had burnt the oil he intended to cook with, forcing him to start more or less from scratch. With three minutes remaining Dave rushed around the kitchen like a madman, pouring sweat and trying to plate on time. On the other hand, Joelle calmly wrapped her food up with 90 seconds to spare.

Dave's Dish: Frito-crusted, beer battered tilapia with ancho chili black beans Score: 29 Appearance: 3/3/4 Flavor: 3/5/2 Creativity: 2/3/2 Total: 10/12/7 Commentary: "Loved the ancho chili black beans." "Wish I could have tasted the beer." "This is exactly what I expected you to make." "I preferred the crust on this fish." "The vein line was left in, making the flavor muddy." "I would have made a Frito sope with a tilapia ceviche on top."

Joelle's Dish: Frito-crusted tilapia, spicy black beans puree and cilantro-lemon butter Score: 34 Appearance: 4/4/5 Flavor: 4/5/3 Creativity: 2/4/3 Total: 13/12/9 Commentary: "The butter was very creative." "The bean puree was fantastic. It had lots of flavor and good spice." "This is exactly what I would have expected you to serve." "Great crisp on the tilapia." "I would have made a tilapia stew with cilantro, beans, lemon and Frito seasoning."

Protein: Breakfast sausage Required Ingredients: Ready rice, red pepper, sour cream, spinach Total Price: $4.90 The Process: Nate is immediately upset because the spinach did not come pre-washed. Remember, college students, when you graduate and move to a big city, you can be just like Nate, who pays someone to walk his dog and gets upset about spinach that isn't pre-washed. Josh attempts to fry a slice of pepper in oil tempura-style, only to have it fail, though Josh kinda-sorta succeeds when he attempts it a second time. Josh mixes peanut butter into his "Asian sauce" (chili paste, peanut butter, soy sauce and sour cream), which the judges perceive as an odd choice. Meanwhile, Nathan hacks the top off of his red pepper, throwing it in the oven, though he leaves the oven set to a meager 350 degrees, which is not hot enough to roast a pepper in 20 minutes. With minutes left, he stuffs his hash into the pepper, halving it and dressing each half with his remaining items.

Josh's Dish: Tempura pepper over rice and sausage cake, served with an Asian sauce. Scores: 27 Appearance: 2/3/2 Flavor: 3/4/1 Creativity: 4/4/4 Total: 7/8/12 Commentary: "The tempura was a clever idea that didn't work for you." "The spicy sauce was great." "Tastes too much like cream." "I would have made a breakfast rice cake wrap with roasted red pepper and sausage." "Great balance of sausage and rice."

Nate's Dish: Roasted red pepper stuffed with sausage and rice, dressed with pan-cooked spinach and sour cream Scores: 32 Appearance: 5/4/4 Flavor: 3/3/2 Creativity: 4/4/3 Total: 13/8/11 Commentary: "This was way too salty." "Beautiful presentation on the stuffed pepper." "The red pepper isn't roasted." "I would have cooked a sausage burger topped with sour cream, spinach and rice, using the red pepper as the bun."

Protein: Steak Required Ingredients: Ramen, Kraft Singles, cream of mushroom soup, onion Total Price: $4.80 The Process: Prior to the unveiling of the ingredients, both cooks are certain that college-staple ramen will be one of the ingredients, as it has yet to make an appearance. They are correct. Nate and Joelle quickly diverge in their preparation methods; Nate begins preparing a steak the old-fashioned way, and Joelle starts making wontons for a wonton soup. Making wontons from scratch is a decidedly tedious process, as Joelle is forced to fold blended meat, mushroom stock and Kraft Singles by hand into individual wonton wrappers. Still, she self-assuredly plugs along step-by-step. On the other hand, Nate slices open his steak and, finding it too rare to serve, chooses to further cook the meat. He decides to continue to cook old-school, turning his ramen and Kraft Singles into a macaroni and cheese dish. Nate argues that using two parmesan cheese selections from the refrigerator qualifies it as "three-cheese macaroni," though the judges disagree. Both Nate and Joelle finish with ample time left on the clock.

Nate's Dish: Steak in a mushroom sauce with onion and two-cheese macaroni Scores: 33 Appearance: 3/3/3 Flavor: 4/4/3 Creativity: 4/4/5 Total: 9/11/13 Commentary: "This was surprisingly delicious." "The onion in the macaroni and cheese was genius." "The mac and cheese was awesome." "The steak was way overcooked."

Note: This was photographed without the broth, because we're idiots. Joelle's Dish: Beef, cheese and onion wonton soup with ramen noodles Scores: 36 Appearance: 3/4/3 Flavor: 3/3/5 Creativity: 5/5/5 Overall: 10/11/15 Commentary: "Needs more salt and heat." "The wontons were ridiculously creative." "I would have made a deconstructed cheese steak sandwich on a bed of ramen." "Loved the beef on the inside and the outside of the wonton."

And with that, a winner was decided! But wait! We didn't talk about what we learned! What lessons can you, dear college student, apply to your daily cooking habits to make you a boss in the kitchen? First, and we mean this honestly, nothing was terrible. Sure, there were winners and losers, but all participants -- chefs and judges alike -- agreed that everything presented was edible. Basically, cook with a plan and it'll be difficult to screw anything up too badly. It doesn't matter what ingredients are available, it should not be difficult to prepare something. For Christ's sake, not one but two contestants breaded then pan-fried fish using Fritos. Another made macaroni and cheese out of canned parmesan cheese, ramen and Kraft Singles. These examples may have been prepared out of desperation, but most college students should be able to execute the same out of sheer ballsiness. Also, make sure to stick to the plan. Likely, Nate would have won had he not further cooked his steak, thinking his first attempt would be too rare for the judges' taste. One misstep in food preparation with cheap ingredients won't throw off the entire dish. If you're at the point in your life where you're still willing to eat food off of the floor, then those homemade french-fries will be fine without the fourth round of deep frying. When choosing a protein, stick to red meat and pork, while avoiding fish. The $1 fish in the bargain bin at your local supermarket may seem cheap, but the food poisoning that comes with it isn't a worthwhile trade-off. On the other hand, low-end cuts of red meat and pork can be had for a small fraction of your parents' money. Whip either through a quick marinade or tenderization, and you'll be eating like a king. Note: Diets of medieval kings were notoriously shitty, like a college students'! Learn to properly season food. Much of the food found in a college student's diet falls into one of two categories: bland, or way, way, way too salty. That ramen packet? Salt. Frozen dinner? Salt. Kraft Singles? Bland AND loaded with salt. Mediocre cut of beef? Bland. If one can learn how to properly season food on their own, cheap eats can turn into tasty eats in no time. Finally, treat cooking lessons learnt in college as jumping-off points for a lifetime of eating well on a budget. After all, post-college life isn't all caviar-swirled foie gras ice cream. Until Costco starts selling a 12-gallon bucket of it for $9.99.
Follow The Black Sheep Online on Twitter: www.twitter.com/@theblacksheep9