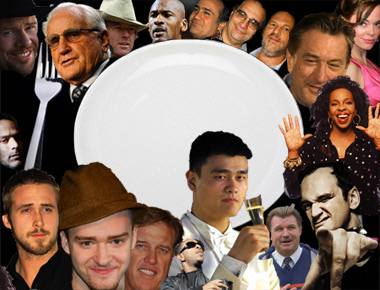 You don't go to movies, concerts, or sporting events to eat great food. You go to see your favorite actors, musicians, and players do what they do best. Conversely, if you're serious about food, you don't go to a restaurant because a celebrity is one of the creative forces behind it. Nor, do you choose the restaurant you're going to eat at based on the celebrities you might see at them. (That said, if the restaurant is really good, you may have a good shot of star-spotting.) But some good restaurants have the benefit of both good food and celebrity-backing.
There are plenty of restaurants owned and invested in by actors. And with as many cities as they constantly visit, it's not surprising that many athletes have tried their hands at these businesses too (check out The Daily Meal's list of the 10 Best Athlete-Owned Restaurants). Whatever the reason for celebrity -- silver screen, catchy tunes, or clutch hits -- stars often have resources most of us can only dream of. Always wish you could open your own place, where not only does everyone know your name, but you can comp meals for good friends, and play the consummate host? All you need is a little fame and its frequent companion... money.
In Pictures: The 25 Best Celebrity-Owned Restaurants
But opening a restaurant is far from easy. And despite their frequent familiarity with the industry (by way of struggling through auditions by way of waiting on tables), celebrities don't necessarily have the know-how to create eateries with sticking power beyond their own 15 minutes. But there are those who do seem to have figured out the secrets to culinary success. And while you wouldn't necessarily go to a celebrity's restaurant expecting one to greet you at the door, cook your food, or even ask you about your meal near the end of it, it's interesting to note stars who have succeeded beyond their comfort zone to establish culinary success as well.
So what are the highest-rated celebrity-owned restaurants? For this list, a certain caliber of celebrity was excluded. Mario Batali is a world-renowned chef -- would it be fair to include celebrity-owned restaurants helmed by Mario, Nobu, or Wolfgang? Probably not. In this case, celebrities don't include ones whose fame and expertise relies on their abilities in the kitchen. And restaurant possession isn't absolute; celebrities only had to have partial ownership for eateries to be included.
To come up with a list of The Daily Meal's 25 best celebrity-owned restaurants, more than 100 restaurants were considered. Ashton Kutcher, Justin Timberlake, Bill Murray, and Robert De Niro were all in the running. Price was not factored, but food, décor, and service were. Using Zagat as a primary source, with local reviews and Gayot breaking ties, the 25 restaurants below were deemed the best in the country. (For restaurants with multiple locations Zagat scores were averaged.)
Think your favorite celebrity-owned restaurant should have made the cut? Is it at least Zagat-rated? If so, comment below.
-Arthur Bovino, The Daily Meal
More from the Daily Meal:
10 Celebs' Backstage Food ands
10 Best Athlete-Owned Restaurants
Celebrity Fast Food Commercials - Before They Were Famous
101 Best Restaurants in America
Bad Table Manners: Celebrity Edition
25 Best Celebrity-Owned Restaurants
Los Angeles hasn't been known for Moroccan fare. That could change with Tagine in Beverly Hills, a restaurant where actor Ryan Gosling holds a major stake. Chef Abdessamad Benameur combines traditional recipes with contemporary French and Spanish twists. At last check there wasn't a Zagat rating, but good buzz, positive reviews, and its addition to Zagat's list of top celebrity-owned spots merits it honorable mention. Notable features: The seven-course tasting menu includes bastilla (phyllo with Cornish hen and saffron scrambled eggs), sea bass with Chermoula sauce, and lamb in honey sauce. Related: Bizarre Celebrity Foreign Food Ads

Writers Sebastian Junger and Scott Anderson joined producer/director Nanette Burstein to open The Half King (named for an obscure 18th-century Seneca chief) in Chelsea about 11 years ago. Other literary pubs haven't fared nearly as well as this New York Magazine Critic's Pick. It serves well-priced bar and traditional Irish pub fare. There's a 30-foot bar, outdoor seating, garden, and late-night menu Monday to Saturday 'til 2 a.m. Score: 43 (Food: 16, Décor: 13, Service: 14) Notable features: All wood used in the construction was said to have been salvaged from a 200 year-old barn in Pennsylvania. Funny menu items include the "Green Eggs and Ham" (two eggs any style with roasted ham and tomatilla salsa), and a Sometimes Pot Pie ("Sometimes it's chicken, sometimes it's rabbit, sometimes it's this, and sometimes it's that." Related: 150 Best Bars in America

"The best thing at Justin Timberlake's new restaurant comes in a box," former $25 and Under Times reviewer Peter Meehan wrote several years ago after visiting singer/actor/and now restaurateur Justin Timberlake's Southern Hospitality on New York's Upper East Side. He was, of course, punning on Timberlake's SNL skit while referring to the restaurant's baby back ribs. Since then, a second outpost opened, in Hell's Kitchen. Score: 45 (Food: 16, Décor: 14, Service: 15) Notable features: If you believe Southern Hospitality's website, it's great for star-spotting, especially when looking for Lindsay Lohan. Related: A Responsibility to Represent Southern Cuisine

The country music star opened Toby Keith's I Love This Bar & Grill in 2005 in Oklahoma City, Okla., (and in Tulsa). Others have since opened, but they've supposedly been licensed. Regardless, there are high ceilings, large neon beer bottles, and oversized pictures of Keith with his patriotic guitar held above his head. Food-wise, it's all about Tex-Mex and barbecue. Nachos, chips, and queso with salsa. Favorites on the menu include St. Louis ribs, chicken fried steak, meatloaf, and sandwiches made with cheese, steak, chicken, and fish. Score: 51 (Food: 15, Décor: 17, Service: 19) Notable features: Calf fries (hand-breaded and deep fried with spicy, horseradish cocktail sauce), and the fried bologna sandwich (with barbecue sauce, Jack, Cheddar, lettuce, and tomato). Related: Sauced! Best Regional Barbecue Sauces

Unless you're filthy rich, or know someone, you're not likely to get into Rao's in East Harlem. But at Destino near the UN, you can get a glimpse of what you're missing (or not missing, to be honest) in a restaurant whose chef, Mario Curko is a Rao's alumn, and whose minority investor is non other than the Justin Timberlake of Southern Hospitality fame. Score: 54 (Food: 19, Décor: 19, Service: 18) Notable features: Spaghetti carbonara, chicken cacciatore, veal Marsala, and a ceiling mural. Related: 10 Celebs' Backstage Demands

Two years ago, rapper Ludacris received glowing praise from Food & Wine's Kate Krader for Straits, his Sinagporean restaurant in Atlanta: "The recipes ... completely belong here — from tamarind beef to chili lobster, they're spectacular." With favorable reviews and great buzz, there seemed to have been good reason to agree... until early this year, at least. There were reports in March that Straits failed its January health inspection. Score: 55 (Food: 19, Décor: 19, Service: 17) Notable features: Kung Pao Lollipop, Tamarind Beef, Spare Ribs, Ahi Tuna Tower, Banana Blossom, Fuji Apple Shrimp, and Origami Sea Bass. Related: 5 Bites in Atlanta

Eating out on the road, Yao Ming is said to be able to polish off entire Pappadeaux Platters consisting of fried shrimp, fried catfish fillet, blue crabcake, stuffed shrimp, stuffed crab, crawfish, extra shrimp and catfish, and French fries. Back in Houston he has taken matter into his own hands, opening Yao Restaurant & Bar, where you might have a better chance of seeing him now that he has retired.Yao and his wife joined with friends, and local restaurant owners to create a large space serving Chinese and Chinese-American food. Lettuce wraps, peking dumplings, Kung Bao beef, it's all there. Score: 56 (Food: 18, Décor: 20, Service: 18) Notable features: There's a full tea menu. Related: 10 Athlete Foodies

Mother-daughter team, Myung Ja and Jenny Kwak do homestyle Korean cooking and barbecue on Carmine Street in New York City's West Village. Blackboard Eats noted that Do Hwa's pork ribs are so enchanting to one of the restaurant's investors, director Quentin Tarantino, that it "is now his unofficial home away from home whenever he's in New York." Among other dishes recommended by New York Magazine at this critic's pick are dumplings, spicy pancakes, stews, sautés, and do-it-yourself tables with built-in grills. Score: 58 (Food: 21, Décor: 18, Service: 19) Notable features: Mama's pork ribs, kimchi mandu, bibimbop, and do hwa gui. Menu movie-poster covers are said to be shout-outs to Tarantino. Related: Celebrity Fast Food Commercials - Before They Were Famous

The legendary Dolphins football coach achieved perfection in 1972 with an undefeated season and Super Bowl trophy. His chain of Shula's Steakhouse, with pigskin menus and clubby steakhouse vibe, have done well too — there are more than 30 in the U.S. (roughly a third of them in Florida). Score: 59.6 (an average of scores from restaurants in Chicago, Virginia, Miami, and Philadelphia) Notable features: For linebacker-sized appetites there's a food challenge with its own hall of fame: Shula's 48oz. Club. If you can tackle 100 Shula Cuts (a 48-ounce porterhouse) like Taft Parker did, the coach may even sit with you while you eat, and give you a football to commemorate the occasion. Related: 10 Best Athlete-Owned Restaurants

The singer/songwriter developed her chicken and waffles joint with Ron Winans and her son Shanga Hankerson, who continues the tradition. There are two branches of Gladys Knight & Ron Winan's Chicken And Waffles in Atlanta. Besides chicken and waffles, other menu fare includes barbecue turkey wings and Southern fare like smothered chicken, collard greens, and of course, grits. Score: 60 (Food: 22, Décor: 19, Service: 19) Notable features: John Kessler of the Atlanta Journal Constitution is on the record as saying he "can never not order the 'Midnight Train' plate of four chicken wings and a waffle" Related: Best & Worst Celebrity Cookbooks

"Who owns The Spotted Pig?" the restaurant's website coyly asks, answering with, "April Bloomfield, Ken Friedman, and some pals." A Gawker post back in 2007 was a little more specific. "Some pals" included: Mario Batali, Fatboy Slim, Jay Z, Bono, Michael Stipe, Michael Guido, and U2's longtime manager Paul McGuinness. The packed West Village gastro-pub is a critic's darling. Highlights include the chargrilled burger with Roquefort and shoestrings, sheep's milk ricotta gnudi with brown butter, and sage, and the deviled eggs. Score: 60 (Food: 23, Décor: 19, Service: 18). A Gayot rating of 13/20 broke a Zagat tie with Gladys Knight's waffles. So did that "little" Michelin star. Notable features: The second floor used to be the restaurant's VIP area. Get thee to the third floor. Related: Bad Table Manners: Celebrity Edition

Click to continue on to the rest of the 25 Best Celebrity-Owned Restaurants, including Francis Ford Coppola's Cafe Zoetrope and Robert de Niro's Tribeca Grill.
Follow The Daily Meal on Twitter: www.twitter.com/thedailymeal