On vacation, everyone wants to soak up as much as they can -- whether it's sun, culture, language or food. If you love traveling to multiple destinations, chances are your least favorite parts are constantly packing and repacking, lugging your bags on trains or planes or running into the typical European "away" sign while trying to check into your hotel after a long day.



Related: 10 Top Athletes' Super Luxe Getaways



It's time to suck up our pride and consider a much more convenient way to experience the destinations on your must-see list: luxury cruising. Despite what (wrongful) stigma they may have, we found nine luxury cruises and yachts for all types of travelers and, while each cruise line is a unique experience, every last one offers fantastic service, delicious food and lavish accommodations. What could possibly be so bad about that?



Related: Top 10 Destinations to Ward Off the Cold



Whichever cruise line you choose for your next vacation, you can expect to be pampered and treated like royalty, and if you're looking for the sumptuous stay without a crazy price tag, there are plenty of sites that offer sales and deals on cruises, so keep your eyes peeled!



Seabourn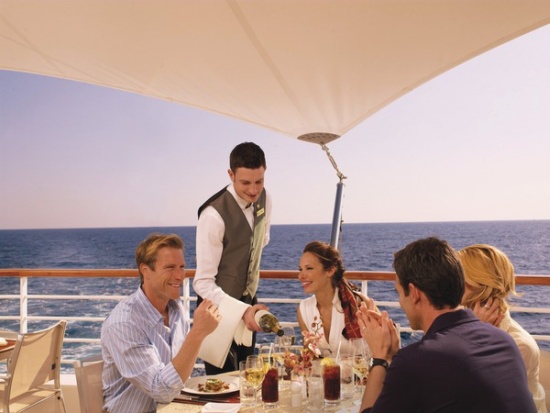 Whether you are sailing along the coasts of Peru and Chile, voyaging up the Chao Phraya River into Bangkok or anchoring in a picturesque harbor in Greece, the Seabourn experience is something you will hold onto long after you've hit land again. Seabourn has won dozens of awards (from Condé Nast Traveler, Travel + Leisure, and Departures) because of the high-quality service, dining and overall experience on board and off. The six ships are relatively small (three ships take 208, the other three can hold up to 450) and are also granted access to smaller ports.



Each Seabourn ship offers a variety of dining options and is a member of Chaine des Rotisseurs, a very prestigious gastronomic society. Chef Charlie Palmer tailor-makes each menu, so whether you are in the mood for a freshly baked pizza at the Patio Grill or a regionally themed bistro-style dinner, dining is always an experience on board.



Related: Long Weekend on the Riviera Maya



Day and nighttime activities are almost endless. Enjoy a "Massage Moment" on deck, indulge in a food or wine tasting or take advantage of the Caviar in the Surf Beach Party. At night, guests often gather for pre-dinner cocktails and, a little later, dance the night away at The Club. (Photo courtesy of Seabourn Cruises)



Celebrity Cruises
The 11 modern and sophisticated Celebrity Cruise ships are categorized into four classes: Century, Millennium, Expedition and Solstice, each more luxurious than the last. The ships sail all over the world and also offer US and Canadian itineraries.



The Celebrity Galapagos cruise is particularly popular and is highly rated among all Galapagos tours. All aspects of life on board have been carefully selected to ensure you have the most relaxing and exciting vacation possible.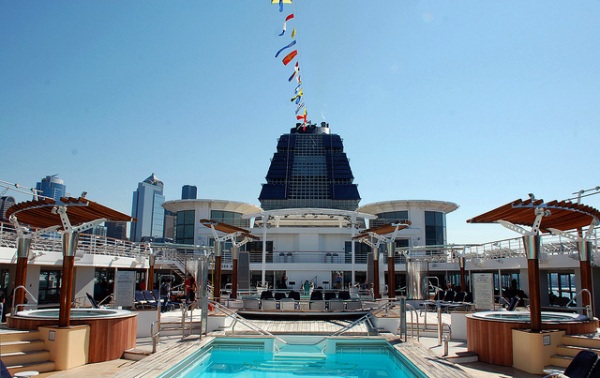 Dining (especially healthy dining) has become a focus for the cruise line in the past few years. There are numerous restaurants on board for every occasion, from a casual alfresco meal or a quick gelato to an elegant feast in the main dining room. There are also a host of activities for foodies like a Star Chefs Cooking Competition, Mixology 101, Wine Appreciation, and the Art of Food and Wine Pairing. (Photo courtesy of Flickr/geekygirlnyc)



Oceania
Since 2002, Oceania Cruises has offered an unparalleled experience for guests on board one of three mid-size ships and two brand-new larger ships that sail to more than 330 ports around the world. If you are looking for a romantic holiday -- or vacation away from the kids -- Oceania is known for attracting a more "mature" crowd. Life on board is easygoing and relaxed and guests are encouraged to take advantage of the numerous bars, lounges, game rooms and the premium spas.



In line with the rest, service and dining on board the Oceania ships are first class. All menus are carefully selected by chef Jacques Pépin and the two newest ships were built with a strong focus on dining. There are four restaurants each on board the Regatta, Insignia and Nautica (a traditional dining room and three specialty restaurants), and Marina has an additional two restaurants (an Asian-fusion eatery and chef Pépin's French restaurant). Many passengers disembark and fondly remember not only their experiences at the Eiffel Tower or the Great Wall of China but also their unforgettable meals on board.



Windstar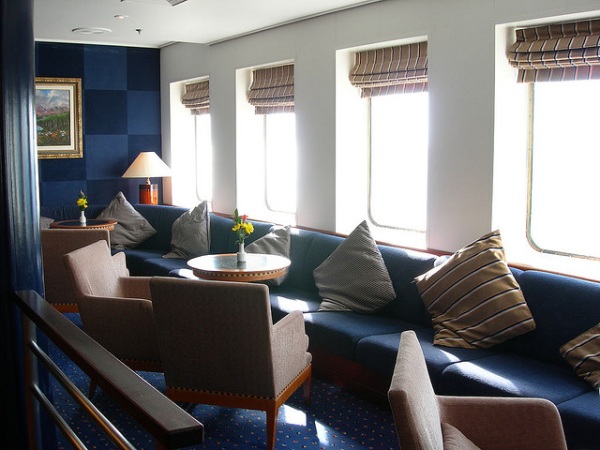 Having traveled on one of three Windstar yachts just this summer, this reporter is still ruing the day she had to disembark from the true departure from the ordinary. The on-board ambiance was luxurious, but unpretentious, and while the yachts are small (the largest of the three holds 312 guests), there are many big-ship-style amenities like the on-board spa and, my favorite, the Marina offering complimentary water sports right off the side of the boat. The ship's intimate size came through, though, when the crew put on a talent show for guests that was easily a highlight for everyone on board.



The dining on board was extensive. Wind Surf, the largest yacht, has four restaurants, a snack bar and 24-hour room service. Windstar yachts attract more of an adult crowd but do not discourage children. The boats are designed to have both social and intimate guest areas and are some of the most beautiful yachts at sea. And the small size of the yachts allows entrance into some of the world's most hidden and legendary ports that larger cruise lines can't access. After a long and exhilarating day in port, relaxing on the deck watching the harbor fade while the sails are unfurled is a rare treat. (Photo courtesy of Flickr/ethan21)



Lindblad National Geographic Expeditions
Anyone seeking the type of adventure that doesn't include lying by the pool should book a ticket on a Lindblad National Geographic Expedition. Since the late 1950s, Lindblad has provided adventurous and unique excursions around the world without forgetting for one moment comfort, service or luxury. The menus are carefully selected by chef Gary Jenanyan and the laid-back atmosphere is much appreciated after a long day of hiking, swimming and exploring.



Their alliance with National Geographic allows for top-notch technology in research and conservation as well as engaged expedition leaders who are experts on the ship's destinations. The ships travel all around the world, so whether you are looking to spend a week in the Galapagos swimming in seas of penguins, spend time with polar bears in Arctic Norway or anything in between, these expeditions are bucket-list material for the adventurous traveler.



Regent Seven Seas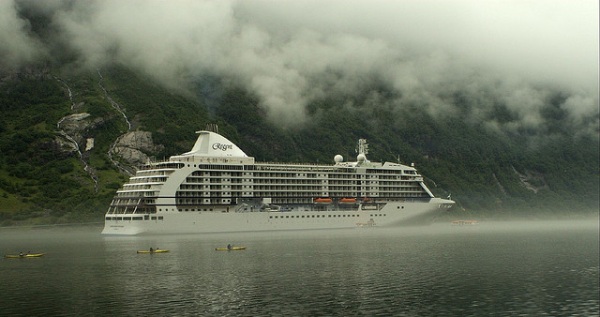 The three luxurious ships of the Regent Seven Seas offer voyages to discover more than 300 ports on all seven continents. The dining and service on board is among the highest ranked in the cruise industry and there are (up to) four gourmet restaurants on board, depending on the ship, including Prime 7 steakhouse and Signatures, featuring Le Cordon Bleu-inspired cuisine. Additional creature comforts on offer include 24-hour room service, a welcome bottle of champagne and free beverages on board including wine and spirits.



Regent offers a range of on-board activities for food-obsessives like "Food, Wine and Spirits" where guests can watch celebrated chefs prepare signature dishes. One of the more kid-friendly and accommodating cruise lines, Regent offers the Club Mariner youth program on many itineraries for groups traveling with children.



Accommodations on board are some of the best in the industry as the Mariner, Voyager and Navigator are all-suite ships. Most suites have balconies and all have an ocean view. (Photo courtesy of Flickr/georgeogoodman)



Sea Dream Yacht Club
Unlike behemoth cruise lines, Sea Dream Yacht Club is a family-owned company. A vacation on either one of their mega-yachts is a treat shared by few, since the maximum is only 112 guests. The yachts are designed to visit intimate and less-touristy ports, where guests can make use of the yacht's mountain bikes, go on an excursion or simply relax in port.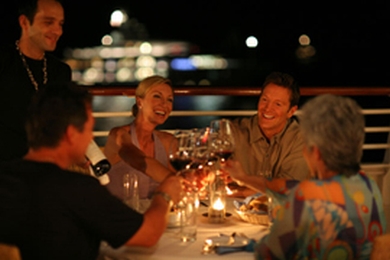 Life on board is just as exciting as off, with guests able to enjoy a full-service spa, a relaxing day by the pool, a round of golf in the Golf Simulator or a starlit movie on deck. The Marina -- an activity hub at the stern of both ships -- is open while at anchor and guests can jump off the boat, rent a jet ski or kayak. The atmosphere on board is sophisticated and luxurious and while the rooms are generous by any standard, guests often find a spot to sleep on deck beneath the stars.



Sea Dream is also one of the most all-inclusive lines at sea, so almost everything from cocktails, food and activities at the Marina are taken care of. The Sea Dream yachts embark on voyages in the Mediterranean, Caribbean and Amazon, with transatlantic trips, as well. (Photo courtesy of Sea Dream Yacht Club)



SilverSeas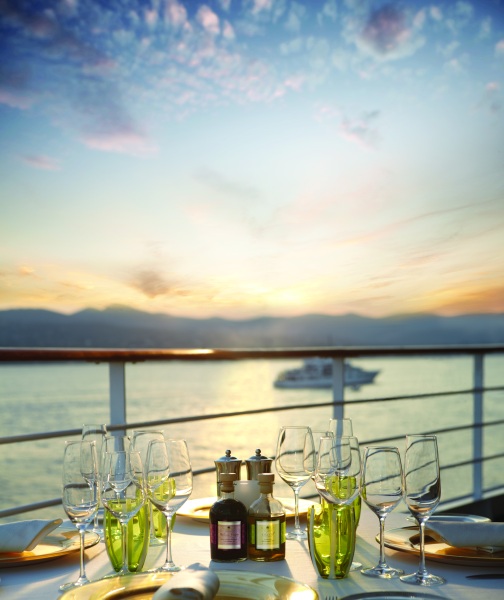 SilverSeas allows you to choose a destination -- nearly any you can think of -- but if you can't possibly choose, the line offers a 115-day World Cruise that sails to 45 ports in 25 different countries. Even after all that time spent on board, you won't be tired of the food. They've partnered with the Grand Chefs Relais & Chateaux to create a fine dining restaurant, a casual eatery, a wine bar and more. Although the ships are small, there are many dining options throughout the day.



While some may think that the time sailing between ports is dull, SilverSeas offers lectures, sessions with destination consultants, circuit training, wine tastings, afternoon teas, dance classes and a host of entertainment options (including a casino) at night. In other words, the only thing you will need to worry about is how to choose between all the options they give you. (Photo courtesy of SilverSeas Cruises)



Uniworld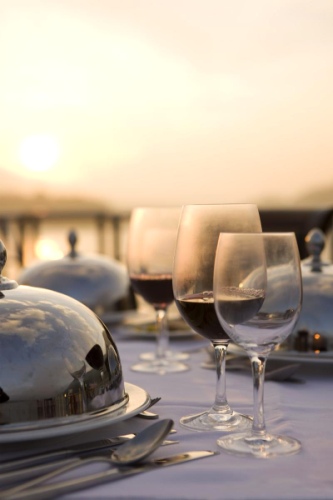 When most people imagine taking a cruise, they imagine setting sail on the expansive ocean, but Uniworld specializes in a different type of vacation: river cruising. Whether you've been to Europe or Asia a dozen times or if this is your first trip, Uniworld offers a unique experience with elegant accommodations and luxury dining. The boats have been described as floating hotels that allow you to experience your dream destinations up close and personal. No standing in line to disembark, tendering into port or walking long distances into the center of town, the unique Uniworld boats are granted access to ports right in the heart of the cities.



As soon as you board, almost everything from food, most drinks, shore excursions, airport transfers and much more is included to ensure your vacation is peaceful and runs smoothly. (A plus: There's no seasickness on a river cruise). Their award-winning dining program features daily changing menus, signature dishes and an extensive wine list. The line also offers an Epicurean Adventurer Program for those of us who absolutely love food. It includes a variety of delicious perks like on-board culinary demonstrations, wine tastings and onshore excursions. (Photo courtesy of Uniworld Cruises)



- Nicki Lange, The Daily Meal



Related Stories from The Daily Meal:
From Another Era: 10 Luxury Trains Around the World
7 Budget-Friendly Substitutes for Europe's Top Cities
5 Bites of Telluride
Fine Farm Dining Around the World
World's Best Duty-Free Scores
Photo: Flickr/Danila Medvedev
Follow The Daily Meal on Twitter: www.twitter.com/thedailymeal