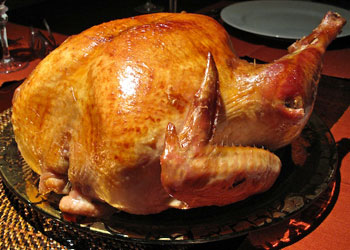 The big day is coming and with it a barrage of guests knocking down your door with their stomachs rumbling. Whether it's the first time you've hosted Thanksgiving dinner or the 21st time, the preparations and expectations can be overwhelming. This guide is the procrastinating host's best friend -- it's all about having a game plan and we've got you covered on every angle.
Related:
10 Easy Thanksgiving Getaways
Chef's Favorite Thanksgiving Turkey Recipes
Every family has a couple of horror stories from Thanksgivings past. We've chosen ten classic tales of kitchen misery from readers, so terrible we don't want you to ever have to experience the same thing. And you won't if you follow these quick-fix tips. Underdone turkey? The microwave you only use for popcorn is now a lifesaver.

Looking to fry, broil, roast, grill or brine a turkey? Or maybe skip it all together? Find everything from traditional Thanksgiving dishes to new-age alternatives in this all-inclusive recipe roundup.

We have all been there: you've got two pounds of potatoes to boil and you can't find your vegetable peeler. Quick, grab a razor from the bathroom, preferably unused! Or, maybe you didn't even realize you'd need a fat separator and are stuck in a greasy, gravy mess. Two words: watering can. The emergency Thanksgiving toolbox will be your guide through the stickiest Turkey Day kitchen dilemmas.

Chef Lauren Braun Costello, The Competent Cook, has roasted quite a few turkeys in her life. So, when we sat down with her to ask her what tips she has for turkey-roasters this Thanksgiving, she had lots of helpful information to share. Here are her four tips for the perfect bird, starting with one every cook needs to know -- don't buy too big of a turkey.

Did the dog eat the cheese plate? Or, are you so focused on your turkey dinner that you don't have the time or energy to make an appetizer for your Thanksgiving gathering? Never fear -- we've pulled together some excellent quick-fix appetizers and desserts that are both seasonally-appropriate (think pumpkin pie meets pecan pie, deconstructed, in a bowl) and absolutely delicious.

Now that you've got your menu together, it's time to get the table ready. To help inspire you this Thanksgiving, we turned to Peter, at Floristy in New York, and Pilar, at Gorgeous and Green in Berkeley for help. They shared some of their creative ideas for floral arrangements and beautiful Thanksgiving centerpieces incorporating objects you might have around your house like a birdcage or a basket.

The turkey's got another two hours but everyone is already assembled in the living room and the kids are getting antsy. What to do? Organize a couple of fun games or activities that brings the younger generation together with the older family members and creates plenty of opportunities for smiles and laughter, like a turkey hunt and pick two, an easy game using Scrabble tiles.

OK, now you are just completely overwhelmed and don't even want to enter the kitchen. Check out this ultimate restaurant primer for ideas about where to eat out or order your Thanksgiving dinner to go in 12 major cities. Plus there are some other options nationwide, including how to order a Popeye's Cajun turkey-to-go.

If the frantic rush for the perfect turkey dinner seems a bit anti-climactic, it's time to get out and help out. Here's a list of ways to help the during the holidays, from volunteering at a soup kitchen to sending a card through City Harvest's program Paperless Post that helps to fight hunger.
Not a fan of turkey? You're not alone. Check out these menu ideas:
Anti-Turkey Thanksgiving Menus
Tips for Thanksgiving tippling:
Five White Cocktails for Stain-Free Entertaining

Stocking a Family-Friendly Bar

Follow The Daily Meal on Twitter: www.twitter.com/thedailymeal