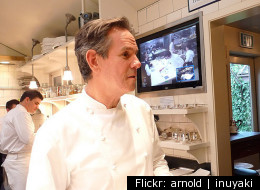 Our weekly series At the Chef's Table examines how the giants of food got to where they are today.
This week we share Part 1 of our interview with Thomas Keller, the chef and owner of The French Laundry and Per Se. The man who today is known for precision and perfectionism originally found these qualities in his first job dishwashing for his brother Joseph's restaurant. We got the chef to open up about about his cooking roots and how his family drilled these fundamentals into him.
- Ali Rosen, The Daily Meal
More from The Daily Meal:
America's Top Universities for Food Lovers
High-Tech Restaurants
Exercise Efficiently: Products to Eat Before and After Working Out
America's Oldest Restaurants
Unique High School Food
Loading...
Follow The Daily Meal on Twitter: www.twitter.com/thedailymeal