Nina Freudenberger is a natural, makeup-free, leggy Teutonic blonde with sprite-like energy. As a graduate of RISD (Rhode Island School of Design) and a former senior designer at Kondylis Design, Nina is celebrating the one year anniversary of her Nolita-based retail store, Haus interior.  Items inspired by her Bavarian Black Forest roots range from mounted antlers, an old gas lamp, random books, framed photos of horses and a stuffed pheasant with a tail so green and long you have to stop yourself from touching it. Nina's store is an extension of her design firm, also named Haus Interior, founded in 2007. The retail store also acts as a meeting place between her and clients to go over wallpaper swatches, magazines, design books or the items in the stores for interior decorating ideas.
Tonight all of Nina's friends are scattered through out her flagship (look for them in Boston in 2011) store. Like Nina, her friends are creative minds... take former LA native Sean MacPherson, there with girlfriend Guest of a Guest editor Rachelle Hruska, who started Swingers, Jones and Bar Lubitch -- and even owned Bar Marmont at one time - but has since moved to NYC and is now the brains behind the Waverly Inn, The Bowery Hotel and The Jane Hotel.  Other objects d'amies include Paper Magazine's Peter Davis and Luigi Tadini (also co-chair of Riverkeeper with friend Amanda Hearst), Annie Churchill, publicist Bettina Prentice, creative consultant Kate Schelter, decorator-designer Reed Woodson, stylist Bonnie Morrison, GQ style correspondent Brett Falghren, Ralph Lauren designer Titina von Waldow, Vogue's Valerie Boster, Art Production Fund's Casey Fremont, fashion designer Timo Weiland and finally Serena Merriman who is in charge of PR for the evening.
Read the rest and see more photos on The Daily Truffle.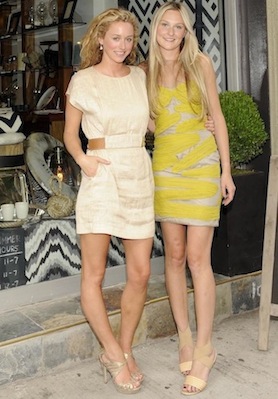 This story was re-published courtesy of The Daily Truffle. It was written by Sumi Trenholme, a contributer at The Daily Truffle. The Daily Truffle is a Los Angeles social diary written by a circle of high school friends who grew up together in L.A. View more society, fashion and party writing on The Daily Truffle.
Follow The Daily Truffle on Twitter: www.twitter.com/thedailytruffle