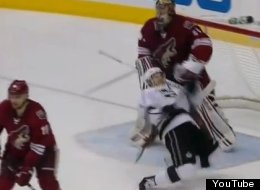 By Bob Timmermann, Senior Librarian at Central Library.
On Tuesday night, the Los Angeles Kings earned just their second trip to the Stanley Cup Final in franchise history, after defeating the Phoenix Coyotes, 4-3 in overtime, to win the Western Conference Final in five games. The Kings, who barely qualified for the playoffs, have won 12 of 14 playoff games and have won all eight games played on the road.
With the Los Angeles Lakers out of the NBA playoffs (as well as the L.A. Clippers), the Kings now have a chance to move to the forefront of the sports world in Los Angeles for a few weeks. The Final (in the NHL, it's always Final, never Finals) will start on May 30 in either New York or Newark depending upon the winner of the Eastern Conference Final between the New York Rangers and the New Jersey Devils.
Although the Kings have played for 44 seasons, hockey has never been the most popular of sports in Los Angeles. (You can see a picture of their second ever game here, played back in 1967 at the Long Beach Arena.) Even if the Kings win the Stanley Cup, they wouldn't the first team in Southern California to do so as the Anaheim Ducks won it in 2007. (They really did, you can look it up. They took five games to beat the Ottawa Senators. The Venn Diagram of the intersection between Kings and Ducks fans would not have much in it.)
There is still time to brush up on your hockey knowledge if you're a novice, or explore the game more in depth if you're a longtime fan with some books at your local library. There are instructional guides, biographies, a children's book, and even a book of poetry.
So you want to read more about this hockey thing they're talking about?
This book was written back in 2002 by a pair of UCLA MBA students to give new hockey fans a chance to learn the game without having to listen to a condescending Canadian friend. Keep in mind that there have been several important rule changes in hockey since 2002.

In 1951, Lloyd Percival wrote a playing guide called The Hockey Handbook. It wasn't overly popular in North America, but the book grabbed the interest of Soviet Union sports officials. It turned out to be the teaching textbook for the great Soviet teams of the last half of the 20th Century and has been reprinted numerous times.

In 1973, Bob Miller moved out from Wisconsin to take over as the main broadcaster of the Los Angeles Kings. It hasn't been easy as the Kings have had far more downs than ups in that time. Nevertheless, Miller's passion for the Kings never has flagged. In 2006, he and Randy Schultz collected his anecdotes in this easy to read format. Because of television contracts, Miller won't get to call the Kings games in the Final.

The Stanley Cup may be the most famous sports trophy in North America, but the players who win the Cup have treated it in unusual ways over the years. In recent years, players from the winning team get to take the cup for a day to take back to their hometowns. The protocol for touching and handling the cup is a tricky business. Michael Ulmer tries to track down many of the more interesting trips of Lord Stanley's Cup.

Hockey is definitely not a noncontact sport. It also has a much higher tolerance for fighting than other team sports. But is the fighting a necessary part of the game? Ross Bernstein interviews numerous "enforcers" in his book that examines this issue. Some players and coaches believe that rules designed to curb fighting have increased it. Other players think the game can get by without it. When there is more at stake, such as in the upcoming Stanley Cup Final, fighting tends to be minimal, but the violent nature of the game won't disappear.

Ken Dryden made his NHL debut for the Montreal Canadiens in 1971 and helped the lead his team to a Stanley Cup win. Dryden earned an undergraduate degree at Cornell and later graduated from law school at McGill. He retired from hockey at age 31 in 1979. In 1983, he wrote this rather cerebral look at hockey, which was updated in 2003. Dryden is now a member of the Canadian Parliament. For Americans, he may be better known as the analyst for ABC's coverage of the 1980 "Miracle on Ice" Olympic hockey tournament.

In 1973, Dryden, along with Mark Mulvoy, wrote a first-hand account of the epic "Summit Series" that matched up a Canadian team of NHL stars against the Soviet national team. The eight game series, won by the Canadians in dramatic fashion, remains one of the most important events in Canadian and world hockey history.

Wayne Gretzky, aka "The Great One," may be the most famous hockey player of all time. Much of that fame stemmed from 1988, when the Edmonton Oilers traded Gretzky to the Los Angeles Kings in a deal that shook the hockey world. Canada's greatest player would now be playing in Los Angeles of all places. Stephen Brunt tries to put the deal in perspective, as well as its aftermath. Brunt also wrote a book about his quixotic attempt to get an interview with Bobby Orr, the only player who rivals Gretzky for the title of greatest player, in Searching for Bobby Orr.

When Wayne Gretzky came to Los Angeles, the Kings were owned by a man named Bruce McNall who said he made his fortune as an antique coin collector. McNall also produced some films. During his ownership of the Kings, McNall spent heavily on players. There was one problem: McNall really didn't have any money. Many of his antique coins had been smuggled out of countries. He said he graduated from Oxford, when he didn't. Eventually, McNall declared bankruptcy and went to prison for 13 months after pleading guilty to crimes involving defrauding six banks out of over $200 million. At least McNall admitted to having a co-author for his memoirs.

For most of the 1970s and 1980s, Alan Eagleson was the most powerful person in hockey. He was the head of the players' union as well as agent for nearly all of the big stars. He worked closely with NHL Presidents to set up a supposedly lucrative pension system for retired players. It turned out that Eagleson was actually diverting large sums of that money for his personal use. Russ Conway was a sports reporter from Lawrence, Massachusetts, who devoted years of his life to uncovering the truth about Eagleson. Eagleson would be convicted of felonies in both Canada and the U.S. and would be stripped of his place in the Hockey Hall of Fame as well as his membership in the Order of Canada.

It may be hard to believe, but this children's book by Roch Carrier, may explain the Canadian obsession with hockey better than any other book. Carrier's story of growing up in rural Quebec and the loss of his beloved Maurice Richard Canadiens sweater and its replacement with one from the hated Maple Leafs is considered so iconic that a line from it appears on the back of some versions of the $5 bill in Canada. There is also an animated version of the story.

Randall Maggs, a Canadian poet based in Newfoundland, wrote a biography of sorts of one of the NHL's most interesting, and most troubled and tragic, figures, goaltender Terry Sawchuk. Sawchuk battled clinical depression and alcoholism during a brilliant career that began in 1949 and ended with his death at the age of 40 in 1970. Sawchuk, who played much of his career without a mask, showed the toll that it took on him in this photo.