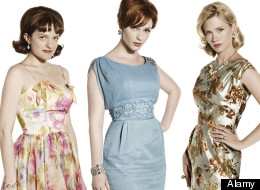 After 17 months, AMC's Mad Men is finally back on the air, and we at
the library couldn't be happier. With its well-researched historical
detail and great writing, the show is catnip for word nerds and
history buffs (i.e. our kind of people). But we understand if you
need something to tide you over between episodes. These books will
sweep you up in the world of 1960s New York, from Madison Avenue to
the suburbs -- and all are available for checkout from the Los Angeles
Public Library.
During the 1960s, Playboy magazine came under fire over what was considered to be its sexist attitude (Gloria Steinem's undercover stint as a Playboy Bunny, and resulting article, fueled the criticism). Pitzulo's analysis of Hefner's magazine challenges those assumptions, and she delves into the publication's ground-breaking articles on economic, social and political issues that were regularly featured.

Believe it or not, Cosmopolitan was a little-read literary magazine until Helen Gurley Brown took the helm in 1965. The former ad agency secretary and copywriter styled herself both as an adventurous sexpot who manipulated the boys' game to suit herself, and as a hard-working career girl, hoping to get to the corner office by virtue of her brains.

Fast forward from the 1960s world of Mad Men to this 1970s tale of real life ad men of Saatchi & Saatchi, and the television drama pales by comparison. This is a rags-to-riches tale of two immigrant brothers in London, their rise to power and wealth, and the ensuing collapse of their company.

The misery of suburban life and unfulfilled dreams has been done many times, but rarely so well as Yates's bleak and affecting novel about Frank and April Wheeler, the original Don and Betty.

Don Draper is actually seen reading this one during a first season episode. The 1958 book, a forerunner of Sex and the City if there ever was one, centers around the lives of five young women working in a New York City publishing house, and their struggles for love, happiness, fame, and a ticket out of the typing pool. Image via Magnificent Octopus

During his first year at college, the narrator finds himself enrolled in Introduction to Commercial Art with a crotchety yet charismatic instructor who introduces him to the world of graphic design. You can almost imagine our hero graduating and going to work in the Art Department at Sterling Cooper Draper Pryce with his newly honed aesthetic.

Cheever may be the literary patron saint of Mad Men, and nowhere is that more clear than in Bullet Park, a novel about a suburban chemist named Eliot Nailles who discovers that he's lost control of his life. When the not-so-subtly named Paul Hammer - Nailles's opposite in every way -- moves to Bullet Park, the clash between the two leads to catastrophe.

Learn tricks of the trade from the legendary ad man who was behind campaigns for American Express, Rolls Royce, Dove Soap, and C.F. Hathaway in this still-in-print volume first published in 1963. Roger and Don are seen rolling their eyes over this book in the season 3 episode, "Seven Twenty Three."

Whether you prefer those jewel-tone Joan dresses, Peggy's prim yet kicky office wear, or the tailored shirtwaists and pastel frocks in Betty's closet, Mad Men costume designer Janie Bryant will have you accessorizing like a 1960s style icon in no time.

Jerry Della Femina got his big break in advertising as a junior copywriter in 1961. Six years later, he opened his own agency and has been a heavy hitter in advertising ever since. His 1970 book was one of the inspirations for Mad Men.

From the Rothko painting in Bert Cooper's office to the story behind the Lucky Strike and Maidenform ads to the underworld of Greenwich Village junkies in the 1960s, Natasha Vargas-Cooper provides the inside scoop on all those historical details that keep us watching.

Maas got her start at the legendary Ogilvy & Mather, and rose through the ranks to become a creative director and agency officer. She dishes plenty about the sex and boozing, but also writes frankly about workplace inequalities, sexism, and the other challenges that women in the advertising world faced.

Whyte observed the phenomenon of the "organization man" while studying the CEOs of major corporations in postwar America. The organization man was unexceptional, fit in well with others, had a home in the suburbs, and a horror of appearing elite or calling attention to himself in any way. First published in 1956, Whyte's study of corporate culture and conformity challenged ideas of rugged American individualism and was massively influential.

Tom Rath is the fictionalized incarnation of William H. Whyte's "organization man," a veteran who enters the corporate rat race, and falls into the dreary paces of that world. And like Don Draper, there's a big secret lingering in his past that he fears will destroy his fragile, and really not-so-happy suburban family life.

In high school, Harry "Rabbit" Angstrom, was a basketball star. Now, he's a young father in crisis, unsure about the decisions he's made and the course his life is taking. He makes a spur of the moment decision to abandon his family, and learns that "if you have the guts to be yourself other people'll pay your price."

First published in 1964, this manual of dubious advice by writer, Cosmopolitan editor, and bad girl about town Helen Gurley Brown covers potential minefields like the office party, getting credit for your ideas, drinking on the job ("Should you or shouldn't you keep a bottle in your desk drawer? Oh come on, you're a big girl!") and navigating an affair with your married co-worker. Best of all are HGB's tips for a "sexy office," including this nugget: "The ashtray on my desk says 'I'm sexy' in six languages all around its rim. I'm sure you can find one just as interesting."