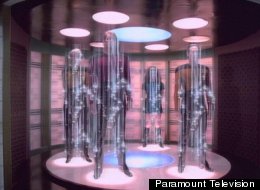 By Andrea Borchert, Librarian, Science, Technology & Patents Department
Here at the Los Angeles Public Library we have a huge collection of cookbooks. We have cookbooks for slow cookers, blenders, and microwaves. We have cookbooks focused on individual ingredients and courses. Do you want to cook recipes from France or China or Norway or medieval Europe? We have cookbooks from all of those far off places and times. We even have cookbooks from that mysterious and exotic place: TV Land. Being a fictional character is no impediment to publishing cookbooks, just ask Betty Crocker. You can get cookbooks here from many of your favorite movies, books, and television shows. Here are a few of our favorites.
The earliest example of a movie cookbook is the Gone With The Wind Cookbook, a promotional cookbook published by Pebeco Toothpaste in 1939. Because nothing leads to thoughts of decadent antebellum food and cookbooks like toothpaste. This little book contains recipes for things like Melanie's Sweet Potato Pie, Tara Pork Scramble, and Gerald O'Hara Ham Steak as well as more general recipes from the southern United States like Brunswick stew. Here, as in later cookbooks published as movie tie-ins, character-themed recipes are presented. However, no time or effort is spent explaining how the recipes relate to the story here. Lacy Corn Cakes 2 Eggs 2 Cups Milk 1 1/3 Cups Cornmeal 1 Teaspoon Salt 4 Tablespoons Melted Butter or Margarine, or Salad Oil Beat eggs until light; add milk. Slowly add cornmeal and salt; mix well. Add butter or margarine. Drop by spoonfuls on hot well-greased griddle; stir batter each time a spoonful is taken out. Brown on one side, then on the other. Makes about 40 paper-thin cakes.

In 1966, Irene Ryan, who played Granny Daisy Moses, published Granny's Hillbilly Cookbook including "hillbilly ingredients and cityfolk translations." This book, published in 1994 includes some of her original recipes, along with recipes from the cast and notable guest stars. You can also find trivia, cast photos, character bios, and many, many terrible puns. Corncob Jelly A swad o' cobs (6 large corncobs either after having been eaten, or with the kernels scraped off) A couple o' jugs o' spunk water (1/2 gallon water) A whole heap o' short sweetnin' (1 pound sugar) A scruple o' powdered boiled bones (2 envelopes unflavored gelatin) A dash o' mountain dew (2 tablespoons white wine) Chop up them cobs into itty bitty pieces and boil'em with the sweetnin' in the water 'til they's soft enough to squash (at least 30 minutes). Mix up the powdered bones with the mountain dew and add a bit more spunk water (to ½ cup). When the cooked cobs is cooled, pour in the dew and bones, stir it up a mite, strain the mess through a jelly bag (cheesecloth or flannel), an' pour it all into cleaned (previously sterilized) little jugs (jars) for sealin'. -Irene Ryan

Here is a collection of recipes from a character noted in his fictional universe for producing terrible food, Igor, the army mess chef of M.A.S.H. One of the quotes that pepper the book explains his efforts thusly: "You creamed weenies? Isn't there a shred of human decency left in the world?" This book contains some disturbing recipes like "Creamed Weenies" and "Spam Lamb," as well as some traditional American and Korean recipes. There are quotes from various characters on the quality of the food and many behind-the-scenes photographs. If you like, you can find actual army recipes here. Rosey's Red Chili Pork Dae Jigogi 1 pound thinly sliced pork butt 5 tablespoons hot bean paste (red chili paste, found at Korean markets) ½ cup sesame oil 4 cloves garlic, finely minced salt and pepper to taste 1. Preheat the barbecue grill to high. 2. In a large mixing bowl separate the pork slices. Add all of the ingredients and mix thoroughly. 3. On a closely spaced grid, grill the meat, tossing constantly, until cooked through, about 3 to 5 minutes. 4. Transfer to a large bowl and serve with rice and chopsticks.

Kirsten Olsen is a Jane Austen buff and her cookbook has in-depth information on the food served in Jane Austen's novels, the culinary history of the Regency period, and information about what Ms. Austen and her family themselves might have eaten. For all of her recipes she includes both a modernized version and the original recipes that she adapted for modern kitchens and cooks. The food choices of the Regency period can be a little daunting to a modern audience, and Ms. Olsen notes recipes that drew strong reactions, both positive and negative from her tasters. One recipe "Stewed Cucumbers" drew such a strong negative reaction from her audience that I'm tempted to cook it just to see why. Also, apparently, in Jane Austen's day they made their porridge with wine. Plum Porridge 2 quarts water ¼ lb. Barley 2 oz. Raisins 2 oz. Currants ¾ tsp. Mace sugar to taste ½ cup sweet white wine Bring the water to a boil over high heat. Add barley, raisins, currants, and mace, and boil, stirring occasionally, until water is reduced by half, about 25 minutes. Add wine and sweetener to taste.

This is a kid-friendly cookbook with simple recipes for kids and their parents to make. It also includes lovely photos of the food in question and some truly terrible puns, i.e. Han-burgers and Yoda Soda. Everyone needs pictures of Han Solo shooting ketchup onto his Han-burgers. Twin Sun Toast Ingredients 1 wide slice of sourdough bread (at least 7 inches wide) 1 teaspoon butter 2 small eggs salt and pepper to taste 1. Put bread slice on a cutting board. Using a 2-inch round cookie cutter cut out 2 holes, side by side, in the bread. Make sure to leave bread between and around the holes. 2. Put a skillet on the stove and switch heat to medium. Put butter in skillet. 3. As the butter melts, spread it evenly on the bottom of the pan. Place bread in pan and break an egg into each hole. Salt and pepper. Fry until the clear part turns white, 1 to 2 minutes. 4. Slip a spatula under the bread and flip it over quickly but carefully. Don't let the egg slip out of the holes. Cook for 1 minute more. Serve at once. If there's a toast that's the bright center of the galaxy, this is the toast that it's farthest from.

Basil Rathbone, Jeremy Brett, Benedict Cumberbatch, Robert Downey Junior; there are many different versions of Sherlock Holmes. He's an enduring and adaptable figure. But at least now we can all eat what he ate, or make the food and ignore it moodily while we work on our very important case. Baked Beef Tea Makes 4 cups (1 L) 1lb (500 g) stewing beef ½ medium onion, sliced 1 tbsp (15 mL) butter 4 cups (1 L) water ½ tsp (2 mL) salt 1 whole clove Remove any fat from the beef. In a large frying pan, fry the onion lightly in butter, then add the beef and brown it on all sides. Put the meat in a casserole dish with water, salt, and clove. Cover and bake at 350° F (180º C) for 2 hours. Cool, then skim off any fat. Strain the tea and drink at room temperature or reheat. Invalids drink a lot of beef tea in Victorian literature, and I've always wondered what it was. Admittedly, I'm a little disappointed that it seems to be a fairly normal beef broth.

It's amazing that so many dishes from distant parts of the universe can be made using ingredients readily available from your local grocer. The Star Trek cookbook has recipes relating to most of the Star Trek television franchise and information about different crewmembers' favorite foods. But the most interesting part of this book were the excerpts by the people who made the food props describing the process involved in creating an alien cuisine and filming it. For example, they include the recipe for Gagh, the live worms that Klingons eat. Gagh 1 lb package thick Japanese udon noodles, soba noodles, or Chinese or Thai rice noodles 4 oz prepared sesame salad dressing or Chinese chicken salad dressing or tahini ¼ cup soy sauce or light soy sauce 1 teaspoon dark brown Karo syrup Prepare the noodles per the package instructions, replacing ½ of the water with the soy sauce. Chill. Then stir through the ¼ cup soy sauce and sesame salad dressing. Add Karo and stir through to satisfy your own sense of color and taste.

Food is such an important part of The Hunger Games series. The battle to the death is called the Hunger Games after all. Much of the story centers around the struggles for food, what it means when you have it, when you don't, what type you have and what you had to do to get it. This cookbook draws on the subsistence foraging of the people in District 12 as well as the thoughtless epicurean delights of the Capital. It also includes recipes for some of the stranger ingredients that are common in the books. Recipes for venison and rabbit abound. Off-Your-Chest Roasted Chestnuts 2 dozen chestnuts Preheat oven to 400°F. Cut an X into each chestnut on the flat side. Place on a baking sheet and bake for 30-35 minutes, turning frequently. Remove from the oven and let cool for 10 minutes. Peel while still warm. Tips from your sponsor: Try roasting these chestnuts over an open fire to capture the wood flavor of the smoke!

I'm not sure how Moroccan any of these recipes are, but then neither was Casablanca in the movie, with all of the Americans, French, and Germans running around. This little cookbook contains recipes, quotes and trivia from the movie. But at a length of only 64 pages I can't help wishing that one of the best movie of all time had a more substantial cookbook. I wonder, if there were a Citizen Kane cookbook, what would be in it? Sugar-Preserved Lemons 4 small lemons 2 cups (400 g) granulated sugar Slice lemons as thinly as possible. In a 1-quart (1 liter) jar layer lemons alternately with sugar to fill jar. Seal jar with airtight lid. By the following day the mixture should have produced enough liquid to cover the lemons. If not, add additional sugar. Do not add water. Let sit in a cool dry spot for 2 weeks. After 2 weeks lemons are ready to use. Refrigerate at this point to store lemons up to 6 months.

This is a character-driven cookbook. Each of the characters has her own section that presents her own type of recipes. Some recipes are in-depth and detail-oriented, meant to impress family, friends, and enemies. Some recipes seem like recipes cooked for a large busy family. There are bios that explore the different cooking styles of the different characters. Wisteria Lane Icebox Napoleons Chocolate or Vanilla Pudding (recipe in book) About ½ a 14-ounce box plain cinnamon-flavored graham crackers Confectioners' sugar or cocoa (optional) 1. Make the pudding and cool to room temperature with a piece of plastic wrap pressed directly to the surface to prevent a skin forming. 2. Line the bottom of an 8 x 8-inch cake pan or baking dish with graham crackers. Spread half the pudding over the crackers. Then top with another layer of crackers and the remaining pudding. Finish with a layer of crackers. Cover the pan tightly and refrigerate at least 6 hours or up to overnight. 3. Dust the top of the napoleons with confectioners' sugar or cocoa if you like. Cut into 9 squares and serve cold. Serves 9

Unlike some of the other cookbooks on this list, the recipes in this cookbook were written by a professional, and it shows. It's interesting to see Soprano family dysfunction side by side with perfectly functioning Italian recipes. This book doesn't include asides about the production and actors. It presents the fictional world of the Sopranos and presents it full tilt and in complete earnest with photos and documentary evidence added to give a sense of history. The recipes look lovely. Marinara Sauce Tomato Sauce 2 large garlic cloves, lightly smashed ¼ cup of olive oil 2 pounds very ripe plum tomatoes peeled, seeded, and chopped, or one 28-ounce can Italian peeled tomatoes, drained and chopped Salt 8 to 10 fresh basil leaves, torn into pieces In a large skillet, cook the garlic in the olive oil over medium heat, pressing it occasionally with the back of a spoon, until golden about 4 minutes. Add the tomatoes and salt to taste. Bring to a simmer and cook, stirring often, until sauce is thick, 15 to 20 minutes, depending on the tomatoes. Stir in the basil leaves. Serve over hot cooked spaghetti or other pasta.
Many important works of fiction have led to cookbooks. But many other fictional landscapes remain cookbook-less. Personally, I would pay good money for a cookbook based on the Matrix trilogy. What kind of illusionary steak could make Cypher betray his teammates? Was that gruel that they ate on the Nebakanezer as gross as it looked? What flavor was that blue liquid feed to the people hooked up to the Matrix? Probably blueberry. Then there's that chocolate cake, yeah that one. You could have Matrix parties, eat a fine meal, then sit around arguing about who had to clean the silverware that didn't exist. Which stories do you think deserve a cookbook?