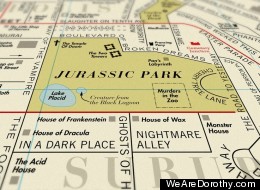 By Glen Creason, Map Librarian -- History & Genealogy Department
Once upon a time historians had names like Thucydides, Gibbon, Toynbee, Tuchman, Schlesinger or Durant, but now everyone who has a wireless connection and a few hours of free time can add the title to their names with impunity. The Internet is abounding in cyber-credentialed historians but the good news is that the Internet is also awash in history nerds with lots of spare time.
Los Angeles and Beyond, Sanborn Style
Angels Camp, sheet 1, 1890. Yep, the place where Mark Twain wrote "the Celebrated Jumping Frog of Calaveras County" with every single livery, sausage factory, Masonic hall, church and public house including the famed Angels Hotel shown in fine detail.

Los Angeles Volume 7, sheet 752 1950. Seen on this sheet are the last gasps of the once very grand and snootily exclusive destination for folks all over Los Angeles for fifty years. The baths drew from natural hot springs under ground at 3rd and Bimini before many private pools and featured an ornate facility that included trendy apartments, an expansive plunge, Turkish baths and much later and much less glamorous, the Hollywood laundry.

Los Angeles Volume 6, sheet 698, 1906. Chutes Park was sort of like Dodger stadium, the LA Zoo, the Arboretum, Disneyland and the Music Center all on one thirty-five acre chunk of land. It began as a trolley park in the late 1880's and drew folks from all over the area to ride the awesome water slide and even watch the early editions of the Pacific Coast League Los Angeles Angels.

Hollywood, sheet 9, 1913. One of the first draws to far away Hollywood was this grand hotel at Hollywood and Highland. This map was done in the year Hollywood was annexed into the city of Los Angeles and studios began to proliferate in the area.

Los Angeles, 1888, sheet 37. Near the corner of Washington and Main stood this sizeable recreation of the bloody Civil War slaughter nestled in with livery stables, furniture makers, an Ostrich farm and windmill storage…honest.

Culver City sheet 10, 1929. Five years into their storied history MGM had eleven sound stages spreading across the Culver City landscape in this sheet of dreams.

Los Angeles-Venice district, sheet 59,1948. Before the re-design in 1958 that made LAX into the madness that we know now Mines field was THE airport in these parts dating back to 1930.

Los Angeles sheet 9, 1894. A most interesting transformation took place here on Main street between 3rd and 4th where the circular Panorama building stood and had many lives including as theater, place of lodgings, venue for cat and poultry exhibitions and as a boarding stable and livery as seen in 1894. Demolished finally in 1909 the site then was used as the Adolphus Theater and the Hippodrome.

Los Angeles, sheet 10, 1888. On a lonely hill on the outskirts of the old pueblo is the Los Angeles Orphan Asylum with dormitories, classrooms, playing fields and a poultry yard. Operated by the Catholic Daughters of Charity religious order the home was one of the first philanthropic establishments in the city.

San Pedro, sheet 25, 1908. Just a year after the official founding of the port of Los Angeles with appointments of a harbor commission but a year away from annexation to the big city of LA the soon to be big time San Pedro docks show the great versatility of the area with oil, lumber, fisheries and even (gulp) a boarding house right on the water.

Los Angeles Volume 1, sheet 13a, 1888. On most historical ground the Philadelphia Brewery occupied a space where the great sycamore tree known as "El Aliso" was once the gathering place of the original Native Americans, the Tongva tribe.

Los Angeles, volume 1, sheet 38, 1888. Just eight years after its founding the campus featured "literary halls," a "music school," and "pleasure grounds" that offered outdoor recreation way before the Trojans took to the gridiron. Next door is the great Agricultural Park where early baseball games were played and eventually the Coliseum would be built.

Southern California's second great oil boom created oil fields all over the southland and Sanborn made a special accommodation for Oil storage in the Los Angeles County atlases that show tank farms and refineries. The General Petroleum Wilmington Tank Farm shows five great reservoirs of black gold along with five modest dwellings and a bunkhouse just feet away from 80,000 gallons of gasoline. Whew.
Not only are history nerds actually good for scholarship, they stimulate interest in obscure but important topics and increase the amount of primary documents floating in the ether. Sometimes all these pieces can be fitted together to make a jigsaw picture of a whole, fascinating story. Some of the best L.A. stories I have discovered came from these cyber-scholars pulling chunks of stories out of the oddest of places.
This is where the once-forgotten old Sanborn Fire Insurance atlases fill an unexpected bill. Scanning projects have taken dusty volumes created for the most unlikely purposes and turned them into shafts of a gold mine dotted with historical nuggets. While Fire Insurance atlases were originally created to determine risk in buildings being considered by insurers as far back as the mid-nineteenth century, they now offer layers of fascinating information about cities across America. The serendipity of wandering off on intellectual tangents once brought on by thumbing through a card catalog file has now gone digital and it is a lot easier on the back in some cases. Atlases such as the Sanborns, Baist or Dakin are indispensable in tracing the growth of Los Angeles from some adobes by the river to the megalopolis of today. While there is no substitute for spreading atlas pages or flat maps beneath your magnifying glass on a flat surface, the next best thing is an online archive with good software.
An excellent starting place for cartographic insight is the digital collections of Sanborn Fire Insurance atlases hiding in plain sight on the Los Angeles Public Library's website within the library's databases. The Sanborns used to be just the domain of architectural historians, baseball researchers or folks slated to stand before city planning boards when they wanted to improve their property. The actual Sanborn "specimens" could double for tomes in a Harry Potter movie, as they are huge and heavy, like 50 pounds of impressive-looking mega-book compiling sometimes over 100 thick sheets in a volume. Each page or sheet is filled with images of dwellings, public buildings, shops, factories, streets, alleys, rail lines and much more. Clerks for the Sanborn Company would receive reports on changes in neighborhoods and paste precise cuts of paper over sites to reflect when buildings were replaced, when new structures were built or even when a fire destroyed property. An atlas that may have been created in 1906 may contain changes in the area up to 1950 so researchers can see a place as it looked before electricity or before the freeways completely remade the metropolis.
The Library of Congress and Chadwyck-Healey/Environmental Data Resources made Sanborns available on microfilm and then on digitized databases a couple of decades ago. Since then, the pool of researchers expanded dramatically from urban historians, baseball researchers and genealogists, to college students, writers, gamers, bloggers, "foamers" (railroad enthusiasts) and finally to plain old, curious history nerds. The beauty of serendipity lives in these old maps, because with some study one can figure out why the cities developed in the directions they did or failed to flourish as they were once dreamed. One might not want to establish a fine restaurant next to a livery stable nor would you build a convent on "Lovers Lane"...or would you?
The online Sanborn atlases can be used in tandem with historical photographs, or straight with no chaser to give a picture of how cities in California looked in earlier times or how they grew with the kind of condensed detail even newspaper accounts cannot match. They are full of surprises and delightful iceberg tips of stories about local history. That lost serendipity can be found by just wandering in the Los Angeles Sanborns, especially the first volume done in 1888 where one can find a city of around 44,000 that seemed to have an awful lot of wineries (at least a dozen), the Ventura livery and feed stable next to the Grand Opera headquarters, St. Vibiana's cathedral, the Los Angeles horse market, J.C. Cook the wool puller, an early baseball field and a deluxe panorama of the Battle of Gettysburg. There are entire cities vanished from the modern maps frozen in time, like Lankershim, Garvanza, Florence, Fernando, Colegrove, Clearwater, Owensmouth, Sherman, Temple and Sawtelle.
As Los Angeles grew, the number of Sanborn volumes covering the city multiplied to over three dozen, and navigating them can be daunting for the novice user. There are finding aids on the LAPL website to help users focus in on given addresses, neighborhoods and even places in time and it is amazing what you run into on your way to locating your property.