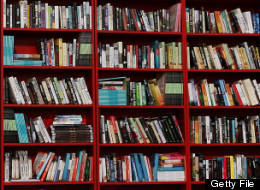 By Elyse Barrere, Young Adult Librarian, Los Angeles Public Library
When you're a teenaged book lover summer reading is the best reading! The freest reading! It's staying up all night under the covers with a flashlight because you don't have class in the morning reading! This summer the Los Angeles Public Library wants its teen patrons to Own the Night, the theme for this year's teen summer reading club.
Having sleepovers and scaring yourselves until you're laughing so hard you can't breathe. Sleeping with the windows open wondering if that rustling in the trees is just a squirrel or some supernatural thing. Feeling the wind in your face as you drive your car with the music turned up full blast. Staying out all night for the first time after prom.
The night can mean terror or love or freedom. These books will get you into the mood to howl at the moon!
And if you're a grown-up, don't be embarrassed to read from the teen shelves. We promise it's okay.
LAPL's Summer Reading Clubs for children and teens start June 11. Contact your local library branch to find out more.
Own the Night with These Teen Summer Reads
Once upon a time there was a girl raised by monsters. This is her story. Karou is a mystery to her friends with her blue hair, her sketchbooks filled with fantasy worlds that are real to her, and the strange jobs that take her away at a moment's notice. But she's also a mystery to herself. The monsters she loves and the tattoos she was born with hold the keys to her past, and it's about to be unlocked. You'll be guessing right until the very last page, and after that all you'll be thinking is "I want more!" (Luckily you'll get it in the fall of 2012 when the next book in this series comes out!)

Fourteen years ago the zombie war ended, and the world is still reeling. Benny is turning fifteen and he has to find a job or have his food rations cut in half. Out of options, he asks his brother Tom, a zombie hunter, if he can be an apprentice. Tom and Benny haven't always gotten along, but Tom says okay and is soon teaching Benny the tricks of the trade. Eventually Benny finds that the zombies may be the enemy, but sometimes people are the monsters. (First book of a series.)

Amy has just begun an adventure, but not the one she expected. She thought she and her family would be frozen for 300 years as they traveled to another planet. But suddenly she finds herself awake 50 years earlier than the rest of the settlers. Now Amy needs to adjust to life on a starship. She soon realizes it's no computer glitch that's woken her; someone may be trying to kill her.

When Nick meets Norah, he asks her to be his girlfriend for five minutes and she kisses him. What follows is a wild run through New York City looking for hidden music shows and first love that leaves the reader breathless. Nick is charming, Norah is cynical, and together with their quirky friends they are completely irresistible. Who is Salvatore? Where is Fluffy? And did the Beatles really have it right all along?

Cal was just an average college freshman until he unknowingly infected a girl with a parasite that turned her into a vampire. Now he has to track her down and catch her before she can create any more "peeps." This is an entirely original take on a classic horror trope.

Sam was a happy Seattle slacker until he found out he was a necromancer. Now he's got to deal with Douglas, another necromancer who doesn't like competition. Sam has to figure out how to control his powers before Douglas can take them from him. Luckily he's got his two best friends - a werewolf he's developing a crush on and a crow that's been following him around his whole life to help him out. Add in his uber snarky Harbinger, a suspicious detective, and an undead friend, and Sam's Scooby gang is complete. Totally hilarious and original!

Ash doesn't care about the prom, but her best friend Nat is the head of the prom committee. When their teacher steals the money that the group raised, Ash suddenly finds herself working hard to save the big event. Luckily she's not alone, and with a little help from her crazy family, Nat's grandmother and all their friends, Ash just might pull the whole thing together!

Rose feels lost and alone at her performing arts high school. One night Rose's Russian neighbor, Yrena, climbs in her window and tells her that she is being sent back to Russia in the morning with her entire family. Yrena wants to have one last adventure in New York City, but first they have to lose the KGB, the CIA, and their parents!

The Zombie War is over and now the survivors tell their stories to the Journalist. How did the outbreak start? How did people survive? What happened to North Korea and did wiener dogs really help to save lives? With submarines, battle tactics and politics, this isn't your average zombie book.

While doing court-ordered community service in the lost and found of the Toronto subway system, Duncan picks up one of the lost books to read on his lunch break only to discover that it's actually the diary of a serial killer. When the cops won't listen to him, he and his best friend have to find the women in the diary and warn them - and then go after the killer themselves! "Me and you going after this guy... it's like the Hardy Boys meet Hannibal Lecter!"

Will is an orphan who lives with a Monstrumologist, a doctor who specializes in the study of monsters. When a gruesome murder happens in their small town, he and the doctor are joined by a strange man who seems to know almost as much as the doctor. As they delve deeper into the mystery it seems as though the problem may be much bigger and much more dangerous than any of them ever thought possible. A stunning combination of Stephen King-esque horror suspense and Lovecraftian monsters makes this a terrifying thriller!

"Beneath heaven is hell. Beneath hell is Furnace." 14-year-old Alex has just been framed for murder and sent to serve a life sentence at the infamous prison known as Furnace. He will never see the light of day again, because Furnace is deep below ground, and once you enter, you never leave. But Alex soon realizes that there is something more sinister than just terrible food and gangs, boys are stolen from their beds, hell hounds roam the hallways at night and tear inmates apart, and who (or what) are the terrifying automatons that lurk in the shadows?

Rory has just been transplanted from Louisiana to an elite London boarding school in the Whitechapel district. She's just settling in when a Jack the Ripper copycat starts killing people. One night while sneaking out with her friend, Rory bumps into a strange man that her friend didn't see at all. Something even stranger than murder is afoot, and Rory seems to be right in the middle of it all.

When Lucas asks his best friend Tessa to go to the prom with him, he doesn't expect her to say no. But, when he finds out the reason she said no - and that it means she might not be allowed to attend the prom at all - that's when Lucas has a decision to make. Does he wallow in his hurt feelings, or will he put them aside and make sure that his friend has the best prom ever?