By Matt Knutzen, Geospatial Librarian - The New York Public Library
One hundred years ago, a building-sized elephant stood across the street from the Coney Island Cyclone. The "elephant bazaar," which once occupied the area on the North side of Surf Avenue, was an exciting discovery for The New York Public Library's Lionel Pincus and Princess Firyal Map Division, which, with the aid of a generous three-year grant from the National Endowment for the Humanities (NEH), is busy transforming NYPL's historical paper map and atlas collections into a powerful digital resource.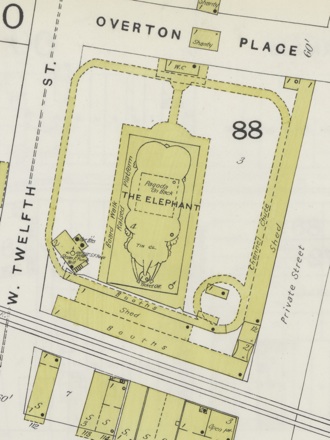 "Brooklyn Vol. B Plate No. 175 [Map bounded by Stillwell Ave., Overton Place, W. 10th St.]." The New York Public Library, Lionel Pincus and Princess Firyal Map Division. Digital ID 1808916.
Digitizing the old maps -- in this initial stage, primarily detailed insurance and real estate atlases of New York City -- is only the beginning of a multi-step process that turns map images into actual geographical data. Imagine Google Maps, but with a "go back in time" option. Here's how it works:
Maps are scanned and converted to high resolution digital images;
The images are georectified (or more colloquially, "rubber-sheeted," or "warped"): a process that involves aligning the pixels on an old map to the latitude/longitude on a virtual map;
The warped maps are then cropped to remove extraneous non-map information (such as page borders);
Finally, map data (such as building footprints or ward boundaries) are traced and transcribed into open, exportable formats.
All of the above work is carried out by a combination of Library staff and public volunteers through a web-based toolkit affectionately dubbed the "Map Warper". The NYPL Map Warper website includes a how-to instruction video, along with a detailed georectification guide. There are also instructions on map cropping, a necessary step in the creation of map mosaics. (See Unbinding the Atlas: Working with Digital Maps for more information on this process.)
Thanks to the NEH grant, the Library estimated that approximately 7,200 maps could be scanned, but the overall project proceeded much faster than expected.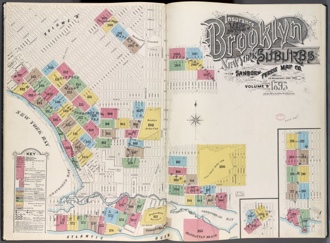 "Insurance Maps of Brooklyn New York Sanborn Perris map co. 113 Broadway, New York. Volume 'B' 1895." The New York Public Library, Lionel Pincus and Princess Firyal Map Division. Digital ID 1808871.
Roughly 7,800 new maps have been scanned and mounted thus far, and more than 9,300 metadata records have been created for related collections, including our
New York City zoning maps
dating to 1916, most of our public domain fire insurance atlases of areas outside of the city in New York and New Jersey, and NYPL's entire collection of historical and contemporary New York state topographic maps.
If the project's current pace continues at this rate, the Library anticipates more than 17,000 historical maps will be digitized, most of which concentrate on the five boroughs, with significant coverage of upstate New York and New Jersey as well. The scanned maps can be found in a number of places, starting with a chronological list of atlases arranged by borough in The Library's Digital Gallery. For example, one of the atlases highlighted here (Insurance Maps of Brooklyn New York), features a graphically rich index page illustrating a Brooklyn that has yet to fill in the projected urban grid.
Once the maps are scanned, they are georectified using the Map Warper. With the help of our patrons, the Library has made great progress in georectifying New York City maps, warping about 2,400 sheets from approximately 162 atlases.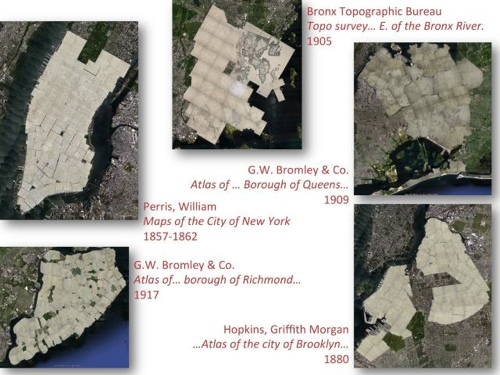 After georectification comes map tracing, and this is where the proverbial rubber meets the road in working with historical maps. This type of data will eventually allow you to ask your phone a question, such as, "I'm standing in front of the Coney Island Cyclone -- what other attractions would I see if I was here 100 years ago?" (Answer: The afore-mentioned Elephant Bazaar.) If map warping involves preparing digital image pixels of old maps to relate to one another geospatially, map tracing involves preparing data to be harvested, mined, analyzed, mashed, and made part of the "Semantic Web" to connect related data across time. As with warping the maps, the Map Division would love the assistance of our users in helping us expand this trove of historical footprints. The Library's digitization guide to map tracing is available to help the public learn more. (At the bottom of this post, there are a few screenshots and links illustrating how we're starting to play with visualizing some of this data in Google Maps.)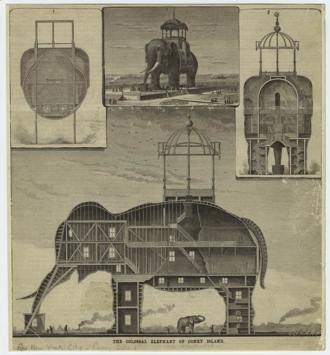 "The colossal elephant of Coney Island (1885)." The New York Public Library, Mid-Manhattan Picture Collection. Digital ID 801320.