The work I have come to do is a mixture of idea and reality. The classical name for the work is Research and Development, and what it entails is making thoughts corporeal. World fairs are the cutting edge of where ideas that have become material are showcased. These exhibitions present to the world the future innovations that are going to affect and shape the lives of the participants.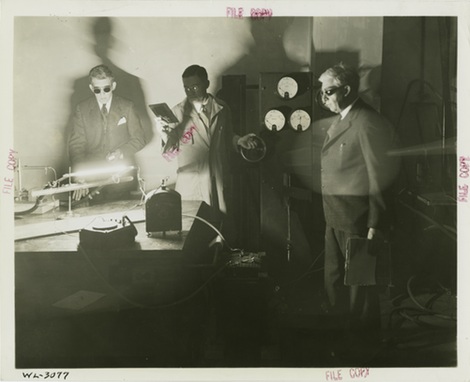 Westinghouse: Men testing vapor lamp. NYPL, Manuscripts and Archives Division.
In all the fairs since 1851, lighting technologies have been presented to the public as major defining forces of future social interaction within cities, factories, and homes. Lighting technologies allow us to set the rhythm of our day without regard to external natural forces like the sun. In the world fairs we see the future as idea becoming the everyday material of today and so these fairs present themselves as spaces that are forever looking into the future. What is not seen though, at the time, is that by focusing on these new technologies of the future, a world's fair is simultaneously archiving the ideas and machines that have shaped our societies and lives.
This became clear to me while I did research in 2002 at The New York Public Library Science, Industry and Business Library (SIBL) for a client. This project was to build a 60,000-watt carbon arc lamp, exploiting a technology that had revolutionized lighting and changed society. Carbon arc lighting transformed how work was done in factories and how wars were fought utilizing mile-long search lights.
In time the carbon arc lamp was made obsolete by newer lighting technologies, as you can see in the 1939 World's Fair where carbon arc search lights illuminated the signage for the pavilion heralding the new future of lighting, which was florescent lighting. Carbon arc lights burn at incredibly high temperatures though, giving them the unique property of being one of the "truest" (full spectrum) lights there are. So to manifest this "true" light I could not use the most advanced lights of today but had to reference the "old future" of lighting -- carbon arc lights.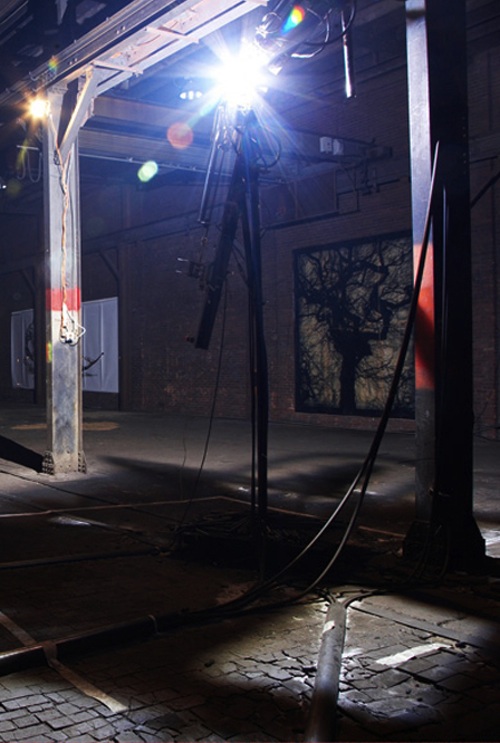 Justin Downs' modern carbon arc light undergoes testing in his lab. It is currently the largest functioning unit of its kind in the world.
To do this I combed SIBL's extensive collection of popular technical manuals, from World's Fair advertising, to old how-to-maintain lighthouses books from the 1800s, which were all preserved in the Library's closed stacks. As I scoured these manuals to recreate and rediscover this technology I could tell I was the first person to read these pages in over a hundred years. Some of the books actually would fall apart as I read them. This experience gave me the strange feeling of consuming the knowledge since it was evaporating with its use.