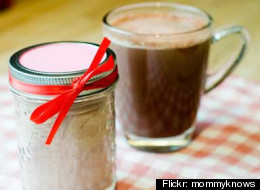 Written by Adriana Velez on CafeMom's blog, The Stir.
Maybe you're in the mood for hot chocolate. Maybe you're in the mood for chocolate pudding. Maybe you're in the mood for molten chocolate cake. How about all three together? You can have your hot chocolate and eat it, too, with this decadent and super-easy baked hot chocolate recipe.
This recipe looks insane -- chocolate melted with eggs, sugar and butter. Basically, it's a chocolate custard with a melted center that you eat warm. Mmm, so cozy! I'm getting a chocolate buzz just looking at the recipe.
Baked Hot Chocolate via Food.com
Ingredients:
9 ounces semisweet chocolate, chopped
3 ounces butter
4 eggs
1/4 cup sugar
Directions:
Combine chocolate and butter in a mixing bowl and melt over a double boiler. Combine the eggs and sugar in a separate mixing bowl and warm over double boiler until warm to the touch. Transfer egg mixture to mixer and whip until fluffy. Fold whipped eggs into melted chocolate. Divide evenly into four bake-proof dishes and bake at 350°F for 17-20 minutes.
More from The Stir:
Chocolate Orange Cupcake Recipe Is So Good You Can't Eat Just One.
Dunkin' Donuts Dares to Try a Gluten-Free Donut -- But How Will It Taste?
Irresistible Chocolate Peanut Butter Pie That Won't Ruin Your Diet.
Awesome Wine Ice Cream Will Give You Something Way Better Than Brain Freeze.
Follow The Stir on Twitter: www.twitter.com/The_Stir