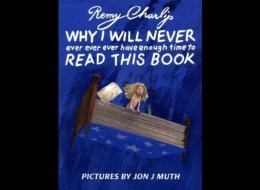 Remy Charlip, an acclaimed children's book author and artist whose accomplishments spanned many fields, forms, audiences and years, passed away last week at the age of 83.
Charlip was best known as the author or illustrator of nearly 40 books, most for children. His most popular works, Fortunately (1964), which follows the alternating fortunes of a young boy, remains in print after more than 45 years. The book has been published around the world.
Along with his long career as a children's book author -- which dates to the mid-1950s, Charlip was also a noted dancer and choreographer and a founding member of the Merce Cunningham Dance Company. He was with that distinguished group for 11 years, as both a dancer and as a set and costume designer. He was succeeded in the latter role by artist Robert Rauschenberg.
Charlip was also a member of the Living Theater and the Judson Dance Theater, and a co-founder of the Paper Bag Players, a children's theater group. For this work, he won two Obie Awards, one in 1965 for his work with the Paper Bag Players and another in 1966 for directing "A Beautiful Day" at the Judson Poets Theater in Greenwich Village.
And if that wasn't enough, Charlip was also an influential educator, artist, book designer, and friend to other creative icons -- like Edward Gorey. And, he was a muse to others still. Contemporary composer Lou Harrison wrote music in his honor, namely two of his "Seven Pastorales."
Because he bore strong resemblance to George Méliès, Brian Selznick used Charlip as the model for his drawings of the pioneering filmmaker in The Invention of Hugo Cabret. Selznick's now-famous illustrated novel (which served as the basis for the Martin Scorsese film Hugo), is also dedicated to Charlip. The dedication was a favor returned. On his website, Selznick states, "When I was a kid, several of his books were favorites of mine, including Fortunately, Thirteen, and Handtalk: An ABC of Finger Spelling & Sign Language."
Following his death, Charlip's remarkable life was detailed in an obit which ran in the New York Times. His work as a dancer was detailed in an article in the San Francisco Chronicle. And, his career as a children's book author was surveyed in Publishers Weekly. His many accomplishments in the realm of dance, the performing arts and the avant-garde were outlined in a reprinted piece by artist John Held in SFAQ: International Arts and Culture.
Remy Charlip was many things -- and always young at heart. The world, without a doubt, is a lesser place without him. In no particular order, here are ten of his notable books. Some remain in print, some are now out-of-print. Each is recommended. Which is your favorite?
Remy Charlip: Ten Books plus one or two more
Fortunately, by Remy Charlip / Parents Magazine Press (1964) and Simon & Schuster Books For Young Readers (1984). Good and bad luck alternately accompany a boy on his way to a surprise party; not surprisingly this book has been translated and published around the world

Arm in Arm: A Collection of Connections, Endless Tales, Reiterations, and Other Echolalia, by Remy Charlip / Parents Magazine Press (1969) and Tricycle Press (2010). My favorite, an illustrated collection of verse, tongue twisters, riddles, and seemingly endless tales which feature word play on words while telling the story of two just-married octopuses who walk down the aisle "arm in arm in arm in arm in arm."

Dress Up and Let's Have a Party, by Remy Charlip / Scott (1956). Charlip's first book was hailed along with Dr. Seuss's The Cat in the Hat as one of the "revolutionary readers" of the time.

The Dead Bird, by Margaret Wise Brown, illustrated by Remy Charlip / W.R. Scott (1958). This is one of three books by Brown which were illustrated by Charlip.

Why I Will Never Ever Ever Ever Have Enough Time to Read This Book, by Remy Charlip and Jon J. Muth / Tricycle Press (2004). A busy girl recounts all of the things she has to do in a day as she tries to find time to read.

Mother, Mother, I Feel Sick; Send for the Doctor, Quick, Quick, Quick, by Remy Charlip and Burton Supree / Parents Press (1966) and Tricycle Press (2001).

Sleepytime Rhyme, by Remy Charlip / Scholastic (1999). A favorite bedtime book for many parents.

Handtalk; an ABC of finger spelling & sign language, by Remy Charlip, Mary Beth Miller and George Ancona / Aladdin (1987). An introduction to two kinds of sign language: finger spelling, or forming words letter by letter with the fingers -- and signing, or making signs with one or two hands for each word or idea.

Little Old Big Beard and Big Young Little Beard: A Short and Tall Tale, by Remy Charlip and Tamara Rettenmund / Marshall Cavendish (2003). Two cowboys search for their lost cow: this book's story was inspired in part by his lifelong friendship with the composer Lou Harrison.

A Perfect Day, by Remy Charlip / Greenwillow Books (2007). What could possibly be better than spending a day together?

Remy Charlip signing books in San Francisco some ten years ago (photo by Thomas Gladysz).

Peanut Butter Party: Including the History, Uses, and Future of Peanut Butter, by Remy Charlip / Tricycle Press (1999). This clever book celebrates what kids love -- peanut butter!

My Wonderful World of Slapstick, by Buster Keaton / Doubleday (1960). If you know who Buster Keaton is, then you know this cover is a superb example of Charlip's work as a book designer; if you don't know who Buster Keaton is, then this cover tells you everything you need to know to get going.
Thomas Gladysz is an arts journalist who writes on books and authors and other things. His interview with Allen Ginsberg was included "Beat Memories: The Photographs of Allen Ginsberg" (National Gallery of Art). He also wrote the introduction to the Louise Brooks edition of Margarete Bohme's classic novel, The Diary of a Lost Girl (PandorasBox Press). More at www.thomasgladysz.com.
Follow Thomas Gladysz on Twitter: www.twitter.com/thomas_gladysz