China, human rights, and Hu Jintao's visit to Washington: an interview with Congressmen Chris Smith (Republican-NJ) and David Wu (Democrat-OR).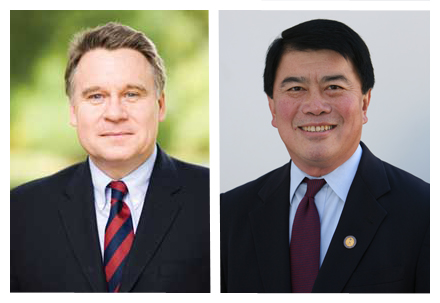 Congressman Chris Smith (R-NJ) is chairman of the House Foreign Affairs
Subcommittee on Africa, Global Health, and Human Rights. Congressman David
Wu (D-OR) is the first Chinese American to serve in the House of Representatives
and the former chairman of the House Science and Technology Subcommittee on
Technology and Innovation.
Thor Halvorssen: What was it like for the two of you to attend the Nobel Peace Prize ceremony on December 10, 2010?
Smith and Wu: Last month we had the privilege of attending the Nobel Peace Prize ceremony in Oslo. The empty chair on stage, bearing only a photo of democracy activist Liu Xiaobo, was a powerful reminder that he and many other democracy activists were at that very moment sitting in prison. The deeply emotional standing ovation with which we honored Dr. Liu filled Oslo City Hall-and we believe its resonance was felt around the world. Liu and what he symbolizes must not be forgotten when Chinese President Hu Jintao meets with President Obama this week in Washington. It was Liu's courageous action in helping to write and organize the Charter 08 democracy manifesto that led us to jointly nominate him for the Peace Prize. That same action led the Chinese government to sentence him to 11 years in prison. While we are optimistic about the future of the Chinese people, the empty chair in Oslo was an unforgettable symbol of the Chinese government's determination to prevent citizen-led reform.
Halvorssen: How important an issue should human rights be on the agenda when President Obama sits down with President Hu later this week?
Smith: President Hu's visit occurs at a moment in U.S.-China relations when the administration appears to be reviewing its policy toward China. I believe that respect for fundamental human rights is central and must be at the core of our bilateral agenda, along with the issues of unsustainable economic and trade imbalances, China's military pressure on Taiwan, and the need for Chinese cooperation in containing North Korean and Iranian threats.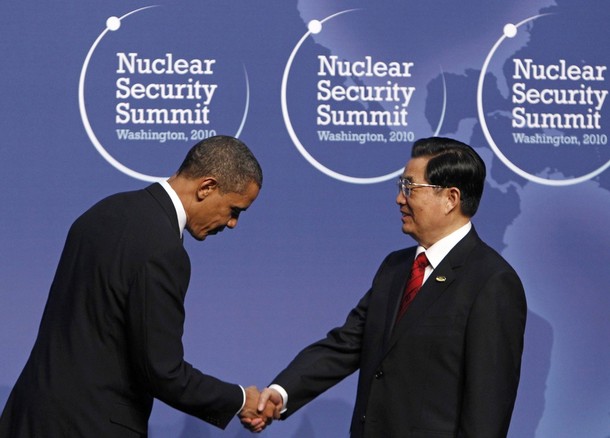 Obama greets Hu in Washington last month.
Halvorssen: What would you say to those who argue that China's human rights abuses should be given less attention relative to the great economic progress achieved by the Chinese government?
Wu: I rejoice that the economic conditions of the Chinese people have dramatically improved over the past three decades - yet I believe that this must never be used to justify the denial of a people's fundamental human rights. Contradicting its own constitution, the Chinese government continues to heavily censor the media, block the free flow of information on the Internet, and target political and human rights activists for harassment, surveillance, arbitrary detention, and torture. The limitations on freedom of expression were on clear display after the Norwegian Nobel Committee awarded the Peace Prize to Liu. The Chinese government blocked international news broadcasts during both the Nobel Committee's announcement and the award ceremony. It also rounded up and detained Liu's supporters in China and prevented his family and friends from traveling to Oslo to accept the award on his behalf.
Halvorssen: How serious are the ongoing human rights abuses?
Smith: Ongoing human rights abuses demonstrate the acute need for the political reforms that Liu and other courageous democracy advocates proposed in Charter 08. Christians and other religious groups face persecution for worshiping outside the state-controlled religious apparatus. China's one child policy punishes families for having "out-of-plan" children, resulting in sex-selective abortion and tens of millions of "missing girls" as well as forced abortion and sterilization campaigns. Tibetans, Uyghurs, and other minorities face systematic persecution aimed at marginalizing their cultures: the use of their native languages is extremely limited in schools, and their spiritual leaders are targeted for political indoctrination and detention.
Halvorssen: What kind of progress is being made on the rule of law in China?
Wu: The widespread use of arbitrary detention, house arrest, and enforced disappearances, particularly against attorneys, and the absence of any independent and impartial judiciary, belie the government's claims that it respects the rule of law. Gao Zhisheng, a highly respected Chinese lawyer who represented religious minority groups, has himself become a target. Detained on a number of occasions, Gao was most recently "disappeared" by the government in April and has not been seen or heard from since. Congressman Smith and I are deeply concerned about his health and welfare.
Halvorssen: What do you want President Obama to do about human rights issues with regard to China and this state visit?
Smith and Wu: In the context of our bilateral relationship with China, the United States must consistently and strongly reaffirm that the defense of fundamental human rights will be an underlying goal of U.S. foreign policy, regardless of political party. We welcome assurances from the White House that human rights will be on the agenda during the state visit, and we urge President Obama to raise specific cases of concern and press for concrete action, including the immediate release of Liu Xiaobo, his wife Liu Xia, and Gao Zhisheng.
SUBSCRIBE TO & FOLLOW WORLD POST