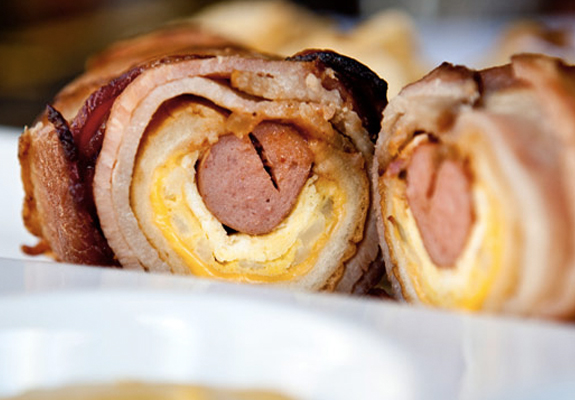 Get a gut-busting 3-courser -- plus the finest suds in all the land -- for just $25, at Soho's most southern-fried hangout, South Houston. Your feast, should you choose to accept it:
* A manfully inventive app, from salmon tacos w/ jalapeno remoulade to peach-apricot BBQ wings, plus bacon bourbon popcorn
* A kingly entree like Chicken & Waffles, the Thyme-Scented Grilled Pork Chop, Bacon-wrapped Meatloaf, or Andouille Mac 'n' Cheese
A frothy pint of one of their eight exceptional drafts (Delirium Tremens, Kelso Pilsner, many more)
* Bananas foster or s'mores pudding made in-house by chef Omar Drammeh, a native Gambian who stowed away on a Greek ship at 19, then upon discovery was sent to work in the kitchen, where his passion was ignited -- so you'll get a huge dinner, plus a great idea for an independent film!
As a heart-healthy bonus, there's also an off-menu option for your entree, The Bulldog: a fried egg, hash browns, American cheese, a house-made deep-fried hot dog, beef chili, and sour cream, all slapped into a bun, which is then wrapped in 15 strips of bacon and baked until crispy. Think of it as a challenge -- like a marathon, except the only training is not eating lunch.
Great beer. Great food. Great...god almighty that's a crazy hot dog. Whether you go with the Bull or the Chicken & Waffles, grab your Reward right here.