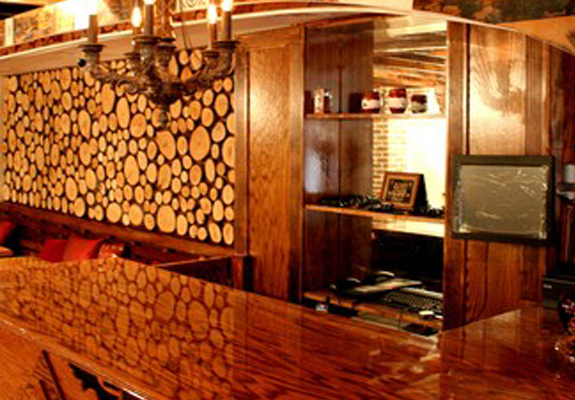 From the introduction of lamb by the Ottoman Turks, to buttery pastries brought over by the French, Lebanon's cuisine's a rich stew that pulls inspiration from thousands of years of varying occupiers, but who knew: all they really wanted was pizza. Bringing said pies to NYC, the guys behind Balade.
The product of two Beirut-born buddies, Balade augments its more familiar Lebanese fare with a slew of traditional oven-fired pizzas known as "manakeesh", all served up amidst brick-and-tile walls, slatted wooden benches with deep red throw pillows, heavily grained tables, and an enormous mosaic of unvarnished tree trunks -- eat enough pizza and it'll be the only wood you can see. Starting with a special house-made dough, pre-set 'keeshes include the spiced ground beef/onion/parsley Kafta, a traditional-white-cheese-and-tomato job called the Jebneh, and a breakfast pie with thyme, sesame, sumac, and olive oil; other oven fare includes open-face pitas topped w/ familiar stuffings (e.g., sliced beef/onions/cucumber/tahini), and Sfiha Bjebne, aka "squares of cheese to your heart's desire", because there's nothing that hearts crave more than blocks of cheese. To abet your 'za there's mezze like hummus and zatar-blended cheese; lightly toasted pita pockets stuffed with grilled tuna and Lebanese-spiced sausage; and platters of chicken shawarma, falafel, and a lentils-and-rice blend called the Mujuddara Crush, a move the Iron Sheik could have used to pin Hulk Hogan if America wasn't so totally irrepressible.
All can be washed down with suds from Lebanon's Almaza, plus Bekka Valley vino from producers including Massaya and Chateau Kefraya, whose existence proves the French taught the Lebanese their most important culinary tradition -- getting richly stewed.
SUBSCRIBE TO & FOLLOW THE MORNING EMAIL
The Morning Email helps you start your workday with everything you need to know: breaking news, entertainment and a dash of fun. Learn more