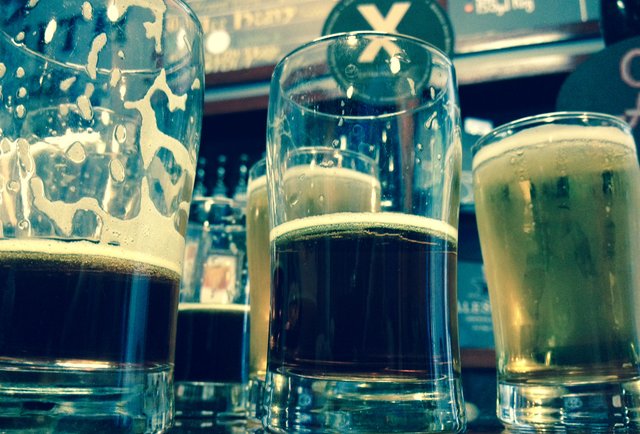 Last Sunday, my girlfriend, my brother-in-law, my sister, and I piled into a white limo that was made to look like a Bentley in the cheapest way possible, and we struck out for six hours of beer-tasting at four breweries in San Diego.
While people mostly think of it as "a magical place where Top Gun was filmed," San Diego is also one of the nation's true beds of hotness for innovative, balls-out craft brewing. Our needy livers took us to four stalwarts: Green Flash, Ballast Point, Ale Smith, and the new Stone compound in Liberty Station.
Over the course of the day, we sampled more beers than just the ones listed below, but I tried to keep six percent ABV as our absolute low end and ensure things were well above eight percent whenever possible. The idea was to challenge these girls' palates and powers of description with beers that are only slightly less powerful than chloroform, and they responded with everything from nuanced flavor assessments to somehow-related discussions of Jo-Ann Fabrics.
Worth noting: my girlfriend prefers wine but is coming around on beer, with some very not-gentle prodding from me. My sister barely drinks. These are their notes.
GREEN FLASH BREWING CO.
Strong Beer No. 1: Green Flash Brewing Co. Trippel (9.7% ABV)
Sister: I just got drunk smelling that.
Strong Beer No. 2: Double Stout (8.8%)
Girlfriend: Tastes like a cookout.
Sister: Hey, Lou, gimme a milk! Chocolate! Why would you want to do that to yourself? You'd need, like, a hardcore nap right after it. You'd probably need about an hour-and-45-minute nap.
Strong Beer No. 3: Treasure Chest Belgian-Style Brown Ale (5.7%)
Sister: This one's interesting. I like this one. Usually brown things scare me. But not this.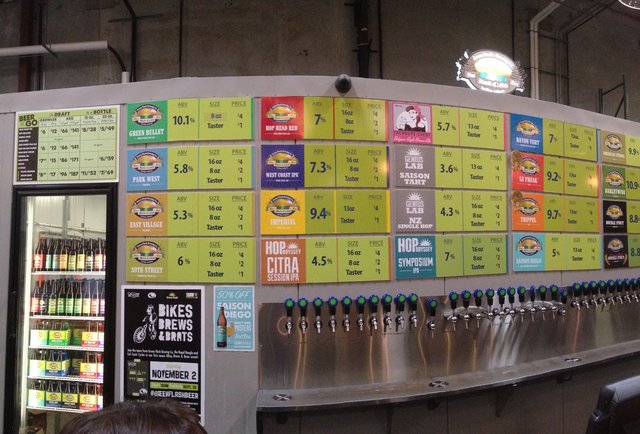 Strong Beer No. 4: Green Bullet Triple IPA (10.1%)
Girlfriend: Tastes like cheese. Tastes like what ABC Beer Co. smells like.
Sister: I don't know. I don't think I like that one. My thing is, I really like to order a pale ale, then reject it.
Strong Beer No. 5: American Strong Ale (9.9%)
Girlfriend: Ooooh, this one's nice!
Sister: Oooh, no, I can't do that one
Strong Beer No. 6: 30th St American Pale Ale (6%)
Girlfriend: Everything tastes like a barn to me. It tastes like horse feed, which is good I guess. Horse feed but sweeter. It's good.
Strong Beer No. 7: Double Stout With Serrano Chile (8.8%)
Girlfriend: [Amazingly positive look on her face.] I'm gonna love this one. [Drinks it.] It's just great. Just a teeny, tiny kick.
Sister: It's like a midget kicking you. Is our driver taking selfies in front of the car?
As you might imagine, the comments get more and more ridiculous as the tastings continue. Find out which beer tastes like sunscreen (and much more) all in the full story on Thrillist.com!