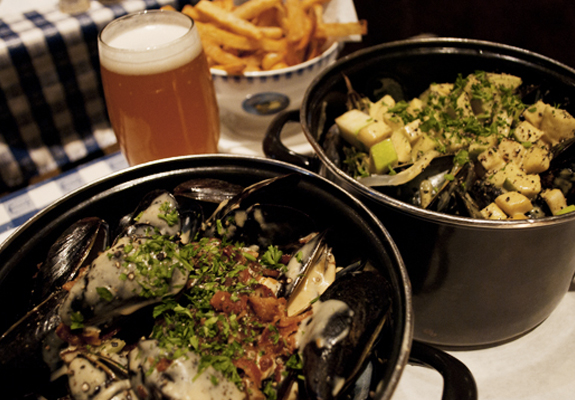 A Reward as big as the European Union: all-you-can-eat mussels, plus an all-you-can-drink special offering from Sixpoint, at New York's bastion of Belgian-ity, Petite Abeille. For just $24, you'll feast on five kinds of lil' shelled friends: white wine & celery-garlic Marinières, curry & crisp apple Rasta, creamy beer sauce & bacon essence Grand-Mère, creamy white wine & shallot Poulette, and roasted pepper eggplant Ratatouille -- and you'll get plenty of Belgian fries to sweeten the meal. To wash all that down? An exclusive (and unlimited) sampling of Brooklyn suds-masters Sixpoint's latest flava, The Buzz. See if you can guess what it'll give you.
The answer: a buzz. Grab this mussel-bound feast and show it who's boss, right here.
Just feeling thirsty -- but really, really thirsty? Then gather together some friends to down the last five bottles of 8.5% ABV St. Feuillien Triple left in NYC. And by bottles, we mean 9-liter monsters that hold the equivalent of over 50 beers, giving you and your peeps ample opportunity to savor this ultra-rare, pale-amber Triple's distinctive maltiness and aromatic hops -- also what you call it when Nate Robinson dunks while wearing his special cologne.
N-Rob would totally do this if he were still in town. Drink a few for him, by grabbing this Reward now.
SUBSCRIBE TO & FOLLOW THE MORNING EMAIL
Start your workday the right way with the news that matters most. Learn more