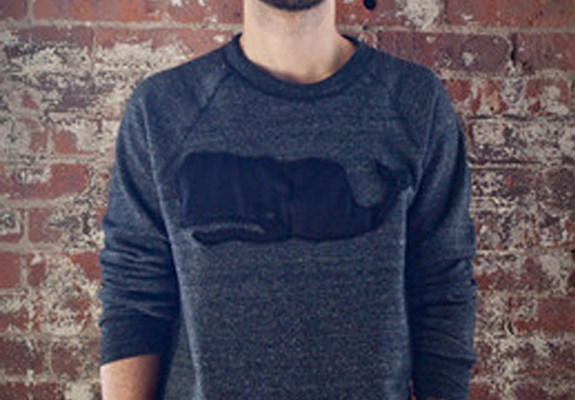 Nautical fashion requires walking a fine line -- add just a touch and you exude adventure and manhood, but go overboard and you look like most of your adventures involve the manhood of others. Not that there's anything wrong with that. Working just the right amount of seafaring into their threads: CXXVI.
Built on a shoestring budget by a team of Strong Island creatives, CXXVI continues to draw inspiration from the eastern shoreline's docks, old shipyards, and general maritime history, which they fuel up on by taking group "field trips", though they're old enough they probably shouldn't need permission to check out some slips. Sticking to their custom-dyed combed-cotton tee roots, fresh designs include a red number sporting "USA" above two crossed anchors; another sporting a piece of parchment scrawled with "Give Me Liberty or Death"; and one with an enormous vertical shark, perfect if the greatest white is you. Tops continue with a vintage workwear-inspired woven chambray b-down with dual chest pockets/contrasting seersucker lining/ tarnished bronze-or-nickel buttons, a fleece crewneck rocking an applique of a black whale, and hoodies like the ship-inside-a-life-preserver "Pride of the Port", so now you've got a gift for Mother's Day. She totally sleeps with sailors, it's time you knew.
Rounding out the drop's a murder of accessories, from a whale-sporting money clip, to a scrimshawed dual-blade knife, to a tote bag sporting the phrase "The Fleet Is In" and a bunch of sailors chasing a fleeing girl, which is hilarious considering how they're dressed. Not that there's anything wrong with that.
FOLLOW HUFFPOST