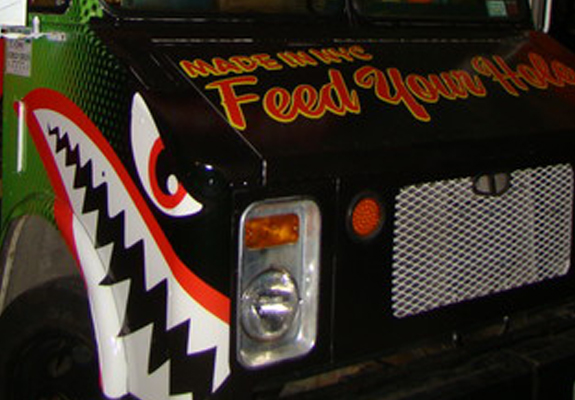 Eating an NYC street dog is a rite of passage, though often the most difficult passage is the one through you to the dirty water from whence it came. For street dogs (and more) designed to stick to your ribs forever, hit up Feed Your Hole.
Started up by a Bronx native/ culinary school grad/ clothing line founder, this angry-bomb-decal'd truck's kicking out "food to make sure people get fat" constructed using ingredients from top purveyors, from a secret blend of 100% grass fed beef, to brioche buns they have delivered fresh daily, so now you know what Carson does after last call. The slingage starts with dogs, including menu monstrosities like the steak chili'd Sloppy Weiner, the fried bacon-wrapped Porky's, and the two-dogs-cheese-fries-chili-and-tomato-on-a-burger-bun Da' Bronx Bomber, which you will no doubt consume Ruthlessly. To wash down the dogs there're...burgers(!), with artery-clogging concoctions including the PB & bacon Nut Burger, and another topped with fries and a grilled dog called the Old NY Way, which explains why they had to make it so broad.
If you want to top your own, they're making all their organic condiments in-house (even jarring their own pickles), resulting in hand-ground mustard, slow-roasted tomato not-quite-ketchup, a hot sauce so blistering that making it requires goggles, and roasted garlic mayo, which, assuming you persist in eating dirty water dogs, is the very clinic you'll need treatment from.
SUBSCRIBE AND FOLLOW
Get top stories and blog posts emailed to me each day. Newsletters may offer personalized content or advertisements.
Learn more