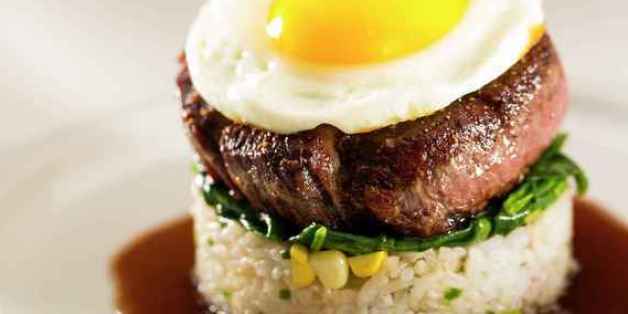 Airline food has always gotten a bad rap, but when it comes to eating in mid-air, flight attendants know what's up (AM I RIGHT?).
You trust them with your safety, so it only makes sense to trust them with your satiation. To find out the best mile-high dining options, we reached out to flight attendants and asked for their favorite thing to eat on the plane. This goes way beyond airline peanuts.
United Airlines Thai tilapia fillet with shrimp
"I think the Thai-style fillet of tilapia with shrimp is the best thing we serve. It's good for a late evening meal because it's not too heavy. You want something light on a later flight." - Sondra Dickens, flight attendant

Virgin America bibimbap
"With our latest menu update, it's hard to choose a favorite dish, but our Korean vegetarian rice bibimbap is definitely high on my list with its big, bold flavors. The bibimbap is a hot bowl of fresh vegetables marinated in ginger, garlic, red chili, lemongrass, and coconut milk served on hot steamed rice and finished with a Korean red chili BBQ sauce and a soft-poached egg." - Mariella Guadarrama, inflight team leader
"When customers on the plane hear we have seafood options, they are generally leery. But in our Mint Experience we offered a hot sea scallop entree with a blackberry Sauternes sauce and foie gras mousse and it was to die for. JetBlue truly brought the freshest seafood I've had on a plane." - John Stripling, inflight onboard lead

American Airlines four-cheese pasta
"My favorite food we serve, and a definite favorite of our customers, is the four-cheese pasta with a cream sauce. It's served in the main cabin on flights to and from South America. This pasta stays moist even in the ultra-dry air of the cabins, and it's creamy and delicious." - Scott Bowie, international flight attendant
Southwest Airlines Ritz Cheese Crackers
"I always like it when honey-roasted peanuts are back onboard, which happens in January every few years -- and this is our year. But after 19 years of flying, I'm peanutted out. On longer flights we offer free snacks such as 100-Calorie Lorna Doones, 100-Calorie Ritz Snack Mix, and Ritz Cheese Crackers. It's hard to pick a favorite, but you can't go wrong with cheese crackers." - Troy Ford, flight attendant
SUBSCRIBE AND FOLLOW
Get top stories and blog posts emailed to me each day. Newsletters may offer personalized content or advertisements.
Learn more