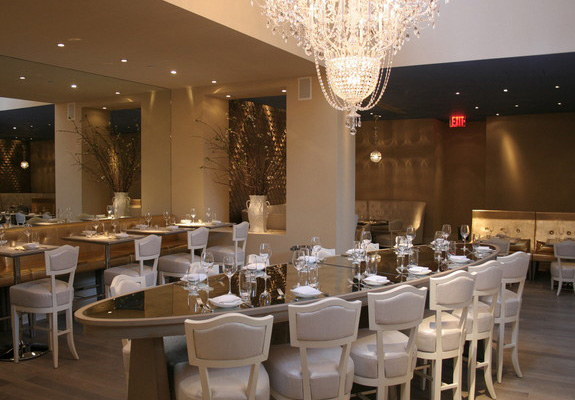 Top Chef alum & Surf Lodge vet Sam Talbot's seafood-centric ode to sustainability is coming soon to the Mondrian SoHo, so before you die from knowledge dehydration, drink in this breakdown of what to expect:
The Space: Spreading the glamor over two stately rooms adjacent the hotel lobby, one half's an airy, glassed-in atrium with off-white curtains providing shade for the copious plants and blue wire chairs within, while the more traditional intimate counterpart boasts a mirror-topped communal table sitting under an oversized ornate crystal chandelier, gold & white banquettes, and a bar decorated with whitewashed branches, presumably sourced from an Irish family tree.
The Food: So dedicated to sustainability they personally vet each vendor they work with, the kitchen squad's ocean-centric fare'll run from traditional raw bar offerings, to plates of King Crab a la Plancha (w/ sweet & sour butter and crispy garlic), to a rotating sustainable catch of the day chosen in consultation with the Monterrey Bay Aquarium, a natural fit as both operations are interested in getting all your clams.
The Drinks: Worked up by Miami's top mixologist, the seasonal 'tail menu pays homage to surrounding Chinatown by using a number system in lieu of names, from the gin/ Cristal/ vermouth/ lavender bitters No. 5, to the No. 9, blending El Dorado, bitters, and Demerara sugar cubes in a coconut rinsed glass, garnished with an orange peel, which ironically won't be what's getting you faced.

SUBSCRIBE AND FOLLOW
Get top stories and blog posts emailed to me each day. Newsletters may offer personalized content or advertisements.
Learn more