Lunch At Dickson's Farmstand: Chelsea Meat Between The Bread Sheets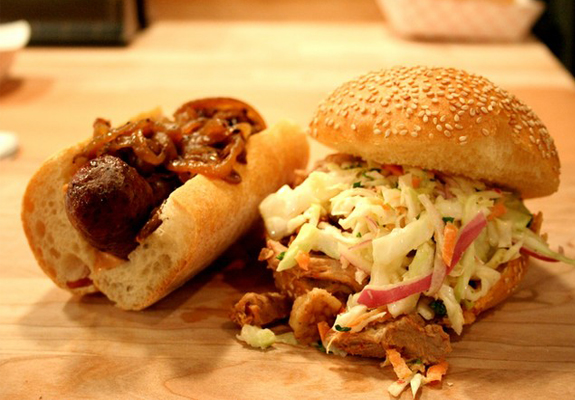 Truly efficient operations re-purpose their natural byproducts, whether it's a dairy farm converting waste into fuel, or Bear Grylls doing pretty much the same. For bites from a butcher with similar aspirations, hit up Dickson's Farmstand for lunch.
Bringing a longtime business plan to fruition, the artisanal meatporium's taking the delicious endgame of their daily on-site butcherin' and whipping it into lunch shape, turning the wooden chop block in the rear into a quick-service hot sandwich bar; daily-rotating components are determined by what's on hand, and carefully overseen by a Gramercy Tavern alum whose title of Meat Guru provides devastating false hope to anyone searching for en-light-enment. With carb-loaves sourced from next door Amy's Bread, opening highlights include a house-made bacon-beef sausage w/ Creole mustard & sauteed onions; sloppy joes made of slowly braised heifer from NY breeders (including Ancramdale's Herondale Farms and Schoharie's Wrighteous Organics); and slaw-topped pulled pork, which gets cooked in a wood-fed, 600lb capacity Southern Pride smoker, then loudly orders Allman tickets and starts to eat itself. Even quicker are the pre-packaged cold sammys, which launch with the likes of house-smoked ham w/ Gruyere and roast beef w/ pickled onion, but eventually may be invaded by just about all of the in-house charcuterie, from lamb pastrami, to chicken liver terrine, to Chili-Smoked Pork Butt -- like you the next day, but chili-smoked.
If sandwiches don't tickle your pickle, there's also chili comprised of varying amounts of braised pork, beef, and lamb (depending on supply), plus NY-sourced cayuga beans; smoked chicken done up salad-style; and, eventually, half-fowl portions of everything from smoked chicken to red cockerel, an animal whose name invokes another natural byproduct that goes to waste far too often