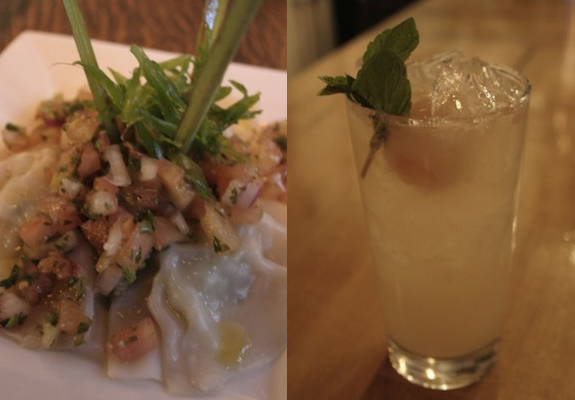 Dumplings take different forms the world over -- Poland stuffs potato into their pierogies, Italy meat and cheese into ravioli, and Japan shrimp into shumai, as the ones they fill with panda are technically dumpling-lings. Get all your international dumpling flavors in one place, at Mahjong Dumplings.
From the Cascabel Taqueria team and a well-traveled Le Cordon Bleu grad, Mahjong enfolds myriad global flavors in delicate skins, casually alotting its 46 seats among banquettes, window hightops, and a communal table, decorating its bar with eponymous game pieces and bark, hanging oversized lanterns from the ceiling, and making wallpaper out of recycled magazines, about the only affordablePenthouse on the UES. The menu's centered around nine worldly dumpling offerings, from the heritage pork/red chili Traditional Monkey, to the chorizo & poached egg Spanish Breakfast, to the shrimp/ lemongrass/ tomato salsa Run Forrest, because though when it comes to chocolates you never know what you're going to get, here you know you're going to get shrimp, lemongrass, and tomato salsa. Beyond the dump-fest are apps like panko-covered Parm & ricotta gnudi w/ wild mushroom sauce, and housemade aioli'd steamed goat buns, plus a "Noodle Division" sporting the likes of pork belly udon, and a thin rice pasta with chicken & Napa cabbage, which won't stop wining about getting shredded.
Ways to get your drink on include sake-infused shaved ice, shochu, wine, and brews, from Laos' Beerlao, to Ithaca's Cascazilla, to Coney Island's Albino Python, though overindulge and the only animal behind bars will be you.

SUBSCRIBE TO & FOLLOW THE MORNING EMAIL
The Morning Email helps you start your workday with everything you need to know: breaking news, entertainment and a dash of fun. Learn more