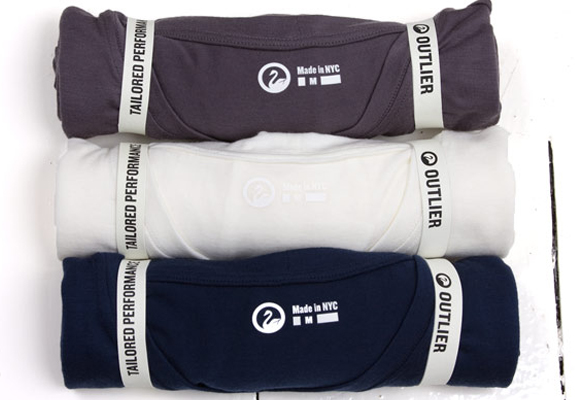 Finding clothes that mesh performance-enhancing athletic function with urbane sophistication is tough, a truth discovered all too quickly by anyone who's hit the court in their sister's pumps. Bringing you the best of both worlds: Outlier.
Started by two guys with a passion for biking and an eye towards producing "future classics", Outlier's cyclist-inspired duds're designed to be functional yet keep you looking "like you belong inside the city", and're made from some the best technical fabrics in the world, previously found only in M.I.Tees. Eschewing traditional season-based drops in favor of gradual rollouts, their most recent addition comes courtesy of the flap-pocketed Pivot Sleeve button-down -- whose patent-pending design reduces un-tuckage/sleeve ride -- now made from a moisture & grime repelling cotton so complicated it's woven in an Austrian mill, then goes to Switzerland to get "blazed", so apparently cotton's moved beyond gin. Also new're the Kierin Cut Dungarees, with extra leg room for muscular thighs, and made from a highly breathable Doubleweave canvas (military-strength Cordura on the outside, comfy, brushed-'til-soft nylon/poly blend on the inside) they claim'll make you "forget you used to wear denim", especially frustrating for the hot chick in the Ferrari who wants to know if they were Bugle Boys.
Outlier Showroom at 364 Leonard St, nr Withers; Williamburg; 347.688.5435
Of course they're stacked with past merch as well, from Merino hoodies, to windbreakers, to peacoats, which won't be very urbanely sophisticated if you mistake their name for a performance-enhancing athletic function.

SUBSCRIBE TO & FOLLOW THE MORNING EMAIL
The Morning Email helps you start your workday with everything you need to know: breaking news, entertainment and a dash of fun. Learn more