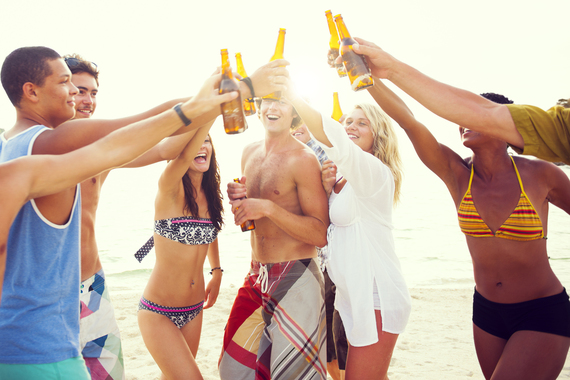 With the threat of a second polar vortex now safely behind us, we can wholly devote ourselves to enjoying the rest of the Summer -- namely, by gorging on sticky barbecue and drinking frosty beers. Or better yet, drinking frosty beers on the beach. Simple, right?
Not really. In this country, most public beaches have rules that prohibit the open consumption of alcohol, and while plenty of us are happy to subvert said rules, they can still keep us from enjoying the full glory of a boozy day in the sand. To that end, we've come up with this handy cheat sheet of 18 US beaches where it's totally legal to drink.
More: The 25 Best Beaches In The World
Cannon Beach, Oregon
This beach made a cameo appearance in The Goonies, so it's worth mentioning for that alone -- the fact that you can also enjoy some Hair of the Dog there just seals the deal. Its most prominent feature is the huge Haystack Rock pictured above, although there are no less than six other giant rocks with the same name throughout the state. Do with that information what you will.
FYI: If for some reason you're not welcome at Cannon, take comfort in the fact that every beach dotting the Oregon coastline permits responsible alcohol consumption. Provided you're 21 or older, obviously.
Credit: Flickr user Erik Anestad
Assateague Island, Maryland
While this barrier island (where wild horses run free) is long enough that its southern section extends into Virginia, it's the Northern portion we really care about -- all 37 miles of beach on Assateague National Seashore are open to visitors looking to sip suds with their toes in the sand.
Except for the 2-mile stretch of beach that's part of Assateague State Park, because alcohol consumption's strictly prohibited there. So just, y'know, don't drink there.
Cocoa Beach, Florida
While Cocoa Beach doesn't allow animals, fireworks, glass bottles, or fires without a permit (geeez), it's still one of the few shorelines in Florida where open-container laws do not apply. On top of that, it's got some of the greatest spots for surfing in the country (Kelly Slater's from here!), and the average daytime temperature's 73 degrees -- take that, Oregon!
Credit: Flickr user PatrickRohe
Outer Banks, North Carolina
Despite its reputation as a family-friendly vacation spot, you might be surprised to learn that the entire OBX is pretty tolerant of open containers on the beach. While glass isn't necessarily outlawed, fortified wine and "spirituous liquors" are, so you'll wanna stick with brews. Awful, we know.
If you're looking for solitude, Carova's 11 miles of pure white shoreline are some of the most secluded in the area -- there're no commercial businesses nearby, so you'll wanna stock up before heading out.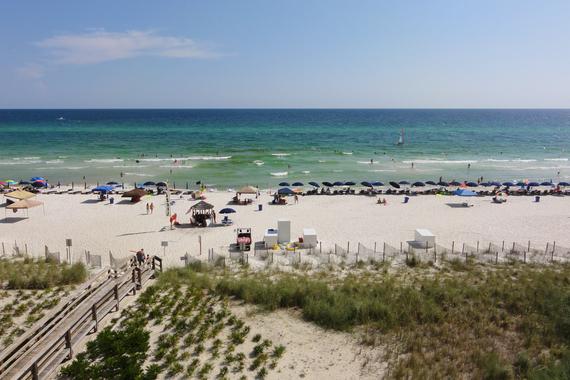 Credit: Flickr user Bart Everson
Panama City Beach, Florida
An infamous destination for SEC Spring breakers looking to forget everything they "learned" the previous semester, nobody should be surprised that Panama City Beach's got a fairly liberal attitude when it comes to open containers.
You're probably better off waiting 'till after Spring Break before hauling your cooler to the Redneck Riviera, though, unless you wanna get mobbed by sweaty coeds with neon yards of booze. Then again, that doesn't sound like the worst thing in the world.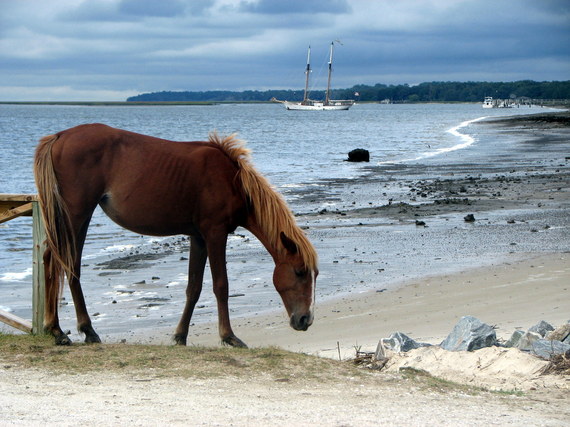 Credit: Flickr user Doug Anderson
Cumberland Island, Georgia
Cumberland's the largest of the Sea Islands in the southeastern US, and can only be reached via ferry or private boat. This means that not only will you need to bring enough booze to last the whole day, but there's a very good chance the only ones on the beach'll be you, your friends, and the feral horses that roam the island.
Pro tip: Do not attempt to ride said feral horses.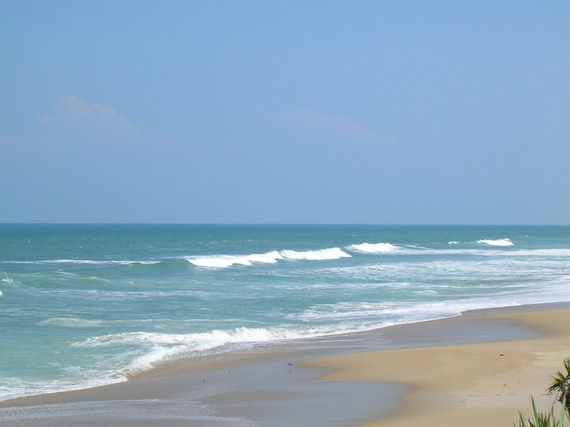 Credit: Wikimedia Commons user JohnWalton031954
Playalinda Beach, Florida
Playalinda's situated along the Canaveral National Seashore, just north of the Kennedy Space Center, and in addition to allowing booze, it's also popular among nudist types -- despite not technically being a nude beach.
If you're looking to bare your shame on the sand while sipping a topless beer (see what we did there?), it's probably better to arrive clothed and gauge the mood on the beach before dropping trou. Just common courtesy.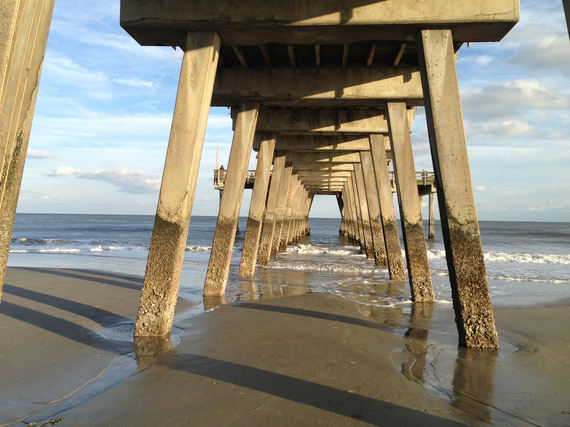 Credit: Flickr user Marc Smith
Tybee Island, Georgia
Tybee's city council voted in 2012 to repeal its ban on public alcohol consumption, both on the beach and on public streets; fantastic news for pretty much everybody. Keep in mind, though, that glass containers and kegs are still prohibited on the beach.
Fun Fact: Back in 1958, the USAF lost one of its nuclear bombs in the waters surrounding Tybee Island, and it's still out there!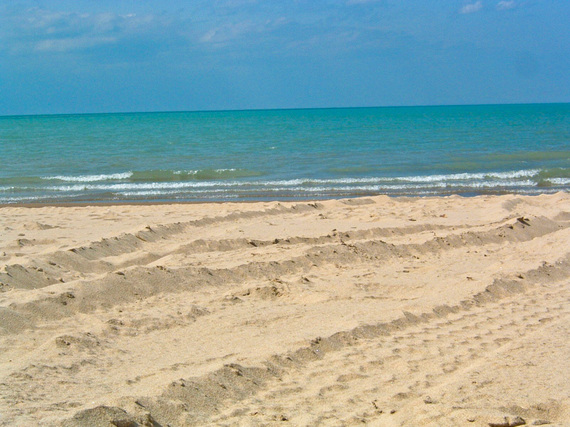 Credit: Flickr user Steve Johnson
Central Beach, Indiana
Sure, ocean coasts are great, but don't sleep on the Great Lakes: All three beaches to the east of Indiana Dunes State Park (Kemil, Central, and Dunbar) are cool with you boozing from non-glass containers. Also, unlike their salty coastal cousins, these beaches face the deliciously drinkable fresh waters of Lake Michigan.
While there aren't any lifeguards around (unlike nearby, teetotaling West Beach), relaxing in the sand with a beer in hand definitely outweighs the slim possibility of being dragged out into the water by a riptide.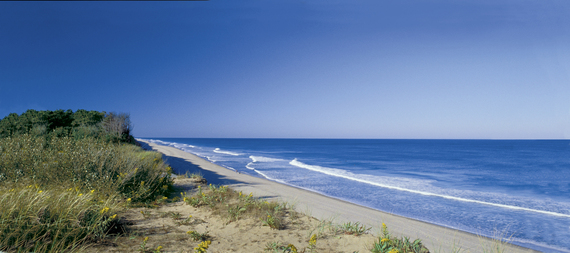 Credit: Flickr user Massachusetts Office of Travel & Tourism
Coast Guard Beach, Massachusetts
Alright, so all the beaches on the Cape Cod National Seashore are pretty awesome (and they all allow public drinking), but if you only get to visit one, you should probably make it Coast Guard Beach. Granted, you'll have to take a shuttle from the parking lot to get there (only residents can park nearby), and there're no onsite snack stands, but the beach itself is breathtaking.
And, again, you can drink on it. Which is what we're here to talk about.
Where else in the US can you drink on the beach legally? Head over to Thrillist.com for 8 more spots!
More from Thrillist:
America's 10 Greatest Party Lakes
8 Of The Most Picturesque Small Towns on Earth
Follow Thrillist on Twitter: www.twitter.com/Thrillist