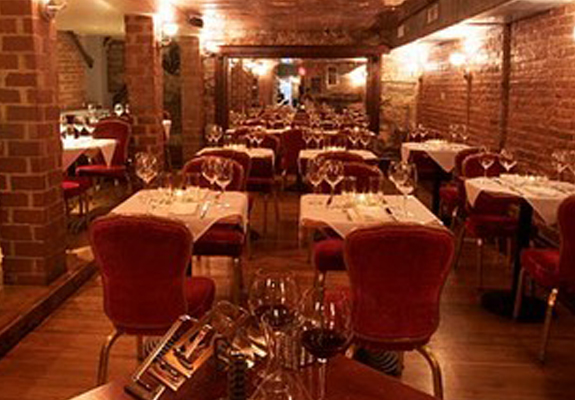 With V-Day fast approaching, snag a table at one of these guaranteed-to-get-you-sex spots that won't rope you into the the usual prix fixe gouge, as you're obviously roped in enough already.
Bar Henry
90 W Houston St, nr LaGuardia; West Willage; 646.448.4559
Order up bistro dishes (oysters, caviar, raspberry wine reduction-sauced duck breast...) and lube her with their 100+ strong vino list (most also avail by the half bottle) within the cozy, Italian marble-laden environs of the "last legal cellar in Manhattan", though if you knew where some of those illegal cellars were you probably wouldn't need a date.
Barbounia
250 Park Ave, nr 20th St; Flatiron; 212.995.0242
The arched ceilinged, pillow-laden Med joint's backing up their date-friendly menu of shared plates with V-Day specials like snapper ceviche w/ orange salad, and the rum ice cream-abetted Chocolate and Coconut Marquise, which is best enjoyed backed by the decadent arrangements of de Sade.
Blaue Gans
139 Duane St, btwn W Broadway and Church; Tribeca; 212.571.8880
The standby Austrian bistro's serving elegant homestyle noshes including steak tartare, spicy broth'd steamed mussels, and chestnut soup, but not chin-nut soup, as that's hopefully happening later.
Gemma
335 Bowery; nr E 3rd St; East Village; 212.505.7300
The Italian go-to'll be plating their shareable cheese/meat assortments and rustic entrees in addition to a special menu including risotto Milanese with butter poached lobster, a good way to save some scratch on your date's Maine course.
Morimoto
88 10th Ave; btwn 15th and 16th St; Meatpacking District; 212.989.8883
Add a little Iron Chef to Valentine's with specialty V-Day cocktails complementing dishes like Wagyu beef carpaccio, and line-caught halibut w/ black bean sauce, hot oil, and shaved ginger, aka Carrot Top.
La Petit Maison
13-15 W 54th St; btwn 5th and 6th Ave; Midtown West; 212.616.9931
The date-friendly Frencherie's sexified menu includes a range of tastings for two (warm shrimp salad w/ basil, truffle macaroni...), sure to set the mood amidst the dimly lit, bi-level, tree-lined atrium surroundings, a good setting for warming your woman up for some hardwood.
Graffit
141 W 69th St; btwn Columbus and Broadway; Upper West Side; 646.692.8762
The new uptown tapas joint's plating romantic sharing plates of lobster w/ "olive oil texture", bell pepper caviar, and Alaskan halibut w/ vegetable mosaic crust, which is tiled of being alone on Valentine's Day.
Score a spot now
Yerba Buena/Yerba Buena Perry
23 Ave A, nr 2nd St; East Village; 212.529.2919/ 1 Perry St; nr Greenwich Ave; West Village; 212.620.0808
Alongside their prix fixe, these sexy-can spots're offering a la carte goods like hamachi ceviche, and Brazilian paella stewed in coconut milk and palm oil, though if things aren't going well, you might want to save some for later.
SUBSCRIBE TO & FOLLOW THE MORNING EMAIL
The Morning Email helps you start your workday with everything you need to know: breaking news, entertainment and a dash of fun. Learn more