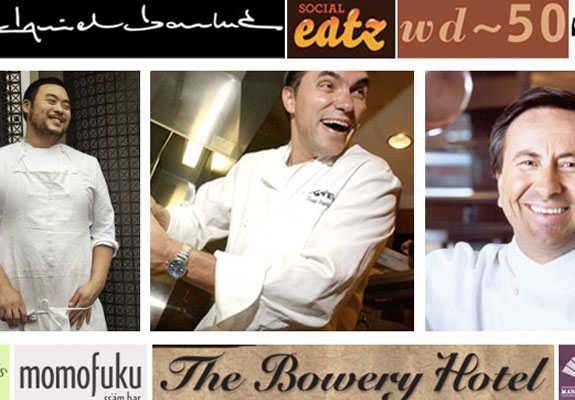 Save mad cash (up to 55% off) on exclusive access to one of the year's most inventive food events, The LUCKYRICE 2011 Festival, a dizzying, week-long showcase of Asian cuisine and cocktail culture.
Plan A: VIP Opening Cocktails at the Bowery Hotel
Hosted by Carol Lim and Humberto Leon of fashion juggernaut Opening Ceremony, this gala features 34 Asian-inspired cocktails made by bartenders from some of the best bars & restaurants in the city, from Ssäm Bar and WD-50, to Pegu Club and Lani Kai. Your ticket gives you access to the appetizer-happy VIP hour (7-8pm), and of course ALL the cocktails. Get you Ssäm!
"I am number 4" is nothing compared to "I am number 34". Grab discounted VIP Opening Cocktail access right here.
Plan B: VIP Grand Feast at the Mandarin Oriental
In the Grand Ballroom overlooking Central Park, you'll be overwhelmed by a parade of gourmet eats prepared by master chefs from Asia and the LUCKYRICE Culinary Council, the latter hailing from restaurants like DANIEL, Kittichai, Macao, Matsuri, and Pichet Ong's Spot Dessert Bar. Also on hand: Suntory Yamakazi Single Malt Whisky -- because you slumped over in a chair after devouring half a banquet is the very definition of "relaxing times".
Relax your finger, then click this link to secure some Grand Feasting.
Plan C: VIP Passport Ticket
Grab this all-encompassing pass, and you'll get VIP speedline access to Opening Cocktails and the Grand Feast, plus: a VIP ticket to Momofuku's "Night Market", where underneath the DUMBO Archway, nearly 50 restos will offer up Asian street food, and an indoor bar'll provide custom cocktails, sake, shochu, beer & wine. Your VIP Passport also gets you a ticket to Talk + Taste, with more eating/drinking, plus demos led by the Cooking Channel's Ching-He Huang, who'll say amazing things like "Put that spice right thurr!"
Damn straight you also get a Bombay Sapphire Ultimate Martini Set. Grab this staggering Reward right here.
Thrillist Rewards Bonus: All LUCKYRICE Rewards come with a free cocktail + appetizer at Social Eatz, the new restaurant from Top Chef All-Star Angelo Sosa, who doesn't need "vitamin injections" to score grand slams in the kitchen!
*A portion of the proceeds from the Cocktail Party will go to the Red Cross for Japan Relief.