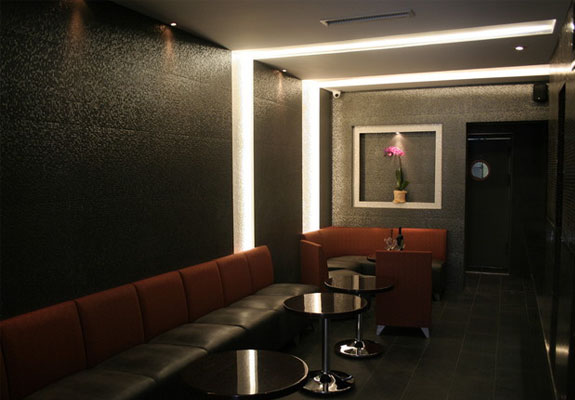 China and America may never fully understand each other, but bridging that gap are certain commonalities, like our positions as economic superpowers, and never cheating at sports, ever. For a restaurant bridging the gap on its own, hit Walle.
Started by the Chin-Chin dude (who recruited a Monkey Bar alum chef), this new midtown spot's focusing on "Evolutionary Chinese Cooking" in dimly lit digs with a downtown-ish vibe, evinced via a lounge with black textured walls and red backed chairs, and a curtained-off main dining room that sports a raised nook rimmed with backlit booths, who look far more foreboding the closer they get to Lincoln Center. Sin-fluenced small plates kick things off, from lobster-stuffed dumplings, black pepper scallops, and tuna tartare, to liquid foie bao buns, baby egg rolls w/ roast Berkshire pork & bacon, and salt and pepper rock shrimp, a reasonable compromise considering rock lobster would probably B-52 dollars. Larger plates pimping the fusion include a Walle Burger in a Shanghai pancake bun; pan-seared fluke w/ king crab & pork chili; a Creekstone Farms beef trio that includes slow-roasted short rib, filet mignon, and marrow; and mac-and-bleu-cheese-sided Sweet Chili Baby Back Ribs, a phrase nobody eating there has ever actually uttered.
And to keep things varied there's a Blue Plate BBQ rice program, with options ranging from Shanghai pork belly, to Chinese sausage, to beef and broccoli, also a fair description of how we relate to the Chinese regarding sports...and broccoli.