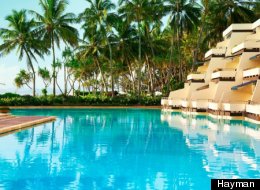 It's that time of year, when roses quadruples in price, when husbands forget and when hotels start hyping their "romance" packages, which generally translate into a jacked up room rate and a bottle of champagne or box of chocolates. If you're looking for something a bit more special this year, here are a few more elaborate indulgences.
V-Day afternoon delight may mean your time is limited, but your surroundings need not be. Luxury hotels are exploring a new trend: renting their rooms for a few hours. A new site, dayuse-hotels.com, promises 30-70% off regular rates at properties as illustrious as the Hotel Plaza Athénée in Paris, a designer boutique hotel near the Champs Élysées.

Couples with a little more staying power (and $10 grand) can book the Ultimate Proposal Package at the Hayman, a private island resort on Australia's Great Barrier Reef. The package includes three nights in a beachfront villa, a Valentine's Day degustation menu, a set of pearl and gold earrings and a scenic helicopter ride, but -- here's where it gets interesting -- those who announce their engagement at the Hayman will get to return for a free resort wedding.

If you really want to drop some cash on your sweetheart, head to Pasadena, California for the Langham Hotel's Ultimate Romance Package. For $30,000, you'll get a night in the two-story Tournament of Roses Suite, a bottle of champagne, a couple's massage, a five-course tasting menu and, to justify the price, a piece of custom-made diamond jewelry.

Wealthy fashionistas will undoubtedly flock to the Setai South Beach where $50,000 pulls in two nights in a one-bedroom oceanview suite and a couples' V-Day makeover. Domenico Vacca will provide the suit and cocktail dress, and Asprey will provide diamond cufflinks and earrings. Hair stylists and makeup artists will get the couple ready for a photo shoot and an evening of Champagne, caviar and Michelin-star dining.

Although their romance packages start at £199, the London Athaneaum's One in a Million package is so over-the-top they will only provide the price upon request to interested parties. Seeing as they're calling it the most expensive Valentine's Day option in London, you can assume it'll cost a wee bit more than the basic deal. But, for this undisclosed amount of sterling, you'll get a helicopter tour of London, a rooftop suite decked out in custom floral arrangements, a five course meal, a session with stylists and makeup artists, a couture dress and men's suit from a Savile Row tailor and a night at the Royal Opera House to watch Mozart's Le Nozze di Figaro. Should you call and find out the price is lower than expected, not to worry: A diamond specialist will be on hand to help you spend the difference.
Follow Tiffany Hawk on Twitter: www.twitter.com/tiffanyhawk