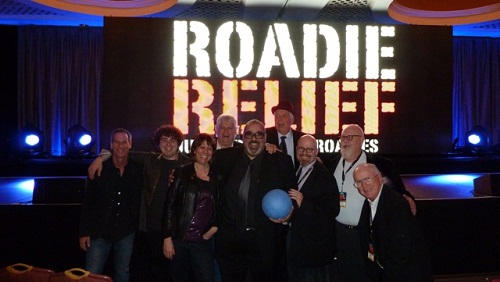 Tim Jahnigen and the One World Futbol with the RoadieRelief gang at Tour Link 2011. (Photo: RoadieRelief)

The One World Futbol Project had the good fortune to be invited guests at the Tour Link 2011 conference a couple of weekends ago. Tour Link is the annual conference of the organizations that support Rock 'n Roll (and other) tours and events. These are people that accomplish minor miracles as a matter of course -- they move sound and lighting equipment, stages, instruments, etc. around the world in short amounts of time and get it set up quickly and safely in unfamiliar venues in time for the next event. In a word, this is the conference of "roadies".
Many people have certain images and associations that arise when they hear the word "roadies" -- gruff, pony-tailed, hard living folks surrounded by all the temptations of life on the road in the company of celebrities.
However, what people don't often know is that these are an immensely competent, proud, and caring crew, who don't seek credit or attention for the amazing feats they routinely accomplish. There's no room for excuses in this bunch -- "the truck with the speakers broke down" just won't cut it. In their world, "sound check is at 4:00 p.m." -- and they are ready for it.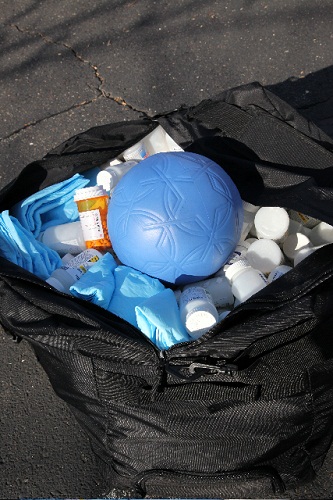 RoadieRelief delivers much needed medicine and supplies--including the One World Futbol--to disaster zones like Haiti. (Photo: RoadieRelief)
Inside this crew, there's a core group of folks that are determined to take this quiet competence and use it to contribute to solving bigger problems -- all the while being ready for sound check at 4:00 p.m. Two of these key individuals include Charlie Hernandez, the tour production director for Sting and the Police; and Lori Tierney, director of Satellite Office Services, which handles travel/logistical arm for world tours. Charlie and Lori are also co-founders of a non-profit organization called 'Just a Bunch of Roadies' or 'RoadieRelief'.
After the earthquake in Haiti, one of the first civilian planes to land was a plane of supplies that had been prepared, packed, and shipped by this group. When other groups were still trying to figure out logistics, Charlie and Lori rallied the roadies into action. They figured out how to deliver the much-needed supplies to the disaster areas, while other groups were still stalled. At the airport in Port-au-Prince, after seeing how organized and effective they were, someone asked, "Who are you guys?!" The answer? "We're just a bunch of roadies -- this is what we do."

Roadie Tested and Approved
Our introduction to the roadies came through Charlie and Sting. Sting was an early supporter of the One World Futbol Project -- when I first shared my idea with Sting for a ball that could survive use in all sorts of harsh environments, he offered to fund the prototype (and later gave the name One World to the project).
Many months later, when the prototype was finally shown to Sting at a benefit concert, Charlie was there. Secretly, he took the ball and ran over it with one of the tour vehicles. His equally skeptical wife stabbed it with a knife. They were stunned to see that the ball still bounced. At that moment, Charlie got the idea for a relationship between the One World Futbol and the tour family. TourLink was his opportunity to unveil the idea.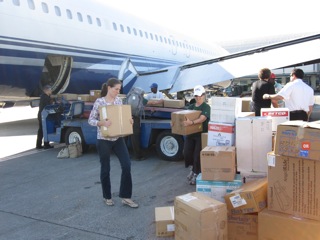 The roadie crew in Haiti--making sound checks and miracles happen. (Photo: RoadieRelief)
We were invited to attend Tour Link by Charlie (honored by TourLink 2011 as the Humanitarian of the Year), where he was chairing a panel called "Ethical Touring," This panel included a discussion of his idea for the roadie crew to purchase and distribute One World Futbols to groups working in harsh environments, such as favelas in his native Brazil and refugee camps and relief areas around the world.
Also on the panel was Lori Tierney, along with Jake Berry, tour production director for U2 and the Rolling Stones (who is taking One World Futbols to South Africa with U2); Harold Owens, director of MusicCares; and Jack Healey, director of the Human Rights Action Center and former executive director of Amnesty International USA.
We are honored and humbled that they all chose to speak about how they wanted the tour family to help get One World Futbols funded and delivered around the world. We're thrilled at the opportunity to work with this group of unsung heroes, who work behind the scenes to pull together some of the biggest concerts worldwide -- and use their talents to help others better their lives.
I still get goosebumps when I remember the closing words from that panel spoken by Jack Healey. In speaking about our shared goal of improving the lives of people in places like war zones, refugee camps, orphanages, slums and the like, he said, "I'm just a mendicant. I beg you -- use your freedom to fight for their freedom." We're in.
SUBSCRIBE TO & FOLLOW TRUMP'S FIRST 100 DAYS
How will Donald Trump's first 100 days impact YOU? Subscribe, choose the community that you most identify with or want to learn more about and we'll send you the news that matters most once a week throughout Trump's first 100 days in office. Learn more