I'm restarting this column for my blog here at the Huffington Post by exploring the old saying: "There is no 'I' in Team." In the gap between this posting and the last, I've seen some exceptions to this phrase that I'd like to share.
But first, a quick digression... when I was a kid, there was a soft drink called "TEEM." Some of you may remember, it was a lemon-lime 7-Up wannabe. At 16, I went to El Salvador. While traveling there, whenever I was introduced to people, my name was pronounced, "TEEM," and invariably someone would hold up a bottle or can of the stuff, point to it and say with extra emphasis, "TEEM!, is that you?"
After hearing that almost every day it was clear to me that, at least in some parts of the world, there is in fact, an "I" in Team!
The Power of Teamwork
The simple fact is that there is an "I" in this team of ours. I am nothing without the team, and they wouldn't be my teammates if it wasn't for the idea of an ultra-durable ball which brought us all together -- the same idea that put me in an unfamiliar position of leading a team, after so many years of going it alone. Being in a leadership role is not the same as telling everyone what to do. It also doesn't mean doing everything yourself just to make a point. Ultimately for me, it wasn't until I felt the power of teamwork that I began to understand that we are designed to perform better in relationships, and together can achieve great things.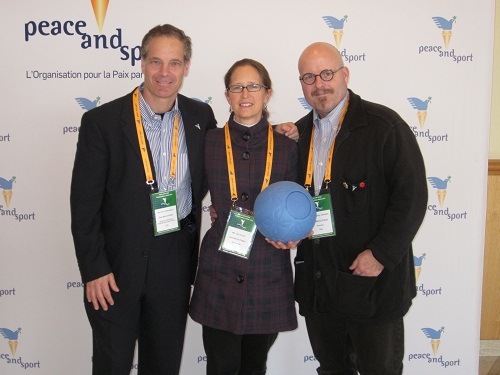 Photo: One World Futbol Project
One World Futbol Project managing director, Eric Frothingham, and co-founders, Lisa Tarver and Tim Jahnigen, at the 2010 Peace and Sport Awards in Monaco. The One World Futbol Project was nominated for a Special Jury Prize at the event.
I spent most of my life, until I was 40, drifting without clarity or direction, overwhelmed with ideas and feeling inadequate because I didn't have a degree, money or whatever it is we think we lack at any given moment. I felt on the verge of a breakthrough for many years, and I knew how far I was from the life I wanted. Then, one day the message got through -- that the very thing I was doing to achieve my goals was preventing my goals from happening. I was trying to prove I was worthy by doing it all by myself-- market research, proformas, business plans, you name it. I finally realized that trying to do it all on my own was making it all about me and highlighted my actual and perceived shortcomings. This was not a positive vibe, for those of you who are fans of the Law of Attraction.
In the end, it was about surrendering -- letting go of every assumption, moving old ideas out of the way and allowing fresh information, new opinions and opportunity to become visible. It was about giving up worrying about my own success and allowing ideas a chance to stand on their own. Doing this gave me the space to share those ideas so others could also be inspired, step up, shine in their own right, and help me turn this vision in my head into something tangible -- well beyond what I could have achieved by myself.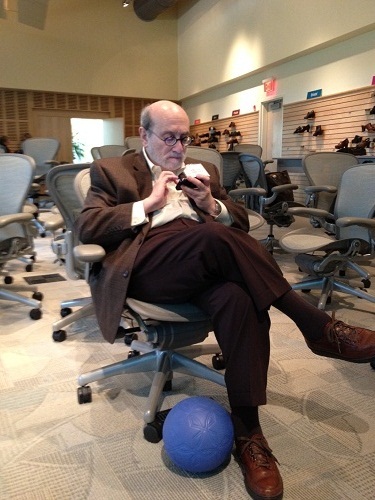 Photo: Rob Thomas
Mal Warwick, managing member of the One World Futbol Project, at the Social Venture Network (SVN) conference in Philadelphia, PA.

Team One World is made up of amazing, dedicated, strong and creative people who live their values by adding value to the lives of others. In the coming weeks and months, you will hear the voices and ideas of the rest of the core team as well as the broader team of supporters, partners and friends. They each bring a breadth and depth of experience, wisdom and vision that I am proud to share with you all. Like me, they will now have the opportunity to get your feedback, your questions, your comments and your ideas. We encourage you to share, include us in your community and count on us to encourage your ideas and aspirations. And I personally would appreciate hearing your own stories and experiences -- good or bad -- about teamwork, being part of a team or going solo.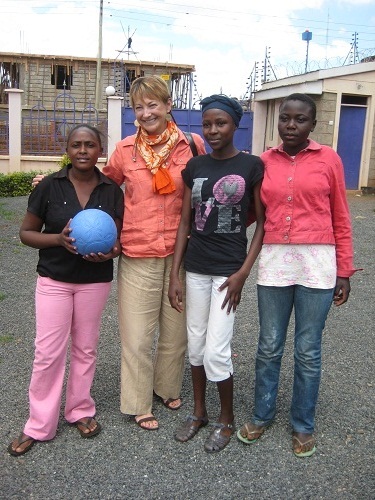 Photo: Odesac Sacco
Sandra Cress, director of international sales for the One World Futbol Project, in Nairobi, Kenya with representatives of youth soccer teams brought together by the Orthodox Development Savings and Credit Society (Odesac Sacco).
Right now, your future teammates and collaborators may be right next door, across the aisle on a flight, or waiting with you in line. They may even be someone you discover while posting a comment to something that has caught your imagination. Take that next step and share those ideas, opinions, thoughts that you're working on or still formulating. What have you got to lose?