I covered CPAC this past weekend and of course did my serious journalistic duty.
In my time off, I perused the exhibit hall and collected plenty of items including but not limited to: 'Kill The Death Tax' buttons, NRA stickers, 'Too Hot for C-Span' tshirts, some slap bracelet for some issue that I didn't pay attention to because slap bracelets are awesome, and a pile of Google sunglasses. But one special item caught my eye... not because it was offensive or a slap bracelet, but because it's quirky and unique... an Official Rick Santorum Campaign Sweater Vest.
Now I know what you're thinking. Did I pay for it? Yes, I did. $50 in fact. Go ahead and tell me I'm burning in some ring of hell for that... But I have a propensity for buying novel campaign items. A few years ago, I also paid for a 'Kinky Friedman for Governor' talking doll ($35), which is equally as special in an ironic souvenir sorta way and still adorns my desk. The doll literally says "If you elect me the first Jewish governor of Texas, I'll reduce the speed limit to 54.95!" ... yet somehow that guy lost to Rick Perry.
I have no issues with my purchase of the sweater vest with its All-American navy blue cotton, as soft as a baby's bottom which came to life at conception of a married man and woman who, for religious purposes, didn't practice contraception. But I created a problem for myself... because as an obnoxious baseball fan, I happen to have a silver sharpie for getting jerseys signed. so you know what happens next....
My issue is now, and I leave this to you to decide, do I take this amazing (and probably one-of-a-kind) souvenir to eBay, or do I leave it in my work space for others to "be enamored with," for months to come? This my friends, is my Serious Republican Conundrum.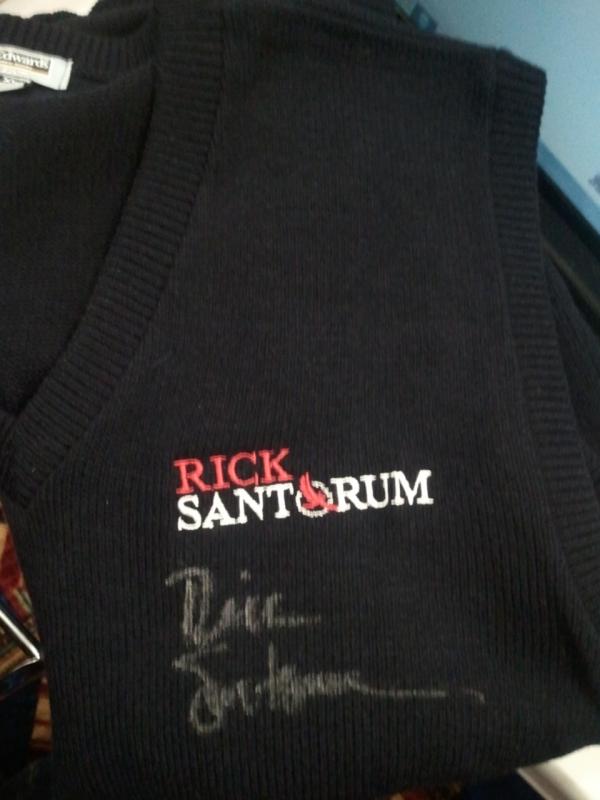 SUBSCRIBE TO & FOLLOW ENTERTAINMENT
HuffPost Entertainment is your one-stop shop for celebrity news, hilarious late-night bits, industry and awards coverage and more — sent right to your inbox six days a week. Learn more