This post is part of the Global Mom Relay. Every time you share this blog, $5 will go to women and girls around the world. Scroll to the bottom to find out more.
Chrysula Winegar: What is the best advice a mother ever gave you?
Tina Sharkey: I received quite a shocking piece of advice very early on to "torture my children with manners, until they could stand it no longer!" Pleases, thank yous, eye contact and handshakes -- my friend told me to be relentless. It was a fantastic piece of advice and is the one thing I've been doing all along. I have felt a great impact on my children.
Your sons are 11 and 14. What advice would you share with a new mother?
Be present when you're present. In an era of constant distraction and pervasive computing, we must model for our children the behavior we want them to repeat. If we are half present with them, they will be half present with us. There are times when I need to be on my phone handling messages, but put boundaries around it, deal with what you have to and then put the phone away.
Children need to know parents are in charge to feel safe and secure. Don't be afraid to parent your children! Also, affection -- eye contact, touch, massage, skin-to-skin contact -- nothing can take their place.
What is your greatest dream or wish for your children?
I want them to have gratitude for their gifts and to realize that whatever success they achieve in life, they have the opportunity to make a significant difference. Success and significance are not the same. There is a bridge from one to the other - a life long bridge that you have to be deliberate about crossing every day.
In what ways do you hope the children in your life's lives will be different from yours?
The world is flat. They are learning the same things as children in India and Africa and China. Ideas and innovation are going to come from all corners of the globe. In order to compete in those markets, but more importantly, be a part of that global brain trust, they will need to be part of other cultures and sensitivities. When I was raised, we were taught that the American way was the way. This was never and certainly is no longer the way to see the world. We need to change our vantage point. It's altered forever and that is a positive and powerful way of looking at the world.
What kind of encouragement/support did you receive as a girl that prepared you for your life?
As a teenager, after school I would go to my mother's office and she would let me sit in meetings. I could sit in any meeting I wanted to (as long as I only spoke when appropriate). This gave me confidence and exposure to adults in the working world. She used to say "Tell them who you are." and I would say "Who am I?" and she'd say, "You're Tina Sharkey!"
I was never afraid to ask a question. She not only modeled that for me, she let me practice it.

What can you do to give every mother and child a chance at a healthy future?
Access to information! In my former role as Global President & Chairman of BabyCenter, we were exploring India with its 23 million births a year.
As we researched, we observed that a huge percentage of the population had access to a mobile feature phone, but not everyone had access to the Internet, broadband or computers. People were beginning to retrieve cricket scores and farming information from text messages. We also observed that India, with its huge and growing population, had extensive illiteracy at the bottom and middle of the economic pyramid.
Many of India's expectant moms get a lot of their pregnancy and birth information from their mothers-in-law, who they tend to live with. There's no private place to ask questions. But almost everyone has access to a cell phone. BabyCenter was able to build a text and voice based operating system in five dialects, with the right blend of medical facts, emotional sensitivity and cultural context.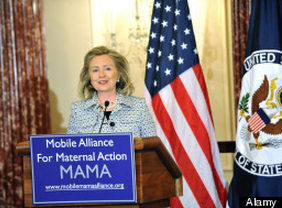 With Johnson & Johnson's vision and support, and the reach and knowledge of the State Department, USAID, the mHealth Alliance and the UN Foundation, we were able to see the possibilities to impact more vulnerable communities with these messages. MAMA (Mobile Alliance for Maternal Action) launched at the State Department with former Secretary Clinton two years ago. By open sourcing the content, the MAMA messages have since been used by over 111 global organizations in 49 countries.
What's your call to action for mothers reading this?
No matter where you sit in the world, whether it's a place of privilege and access or in a compromised environment without proper care and education, the essence of a mother is the same. We want a better life for our children. We want them to lead healthy lives, bring their souls to their families and communities, and prosper with abundant educational resources.
The sisterhood of motherhood is an unspoken global tribe. The ways in which mothers interact with their children and with each other are universal. If we can tap into that spirit and build a link between the mothers of the world, we have the potential to heal the planet.
The Global Mom Relay is putting a light on the most important people on the planet, often the universal teachers of humankind.
Each time you share this Global Mom Relay piece on Facebook, Twitter, or Email, or donate $5 or more through clicking on the above graphic, a $5 donation (up to $62,500 per week or $125,000 every two weeks) will be donated by Johnson & Johnson and the Bill & Melinda Gates Foundation to the Mobile Alliance for Maternal Health (MAMA). Join us by sharing it forward and unlock the potential for women and children around the globe. For more information, visitwww.unfoundation.org/globalmomrelay. The United Nations Foundation, Johnson & Johnson, BabyCenter, The Huffington Post, and the Bill & Melinda Gates Foundation created the Global Mom Relay, a first-of-its-kind virtual relay with a goal of improving the lives of women and children around the globe.
SUBSCRIBE TO & FOLLOW TRUMP'S FIRST 100 DAYS
How will Donald Trump's first 100 days impact YOU? Subscribe, choose the community that you most identify with or want to learn more about and we'll send you the news that matters most once a week throughout Trump's first 100 days in office. Learn more