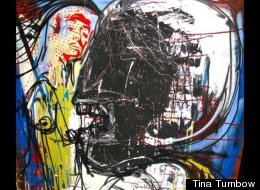 To get a closer look into the artist, Craig E. Collins, and his work I recently visited him at his Lower East Side studio. In our conversation he shared some of the themes, people and subject matter that drive and inspire his creative endeavors.
An inside look at The Occasional Thief
Actor Norman Reedus at the artist's studio. Photo by Tina Turnbow. Grooming by Kristan Serafino. This is a photo I took of the very gifted actor, Norman Reedus currently seen on AMC's The Walking Dead. It was shot for my column Face Time. The t-shirt he is wearing was custom-made by the artist Craig E. Collins.

Red Big Bald Head by Craig E. Collins "I'm inspired by artistic people, such as Norman Reedus, who explore many aspects of their creative nature. Norman has a production company called Big Bald Head, and this piece is my interpretation of its logo. I am a huge fan of skulls so it was a fun piece to do. My love for music is the undercurrent of my art. Somehow it seeps in and infuses while influencing my work. For this piece, it was all about old Misfits."

Truth Is A Luxury tee by Craig E. Collins I recently started a t-shirt company called The Occasional Thief. I came up with the name based on the Picasso quote: "Good artists borrow, great artists steal." This tee is a simple skull, with a quote from a friend, "truth is a luxury." I think it's powerful because most of the time people are not that honest.

The Occasional Thief tee by Craig E. Collins This was my first t-shirt as The Occasional Thief. It's an old picture from the New York City subway in the 70's. It has graffiti and an old "street art" feel to it.

Metal by Craig E. Collins This was a commissioned painting for a client in CA. It was for his teenage son who loves heavy metal. I'm also a metal fan. It was an ode to Dio, old Metallica and Black Sabbath. I had a blast doing it. Once again it is riddled with skulls.

Graffiti by Craig E. Collins I did this piece during 2012 NY Fashion Week. I had been seeing so many models and fashionistas walking around, and it inspired me to bring back my fondness for the Street Art scene of the 80's. The Velvet Underground was my choice of music here.

Pop Culture by Craig E. Collins This was done on an old door and is my interpretation of a pop culture theme, specifically the younger generation's obsession with it. That's why I started with two young silhouettes. I refer to Kurt Cobain and "Smells Like Teen Spirit"; Kim Jong-il is the other image... a figure they are sadly, probably unfamiliar with. I'm stating that the priorities of our country have become blurred.

Allen Ginsberg (2011 HOWL Festival) by Craig E. Collins I did this piece for the 2011 HOWL Festival in Tompkins Square Park. The theme that year was "Allen Ginsberg". I've been participating in Art Around the Park for years. All work is donated for auction. It's a great event.

Man In Ink by Craig E. Collins This piece was part of a series of portraits I did a few years back, when I was visiting Pittsburgh. My hometown always inspires me to some degree. While walking around the South Side, (a place which is primarily bars), I watched many of the patrons as they drank, smoked, etc. I did the series of 20+ drawings in ink and pastels. The whole series was done to Pete Yorn's first album, musicforthemorningafter, on repeat.

Photograph of the artist by Tina Turnbow. My ideal future is to have The Occasional Thief as a fully developed brand of tees. I admire the way Shepard Fairey has stayed true to his street art, while taking his work to a higher plateau and making it accessible to everyone. I'm presently in the process of a tee-shirt collaboration with Art of Board, and I would love to create custom tees and prints to be integrated into editorial fashion shoots, film and videos. Getting into galleries can be political, so I show my work in bars and restaurants that focus on supporting and showcasing artists. With today's social media, it's a must for artists to share their work, but a concern is always whether their artistic integrity is being compromised. I believe it's a risk worth taking.
Follow Tina Turnbow on Twitter: www.twitter.com/TinaTurnbowMUP