As a designer of album packaging, I've always appreciated and been inspired by iconic LP covers. Two of my favorites from the classic era are Herb Alpert's 1965 "Whipped Cream & Other Delights" and the Louvin Brothers' 1959 album "Satan Is Real."
In 2006, I had the honor of re-interpreting the album art for "Whipped Cream" when Herb Alpert released "Whipped Cream And Other Delights Re•Whipped." I was hesitant to change something that has been an icon of design in the music industry for decades, but the style of the new album warranted a refreshed look, and it didn't hurt that I had Herb's blessing and support.
When Igniter publishers and authors Neil Strauss and Anthony Bozza began to discuss the book cover for our latest Igniter release, "Satan Is Real," [Igniter, $22.99] with me, we all agreed there's no need to design a cover from scratch when the perfect cover image was already created 50 years ago. To re-interpret this one would be a sin (yeah, I said it). In 1959 Ira Louvin designed their unforgettable "Satan Is Real" album cover by posing Charlie and himself in front of a 12 ft. plywood rendition of the Devil, as tires soaked in kerosene burned behind them to convey fire and brimstone. In the book, they say they almost burned their asses in the making of this one.
Their concept was simple, yet brilliantly effective. It's no surprise to me that when creatives are tasked with generating an image while only having limited resources that the result is often sublime. I've witnessed it many times over, been there myself, and was about to be in a similar position again.
Once it was decided we wanted to use the original album cover for our book, I called my friend, the Creative Director at EMI/Capitol records, to acquire the rights and the original artwork. Unfortunately the originals were nowhere to be found in the Capitol archives and a scan of an existing LP cover was all we were going to have to work with. Now imagine the quality of a scan of a physical album cover that was 52 years old. Do 'dog-eared' corners come to mind? Maybe some scuffs and scratches? Right, something old, well-lived, and a bit tattered was the result of the best scan we could get. It wasn't the original image I had hoped for, but it was time to embrace our limitations and make the best of the resources we had to work with. After all, Charlie himself was a little rough around the edges - and the quality of this scan eventually inspired our antique design.
The name of the book evoked the feeling of an old, sensationalist dimestore novel to the three of us, so as we discussed it, the pulp-style cover began to take shape in our minds. After some research on the design style of old pulp book covers, it took a few rounds to get to the final version of the cover.
But there was one hangup, a friendly debate between HarperCollins and Igniter about the .10 cent price tag in the upper right corner of the cover. It's the single most important element that serves as a design cue to the dimestore "look." Yet there was a concern by some parties that consumers would actually think the book cost ten cents and there was talk of removing it. Yes, that is quite funny considering this was 2011 and not 1950, but these kinds of things come up when reviewing cover designs, and are a part of a designer's reality during the approval process. We all could agree that we did not want people to think the book only cost ten cents, so some respectful give and take had given way to the final version where the .10 cent banner was distressed enough to appear as an art detail rather than the book's purchase price.
The one question that I have heard several times is, "Why is it a hardcover and not a paperback, since it looks like an old paperback pulp novel?" My reply is simply that it's all about the subtle details. From the hardcover having a stronger tactile presence as you hold it in your hands vs. a jacket cover wrap (a nod to our boyhood memories of "The Hardy Boys" hardcover novels), to the .10 cent tag on the cover and the 50's inspired patterned liner pages. Even the spine's flamed edges, seemingly caused by Satan himself, and the gritty matte coating on the book cover give the book the added visual and physical character that supports the content. And that's the Igniter way - it's all about the packaging.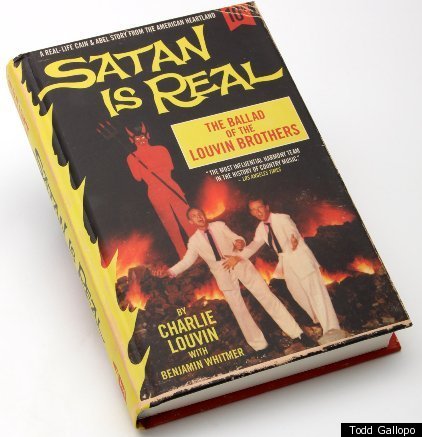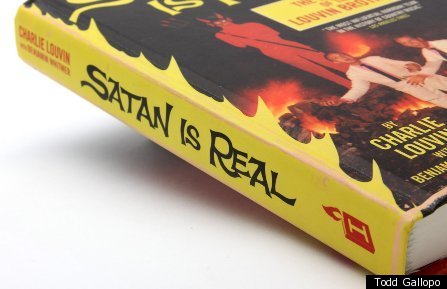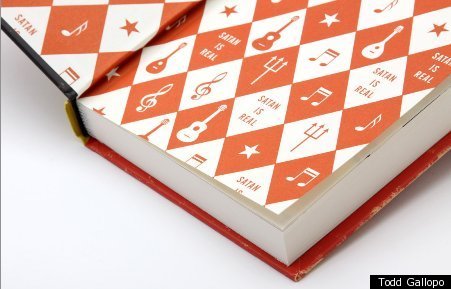 SUBSCRIBE AND FOLLOW
Get top stories and blog posts emailed to me each day. Newsletters may offer personalized content or advertisements.
Learn more