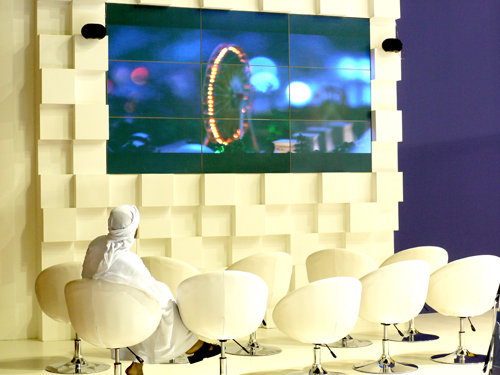 Watching the Falconcity of Wonders film at Cityscape. Slideshow below. Photos by Todd Reisz.
First it was "booming Dubai," and then "sinking Dubai." Two years into one of its most cathartic states ever, where do things stand for Dubai? That question was at the forefront of the media's focus on Dubai in the last couple weeks, with the opening of the city's annual real estate fair called Cityscape.
"So, it's back to basics."

Now it seems the one-line platitude to describe the supposedly sensible mood of development in the city is "back to basics." The bromide has achieved its prominence for two reasons: 1) it gracefully concedes deflated ambitions; but 2) suggests there's still room to make a buck. However, it does little to placate investors with money in unbuilt projects and consultants with unpaid invoices. Cityscape once unabashedly revealed the global conversion of real estate from a conservative alternative investment into a consumer frenzy. This year it was certainly not glitzy -- no robots, no iPod-shaped towers, no free knickknacks, no flying falcons, but one might question if it is indeed as simple as "back to basics."
In past shows, developers sought media coverage of newly launched projects, bigger and more ambitious than previous ones: last time we brought you the world; and now, the universe. This time around, headlines were not made by new investment opportunities. Instead the media scrambled to cover new reports from the region's measurers. Jones Lang LaSalle, one of the region's best known commentators, tried to find a refreshing way to describe a standstill; it labeled the UAE this season as "stable," a term that brings to mind more an emergency room triage than economic reporting.
Want to do better than stable? Everyone will tell you two places: Saudi Arabia and Egypt. Cityscape tried to focus on international development (the name of the event was changed from "Cityscape Dubai" to "Cityscape Global"), but its efforts proved to have little effect. Only one Saudi developer exhibited. Egypt was the most represented non-GCC country, and Cityscape worked hard to promote the pavilion. One Egyptian developer at Cityscape leveraged the limelight to exaggerate architecture's purpose, like old times: "There is an overwhelming need in Egypt for developments of the highest international standards required by the serious and growing investment climate of the country... The Stone Towers needed an architect with daring ideas, innovation, international expertise and experience... it needed Zaha Hadid."
If you were to take this statement seriously, celebrity architecture has more than managed to sustain its relevance in the midst of a global crisis. Hadid is not "back to basics." Like many other celebrity architects, Hadid's portfolio of folded projects in the Gulf, from an opera house to a stillborn bridge to a business plaza, represents a marketing strategy that hasn't proven sure-fire.
Zaha Hadid once exhibited at Cityscape, with pewter-colored models reminiscent of Remington table sculptures. Her firm failed to come this year, as did most of the usual international architects. Some of the big no-shows: Norr, Woods Bagot (designer of the world's next tallest tower), SOM (designer of the world's current tallest tower and the world's next next tallest tower), HOK, RMJM, WATG, Aedas (designers of Dubai's metro stations). All of these firms to some degree must credit Dubai and the Gulf region for their claim to international status. They have provided the symbols that represented modernization, luxury, success, assurance, and "world-class standards." They were "needed." But this year's event made it clear that architecture isn't ready to provide that symbolism anymore.
It was another kind of symbolism that prevailed at Cityscape: the gesture of just showing up. One sales representative, standing before models of new cities left unchanged for the last two years (ie, not 'back to basics"), explained his company's presence: "Nothing is going ahead, but we want to show our customers we're still here. It's a symbolic act." Similar reasons were heard throughout the four-day exhibition. People came to show they cared. Real estate solidarity.
There was one oracle that seemed promising for Dubai. Tom Barrack, Jr., the multi-bilion dollar real estate investor, had been called upon to settle investors' nerves at a Cityscape Q&A panel. Mr. Barrack prophesied that no GCC city will be able to achieve what Dubai has done in the coming fifty years. That's quite a bit of time for Dubai to take advantage of its lead. How will it spend those advantages and, perhaps more importantly, how will it present those advantages to a more skeptical world? This was once the job of the architect, who conjured up spectacular buildings to convince investors to back a scheme, to show what it's like "to invest in paradise." And while architects are likely still working out of their offices in Dubai, they are imagining futures for Qatar, Egypt, Saudi Arabia. Nobody needs a rendering of 'stable.'
This role of architects as Dubai's marketers is thankfully challenged by real successes. The one-year-old Dubai metro stands out as the most visible gesture of urban 'progress' that Dubai has financed since it laid the roundabout at the World Trade Center. Importantly, this is infrastructure, not architecture. The metro has begun to knit together the awkward pieces of Dubai, putting in place the cartilage that strengthens the city, and thus bolstering a confidence in the future. What usually comes after infrastructure in Dubai is architecture (buildings, villas, schools, hotels, businesses), but this time around it has been reversed. With the "two-second sketch" Dubai made architecture bend to its will; now is the time to find a new bag of tricks. How will Dubai promote itself next?
Last year's Cityscape review can be read here. Also published in Al Manakh 2: Gulf Continued.
The slideshow provides more updates from this year's Cityscape...
Scenes for Cityscape. Dubai, 2010
More than any other booth, Meydan City represented the Cityscapes of yesteryears: the regularly timed sound and light show, a live performance (a pianist at a gold-plated piano), large private deal-making rooms, movies, and the giant model (and mirrored ceiling!). Meydan has completed its huge new racecourse, yet schedules for the rest of the "new business, sporting and lifestyle destination" remain unclear.

Organizers tried to bill this Cityscape as a "business-to-business" (B2B) event, thereby excusing the diminished presence of property shoppers. Dubai's largest developers, however, didn't miss an opportunity to sell, or even lease, empty residential properties. Company representatives toting clipboards of price lists had little to do this year.

"Master developer" Nakheel showed up to Cityscape, but only barely. The company dispensed with last year's catchword "delivering," and quietly went through the motions of being present. The company reduced its display to last year's model of Palm Jumeirah which still projects the optimism that its barrier arc will be occupied by more luxury hotels. The Palm model, more than just familiar to Cityscape visitors, still manages to draw a crowd. Perhaps visitors have all seen the Palm in reality, but the experience of the overview model is always better.

Emaar, one of Dubai's most visible developers, followed suit with the other big developers by showing a model Cityscape-goers have come to expect - Downtown Dubai. The project will likely see no more new towers, but it is Dubai's most successful development in the last decade. Representatives were pushing the sales of vacant units, but not saying how many are still available. International projects in supposedly still-booming parts of the world (India, Saudi Arabia, Egypt) were downplayed at a booth that projected Emaar more as an assured, hardwood-veneered lifestyle than as a global developer.

Falconcity of Wonders arrived with the same model it has showcased for the last four years. The model catches your eye with a replica of the Eiffel Tower and then an endless sprawl of office space and shopping malls. Its news at this year's Cityscape: the first 150 villas have been sold.

At last year's Cityscape, Meraas had taken on the role of the unstoppable developer, exhibiting its ambitious transformation of one of Dubai's most lively neighborhoods. This year, Meraas trimmed its display down to showing just Pearl Jumeriah, the company's addition to Dubai's constellation of artificial islands. Once blanketed by a Woods Bagot masterplan, the island, now nearing completion, has been divvied up into housing plots. 300-350 houses are proposed, roughly accounting for the houses demolished on the mainland over the last couple years. A sales representative admitted there was modest interest in the plots. No plans are being prepared for filling the mainland's vacant lots.

Cityscape organizers highlighted a shift in focus from Dubai to the rest of the world, claiming that more than 30% of exhibitors from abroad. The Polish city of Czestachowa helped make up this statistic. Few booths seemed to be catching the imagination of Gulf investors.

Dealers from the Cayman Islands proved that Dubai was never the most blunt in its effort to attract investors.

"Partnering with SODIC to create a new city centre for Cairo was too exciting to resist," architect Rodolfo Machado is quoted as saying. Cairo - the architect's latest playground for not resisting temptation?

The largest pavilion at Cityscape was hosted by the Egyptian developer SODIC, placing its "New Cairo" projects around a living-room style platform, including expansive couches, a huge flatscreen television and a video game console for bored souls. Home in surround-sound.

Selling "New Cairo" at Cityscape, including Egypt's "first and only Greg Norman signature golf course."

Needing Zaha Hadid. "Back to the basics" is not the calling card for doing business in Egypt. Egyptian developer Rooya Group touted its relationship with Zaha Hadid by presenting a dizzying fly-over animation. Is Egypt the new home for architecture's relevance?

Selling Zaha Hadid's The Stone Towers, Egypt.

Saudi developer Tanmiyat showed its project for Mauritania.

Despite Cityscape's shift to all things global, Ras Al Khaimah's Rakeen downplayed its international projects (Kinshasa, Isfahan, Kyrgyzstan,...) in favor of selling properties on its Al Marjan Island, a curvilinear branch into the Gulf waters. One of the UAE's furthest afield emirates, Ras Al Khaimah has continued to experience economic growth during the global downturn. A reason to buy now?

A plan for Dubai Silicon Oasis.

A tiny slipshod booth selling new homes outside Rio de Jaineiro was one of the busiest spots. Attractive tidbits included celebrity endorsements from Donal Trump and Richard Branson for Brazil, both of whom had been there for Dubai in the past. Remember Branson wearing a Union Jack suit and %u201Cstaking his claim%u201D on The World? But now you can buy a house in Rio for as little as $45,000 by calling a toll-free number. Cityscape used to be like shopping for real estate in a mall; Brazil was offering as-seen-on-TV bargains.
Follow Todd Reisz on Twitter: www.twitter.com/AlManakh